A veteran organizer and the youngest candidate run for Council seat
Ramon Fernandez, Peekskill Democratic City Committee candidate and Amy Vele, Progress4Peekskill candidate
Our Door-to-Door series ends this week with personality profiles of the last of the eight candidates running in the June 22 Democratic primary. Since Door-to-Door campaigning is limited as we come out of a pandemic, these profiles will help voters get to know the people behind the names.  
By Regina Clarkin
The road to politics for Ramon Fernandez started at home as he grew up watching his uncle and father's involvement in community organizing, but the path he followed ran through a soccer field. Fernandez, who is running as an incumbent for one of three open Common Council seats in the June 22 Democratic primary, is endorsed by the Peekskill Democratic City Committee.
His initial visit to Peekskill was in 2004 when he came from the Dominican Republic to visit his mother and sister who were living here. His children, ages 7 and 9, were elated to see snow for the first time, he recalls. Two years later, having left the DR, Fernandez and his wife and children found their new home in Peekskill, at the Crossroads Apartments on Brown Street.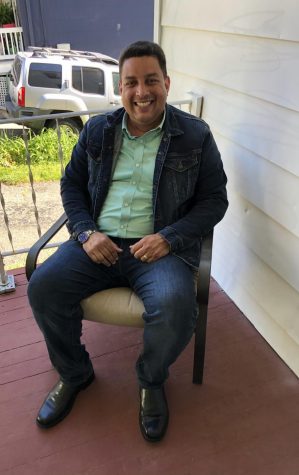 Fernandez, 48, was born in Washington Heights, Manhattan and lived there for a few years. But when his parents divorced he moved to the Dominican Republic with his mother and sister and attended grammar and high school on the Caribbean island. There, he became part of an extended family and saw how his uncle, who he considered a second father, was involved in community activism. The summer Fernandez graduated from high school at age 16, he returned to the Washington Heights neighborhood to live with his dad and observed the way his father was involved in the Dominican community in upper Manhattan. It was then that he encountered Adriano Espaillat, who was a NYS Assemblyman and Senator and now represents the Washington Heights district in the US House of Representatives.  
 Returning to the Dominican Republic to study, Fernandez met his wife at college and received a bachelor's degree in business administration. After a successful career with the Quaker State Motor Oil company and running his own sales business related to that industry, he encountered financial difficulties connected to an economic downturn. He also experienced  health scares involving his son and himself. Those circumstances  led to a deeper spiritual life and a decision to close his business and move back to New York. "I had a house, a car, a career and when people asked me about moving back to New York, I said 'never'. What this experience taught me was to 'never say never'," recounted Fernandez about that period in his life. On a vacation visit to Peekskill, he met the owner of Rio Taxi company and when he moved here, he reached out and began working for the company as a driver. In addition to driving, he worked in loss prevention at Circuit City for three years until they closed. "I was working 7 days a week, 16-hour days," said Fernandez, who found time to be involved in the Hispanic outreach from Assumption Church where he was a parishioner.
 It was his children – who were aging out of the youth soccer teams run by Peekskill's Recreation Department – that motivated him to learn why there were no travel soccer teams for kids who were over age 12. Through a meeting with then Peekskill City School District Athletic Director Lou Panzanaro, a soccer travel team was established, taking first place in the league championship that year. Fernandez was bitten by the community activist bug and ran for one of the two open seats in the school board election of  2015. He lost, coming in third, but the experience showed him the value of networking and being involved.
When Fernandez attended a Christmas party hosted by Peekskill Democrats in December 2016 he was asked to consider running for office the next year and that began his political career in Peekskill. 
 In canvassing for signatures to be on the school board ballot he frequently would tell the Hispanic voters he encountered that "we need to have a voice. We can't change the world, but we can change the neighborhood we live in."
Fernandez' dad, Eulalio, died in 2009 – so when Fernandez won a Common Council seat in 2017 and needed someone to swear him into office, he immediately thought of Representative Espaillat who considered Ramon's father a mentor. "How could I say no when Ramon called me?" said Espaillat at the City Hall ceremony. 
"Knowing how proud my dad would have been that day, it was an especially great honor," said Fernandez.
Amy Vele
As Amy Vele and her parents recovered from the coronavirus a year ago, she used her podcast, "The Earthy Amy Show" to tell the story about their experience.  The YouTube video, which was posted in April of 2020 and has been viewed several hundred times, was second nature to Vele, who is accustomed to storytelling using social media platforms. At age 25 she is the youngest candidate running for a Common Council seat on the Progress4 Peekskill slate in the June 22 Democratic primary.
 The episode about her family contracting the virus, which was brought home by her mom who works at a nursing home, spells out the different symptoms they each encountered. "People who got sick were in a very vulnerable state and it takes a huge toll on your body," she recalled. The illness also contributed to feelings of hopelessness from watching the news and seeing people dying. "It was very scary and overwhelming, and you felt defeated.  I wanted my personal story to be helpful to people going through it, to help guide them." It took her a month to recover and she still experienced symptoms a few months later that she wasn't prepared for, such as hair loss.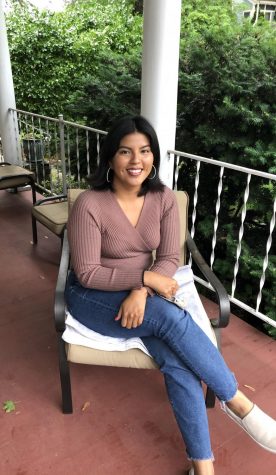 Vele, who graduated from PHS in 2013 and SUNY Albany in 2018 with a degree in journalism and political science, is the only child of Ecuadorian immigrants. A career in journalism was a natural extension for someone who loved reading, writing and poetry as a child. Growing up, she frequently had conversations with her father about global issues . "It wasn't politics per se, it was just a good way to understand situations and their foundations," she said.
 Vele's career goals of making information accessible for people motivated her to produce "The Earthy Amy" podcast upon her return to Peekskill after graduating from college. "I wanted to use my personal experience to help others make well informed decisions," she explained. The 'Earthy Amy' title sounded right to her after she considered her love of nature and that her family can trace its roots to indigenous people in Ecuador.  She learned production and other details of producing a show because in college "we had to be a one-man band" in handling all aspects of creating a broadcast.
One of the first people she interviewed for the show was Mayor Andre Rainey. Soon after that interview, she was approached by a member of the Peekskill Democratic City Committee (PDCC) to get involved with the 2019 mayoral race as the campaign manager and that began her career in politics. "I learned a lot working on that campaign, it was truly a collaborative effort." From there she became the chairperson of the PDCC Outreach Committee and recruited new district leaders.  She viewed that as an opportunity to expand the Committee's membership to include multiple voices and become well-rounded.
It was through her involvement with Peekskill Democrats that she met County Legislator Colin Smith. When he was elected last November, he hired her to be his full-time legislative aide and she began that job in January. In this capacity she is using her writing and research skills to produce county proclamations, examine best practice policies from around the state, and set up meetings and conferences. "I get to see the 'back end' of how government works," said Vele.
 Vele admits it's been awkward to be a candidate on the Progress4Peekskill slate, which is challenging the slate of the PDCC in the June 22 primary election – given that she was heavily involved in expanding and broadening the membership of the City Committee. "I wanted to make the right decision about running," she said. She was unsure if being a candidate was the path for her but her beliefs about including all voices in the party motivated her to seek election.
 As a way to de-stress and get her frustrations out, she took up roller skating. "It served me well," she said about the hobby.  She frequents the skatepark in Cortlandt or Peekskill's riverfront, "wherever there's flat land."  She would love to see Peekskill with a roller skating community, and muses that maybe she'll create an Earthy Amy episode about the contagious fun that roller skating is.