Community Activist and Newcomer to Politics each want a Council seat
Vanessa Agudelo, Progress4Peekskill candidate & Rob Scott, Peekskill Democratic City Committee candidate
Our Door-to-Door series continues this week as we feature a personality profile on each of the eight candidates running in the June 22 Democratic primary. Since Door-to-Door campaigning is limited as we come out of a pandemic, these profiles will help voters get to know the people behind the names.
By Regina Clarkin
The term privileged arises often in the conversation when Vanessa Agudelo speaks of her background. The daughter of immigrants from Colombia, Agudelo, who became the youngest person elected to a Common Council term in 2017 when she was 25 years old, frequently refers to the opportunities she was given that her parents didn't have. Those opportunities included stable housing, private school education and the chance to travel internationally as part of a college curriculum.
Agudelo, now 29, is the only incumbent on the Progress4Peekskill slate of candidates in the Democratic primary June 22. She grew up in a 2-family home on Depew Street that her parents worked 17-hour days to afford to purchase in 1995 when she was 4 years old. A graduate of Assumption School and Kennedy Catholic High School in Somers where she played lacrosse and was a captain of the competitive cheerleading squad, she received a bachelor's degree from Penn State University in 2014. She majored in international politics and classic medieval studies concentrating on archaeological and anthropology.
It was because of those areas of study, that she found herself in Tahrir Square in Cairo a week before the massive demonstration that ushered in the Arab Spring. She was in the country for an archaeological dig that gave her the first glimpse of global injustice. The practice her university adhered to in running the dig involved hiring children from the village for the equivalent of $5 US a week to do the manual labor of digging. The following summer, after she graduated, she was in Uganda managing eight American college-age students in a program that provided the organizational skills to support women-owned businesses. That experience showed her the value of proper training and preparation regarding the language, culture and background of the country they were assigned to work in. "There weren't enough translators or orientation for us to effectively do our jobs," she recalled.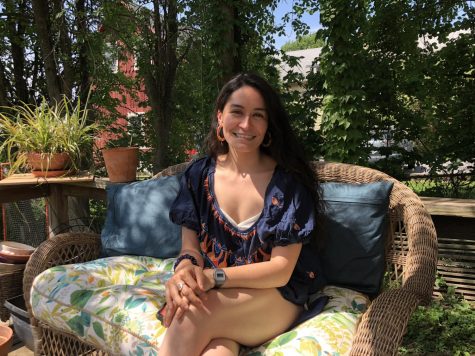 Those experiences showed Agudelo the realities of structural injustices; fierce competition among archaeologists for grant dollars along with biases and corruption were crippling even the best-intentioned programs such as the one in Uganda. The awareness she gained from those realities abroad brought her to a realization that motivates much of her activism today, "the people who are closest to the problem are also the closest to the solution."
That insight has infused the incumbent Council Member's motivation to make a living as an advocate. As the Member Engagement Coordinator for a non-profit statewide immigrant coalition, Agudelo credits the funding in this year's state budget for equitable pandemic stimulus and unemployment benefits to undocumented workers as an illustration of solutions to problems emerging from the ground-up.
The idea to put dollars in the state budget for an Excluded Worker Fund seemed unrealistic, said Agudelo. She and her colleagues were told it wasn't going to happen and they were chasing a dream. But after months of organizing, building a network of people and actions that included peaceful rallies in front of representatives' offices, a march over the Mario Cuomo Bridge, and a hunger strike she and fellow advocates undertook for 23 days to drew attention to the issue, they were victorious with the inclusion of $2.1 billion earmarked for the Fund in the state budget.
According to Agudelo, the lesson she took away from that first victory of her advocacy career was: "It's never a bad idea to ask for exactly what you need. And to give voice to the people directly affected."
As an elected official in Peekskill, she has been relentless in pursuit of an affordable housing policy to guide the new development the city is experiencing. "I've been passionate about housing because I've been watching the market [in a desire to find an apartment of her own]." She's seen how the market drives the prices, noticing that one-bedroom places were going for $1300 four years ago, then they crept up to $1500 and have been shooting up ever since." She says when she was a district representative for a Democratic State Senator in Manhattan and earning $34,000 a year, she would have been eligible for Section 8 housing if she was going to live in Peekskill. Her apartment hunt ended in December when she moved to the Crossroads on Brown Street.
The deep sense of gratitude for what her parents struggled and sacrificed to give her and her brother (who graduated from college with a degree in computer science this year) fuels Agudelo to use the privileges she's had to push the needle forward for those who, through no fault of their own, are limited by unjust institutional and societal structures.
Rob Scott
As a child Rob Scott dreamed of owning a business. That desire became a reality in 2008 when he purchased a delicatessen in Hopewell Junction with money he saved and raised from refinancing his home. But the fulfillment of a lifelong dream turned into a nightmare a year later when The Great Recession hit and he lost the business, his home in Peekskill along with a vacation property in Florida.  Scott, who is a Peekskill Democratic City Committee endorsed candidate for  Common Council in the June 22 Primary, refused to let that setback define him. 
 Today the 41-year-old is the proprietor of PK Blendz on Main Street in the downtown and looks at that period from 2008-09 as one of the biggest challenges of his life.   "We went from having a house to living in one room. It wasn't a one room apartment, it was just one room for my wife and I and our one-year-old daughter."  He and his wife Lisa found their way out of the trying time by Rob working two jobs while Lisa, his PHS sweetheart, went to school to become a speech pathologist.  He stayed in the food industry, working at two successful delis' and "soaking up as much information as possible" for when his next opportunity arrived.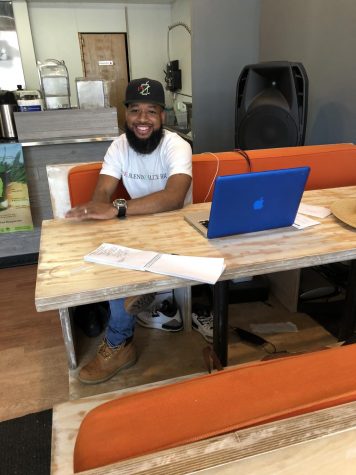 But the opportunity for re-entering the world of business ownership arrived, disguised as a health complication. Suffering from headaches, Scott sought out medical advice and was told to take pills for the pain – but doctors couldn't pin down the cause. He decided to go to a holistic doctor in New York City whom he was following on YouTube. The doctor asked him about his diet and Scott told him what he ate every day.  Working at the delis, his diet was heavy on meat and processed foods. The doctor suggested he eliminate the meat for a week and see how he felt, explaining how the chemicals to process the meats were impacting his health. Scott was skeptical and didn't think it would work, but he did stop eating meat for a week and the headaches disappeared. Not believing the results, he started eating meat again and the headaches returned. He transitioned away from meat permanently at that point. He eventually became a vegan, eating no products from animals.
 Scott knew the next business he started would be multi-cultural, progressive and educational. He didn't do any data studies before opening his juice bar, but he knew what was driving his lifestyle was fulfilling a need he had – and it might do the same for others. Five years into owning and operating the business, he says the toughest part is finding and training employees and then retaining them.
 The business ownership was a second career for Scott, whose family moved to the Forestview neighborhood in Peekskill when he was a freshman in high school. His dream may have been to own a business, but his passion was music. His singing talent was noticed by a record label and after two semesters at a music college in Long Island, he signed a contract as a solo artist, performing R&B. The music business wasn't the kind of lifestyle he wanted for the long term because of the traveling and late nights in studios and gigs. He was more interested in pursuing the dream of owning a business. "That was what I wanted more than people screaming my name when I was on stage," said Scott, who has a 14-year-old daughter and a 3-year-old son.
 Running for political office wasn't something Scott sought but says it's a natural progression because of his involvement in the community, offering dietary support to cancer patients and people with diabetes regarding what they eat. He's also hosted school events where he's educated kids about their diet. He makes the PK Blendz shop available for young people to talk about what's going on in their lives and he invites elected officials to come in and listen. "It's easier for kids to come here than to go to City Hall," said Scott.  
 By blending activism regarding nutritional choices with the lessons he's learned from re-building his professional life, he's witnessing how when life gives you lemons… you can create healthy lemonade.