Student Advocate and Public Servant look to fill a Council seat
Dwight Douglas, Peekskill Democratic City Committee candidate & Amy Perlow, Progress4Peekskill candidate
Our Door-to-Door series continues this week as we feature a personality profile on each of the eight candidates running in the June 22 Democratic primary. Since Door-to-Door campaigning is limited as we come out of a pandemic, these profiles will help voters get to know the people behind the names.  
By Regina Clarkin 
When Peekskill's DRI-funded projects were announced last week, among them was a $1.5 million upgrade to the Kiley Center which will allow it to host a branch of the Boys & Girls Club. City Councilman Dwight Douglas' interest in that proposal can be traced to the years he was a member of the Boys Choir for the Cathedral of St. John the Divine in New York City when he was 8 years old.  Douglas, 76, remembers the intensity of training he experienced to master reading music and singing in Latin and German as a child. "It taught me what you learn when you delve into something that's difficult, that's how you gain internal strength."  
 Douglas, who is running as an incumbent for one of three open Common Council seats in the June 22 Democratic primary, grew up on Manhattan's Upper West Side in a third-floor walkup apartment that was torn down as part of the Lincoln Towers urban renewal project.  When he was accepted into the Boys Choir he and his older brother, who was also accepted, moved into Cathedral housing at 101st Street where they lived for four years. When they 'aged out' of the Boys Choir, his parents had moved to Yorktown and he graduated from Lakeland High School.
"We would come to Peekskill for shopping," recalled Douglas. "Because everything we needed was here; meat markets, vegetable stores, clothing shops." He met his wife Ann at college in Montreal and moved to an apartment on Union Ave. and then Constant Ave. They bought their home on Walnut Street in 1975 and raised their three children there, all of whom graduated from Peekskill High School.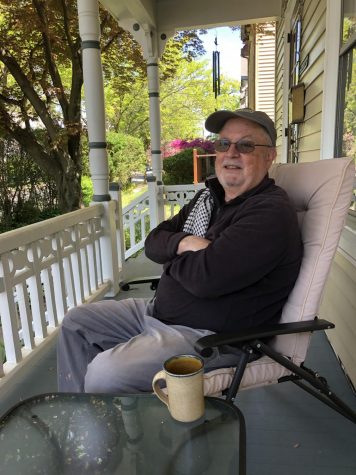 Douglas began his career as an English teacher at schools for troubled youth: Mt. Florence (which is now Chapel Hill); St. Peter's (now The Highlands on E. Main Street); and Hillcrest Center for kids in Bedford Hills. That teaching / counseling career lasted ten years before he felt burned out. A job opening he saw in the Pennysaver for a housing specialist in the City of Peekskill led to his 21-year career with the city. He left as Director of Planning and Development in 1998.
 Another ad in the Pennysaver, this time looking for male singers, for the Garrison Depot Theater group, led him to try out for a part. "It's very different singing bass as an adult than singing soprano as a child" said Douglas. But he and a friend got the parts of singing waiters for a musical revue and that began ten years of involvement with community theater. His singing and piano playing contributes to the leading of religious services he and his wife have been involved with at Bedford Hills Correctional Facility for the past ten years.
 Little did he know when he was teaching in those two schools in Peekskill, that years later he would be working on the housing development plans for those properties as they came onto the tax rolls. And he never expected to be returning to Bedford Hills years later to volunteer at the women's prison in that community.So it was almost predictable when he found himself appointed to the Common Council to fill a vacancy in 2020 after spending a good part of his career on the other side of the municipal table, as a staff member rather than an elected official.
 These days Douglas volunteers his time for the Westchester County Planning Board and the Peekskill Housing Authority Board, and writes poetry and short novellas as a way to relax, along with playing the piano. And he is diligently pursuing the details around the Boys & Girls Club establishing a home in Peekskill so children here can experience the 'great adventure' – as he called it – of digging deeper into oneself to see what you're capable of.   
Amy Perlow
Amy Perlow's introduction to Peekskill came through an invitation.  A work colleague of her husband's suggested the couple visit one weekend. And it's exactly what they did in 2011 to spend time with the Overski/North family who lived on the east side of Peekskill. 
 Two years later, the couple decided to move out of Brooklyn but didn't want to live in another city. In their desire for a more rural environment, they rented a house in Lake Peekskill in Putnam Valley. But after two years commuting from Putnam Valley to the Cortlandt train station to go to New York they realized how much they missed life in a city.

So began their search for a house in Peekskill which they had become familiar with since they'd been living in Putnam Valley (where's there's no real downtown). Their search led them to a place on Nelson Avenue. "Buying a house is a nerve wracking, terrifying thing," said Perlow, 42 "especially for first time homebuyers." When they closed on their house, they were surprised to learn the property card revealed a prior owner to be the Overski/North family who initially extended their invitation to Peekskill.
 That type of serendipitous experience isn't out-of-the ordinary for Perlow who is running on the Progress4Peekskill ticket in the June 22 Democratic primary. A native of Rockland County, she is vying for one of three open Common Council seats.
 At age 21, with a bachelor's degree in English from SUNY Binghamton, she decided to go to a foreign country to teach English. She knew her other option was to do what all her friends with English degrees were doing; move back in with parents because there weren't jobs for people with English degrees. That didn't appeal to her, so she used the internet to research an opening and a few weeks after her college graduation, she was headed to Tokyo, not knowing a word of Japanese.  Perlow lived in housing subsidized by the school and taught pre-school and kindergarten children for a year. She then shifted to teaching adults for a year, and when that ended, she found contract work for six months.
 Her research skills, honed by living in a foreign culture, served her well. Upon returning to the US, she began working in the nonprofit world and landed a job with the City University of New York (CUNY) – which had a contract with the New York City Department of Education. For a dozen years she worked at CUNY, met her husband along the way – and earned a master's degree in social policy from Empire State College.  
 Throughout her career Perlow has been an advocate for leveling the playing field for all students to have access to an education. Six years ago, she ended her 5-day-a-week commute and began project work as an independent contractor, which allows her tremendous flexibility. One of her clients was Westchester Community College, where she replicated a program she ran in New York City that saw high school teachers and college teachers partnering to prepare students for college coursework.
 She can be found running every morning in Depew Park. "Running is a way for me to solve problems in my head," she explained. Her favorite season is winter: she prefers the cold weather.  A recent hobby is pottery; which Perlow finds more contemplative than running. But because of the primary campaign, she's spent less time at Peekskill Clay Studios than she'd like.
 Her entry into Peekskill's civic life started during the pandemic. A member of the NAACP, Perlow began attending the virtual meetings and joined the education committee. When the chairperson of that committee asked her to take over leadership responsibilities, Perlow agreed. Through the NAACP she became involved with learning about housing issues in Peekskill and that led to discussions around the City Council election in November 2021.
 "A few people stepped up to run and others couldn't for whatever life reasons," said Perlow, who referred to herself as a "reluctant candidate." "But I was able to take it on because of my lifestyle and flexibility: I don't have kids, I believe in the cause and I have a supportive partner." As a result of campaigning, she's met all sorts of people and "hasn't encountered an unpleasant person."
 Her friends and family weren't surprised that she's running for public office. "I'm usually on the sidelines as an organizer," said Perlow "and I'm pretty uncomfortable being in the public eye, but they know the community advocacy work I've done my entire career." What's come to light for her during her entrance into community involvement in Peekskill is the large number of engaged citizens. "There are so many active groups here, if you look for them, you'll find them." And for someone who spends most of her days researching best practices, it's encouraging to hear this about Peekskill, a community she had no knowledge of ten years ago.