Proprietor and Community Figure Ralph Nardone dies
Wake is tomorrow and funeral on Thursday
By Regina Clarkin
Ralph Nardone, who with his father and uncle ran one of Peekskill's oldest businesses, died at age 94 on May 13 after a brief illness. Nardone Brothers Furniture Store operates today on Washington Street, run by his nephews, the third generation of Nardone's. Friends and family can pay their respects at the business begun by his older brother;  the Joseph F. Nardone Funeral Home at 414 Washington Street on Wednesday, May 19 from 4 to 8 pm.
Ralph, who never married, knew what family was all about. From greeting and visiting with customers who were shopping for dining room tables, couches and beds at the showroom on Washington Street to being the figure in his family who people turned to when they had a dilemma or needed to talk something through, his 'people' personality endeared him to hundreds. It gave him great pleasure to attend various civic, social and church events throughout his life.
He enjoyed the company of friends he made in the Peekskill Rotary Club, the Knights of Columbus, the Elks Club and the Christopher Columbus Club. He was a member of the Centennial Hose Fire Company and proudly sported the jacket they gifted him when he reached the 50-year mark of membership in the Company.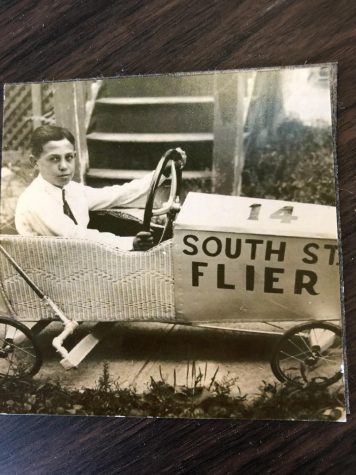 Born in Peekskill to Michealangelo and Antoinetta (Chiavelli) Nardone on June 2, 1926, he graduated from Peekskill High School. He served in the US Navy in New Guinea during World War 2 as a provost marshal, a person in charge of a group of military police. A natural athlete, he enjoyed playing baseball, football and bowling as a young adult. He was nicknamed 'Torpedo Nardone' for his boxing prowess on the naval ship. Ralph was a devout Roman Catholic and a dedicated parishioner at Assumption Church where he donned the red jacket of usher and served at 10 o'clock mass every Sunday morning.
His nephew Stephen Anstett, who runs the furniture store now, recalled when it was just Ralph and his dad running the business, Ralph had the idea to offer installations of flooring and carpeting to customers as well as selling them furniture. Ralph told his father that he would go out and do the manual labor while his father kept the showroom open for customers to visit, said Anstett. A cigar smoker, Ralph quit about 40 years ago, but kept the habit of chewing on the end of one while installing flooring. His desire to expand the business proved providential when a fire blazed through an apartment building on South Street at the intersection of Smith Street in 1975. It was a windy, cold day and the gusts of wind from Central Avenue sent the flames across the street to the South Street showroom where the furniture store was originally located. Because the business was growing and Ralph wanted more space to showcase the living rooms, bedrooms and kitchen layouts, he relocated in 1973 to the current Washington Street address.
After retiring, Ralph spent his time golfing, going to the casinos, taking trips, and spending time with his family and friends. Because he had such a large extended family he would visit different branches of the family for every holiday celebration. He was readily available for his relatives to lend a hand or give advice.
He is predeceased by his parents, eldest brother and sister-in-law Joseph and Ann Nardone, his sister and brother-in-law Angelina and Fred Plaviak, his younger brother Michealangelo ("Mike") Nardone, Jr., and nephews Michael Nardone, Joseph ("Jay") Anstett and Daniel Veglia, Jr.
Ralph is survived by his sister and brother-in­-law Marie and Stephen Anstett, his sister-in-law Trudy Nardone, his nieces and nephews: Judy Veglia, Stephen, and Anna Marie Anstett, Edward and Nicole Anstett, Laura and Keith Palmer, Jamie and Jay Gullo, Michael and Caroline Nardone; 24 great-nieces and nephews; and 10 great-great nieces and nephews.
A Mass of Christian Burial will be held at the Church of the Assumption on Thursday, May 20, 2021, at 10:00 am.