Bone broth business sees 'food as medicine'
A hospital farmer's market is the perfect place for Shawn and Elizabeth Creyes to sell their broths since they consider food to be medicine. The couple, owners of Two Birds Handcrafted Provisions,  make bone broths, a liquid containing brewed bones and connective tissues. As a food trend, broths are gaining traction as a rich source of collagen and glucosamine which protects the joint and improves skin elasticity, while glycine found in bone broth helps ward off fatigue. The gelatin drawn out from the bones also helps with leaky gut syndrome and eases chronic diarrhea, constipation and some food intolerances.
Transplanted from Brooklyn to Cortlandt Manor last year, the couple are part of a wholistic movement that views food and how its prepared as integral to good health. "Making broths are a lot like taking care of a child. You have to have 24 to 48 hours to make each one," said Elizabeth who trained at Le Cordon Bleu in Miami where she grew up.  She suffered from fibromyalgia, high cholesterol and triglyceride levels and credits changing her diet to broths to regaining her health and giving birth to a daughter five months ago.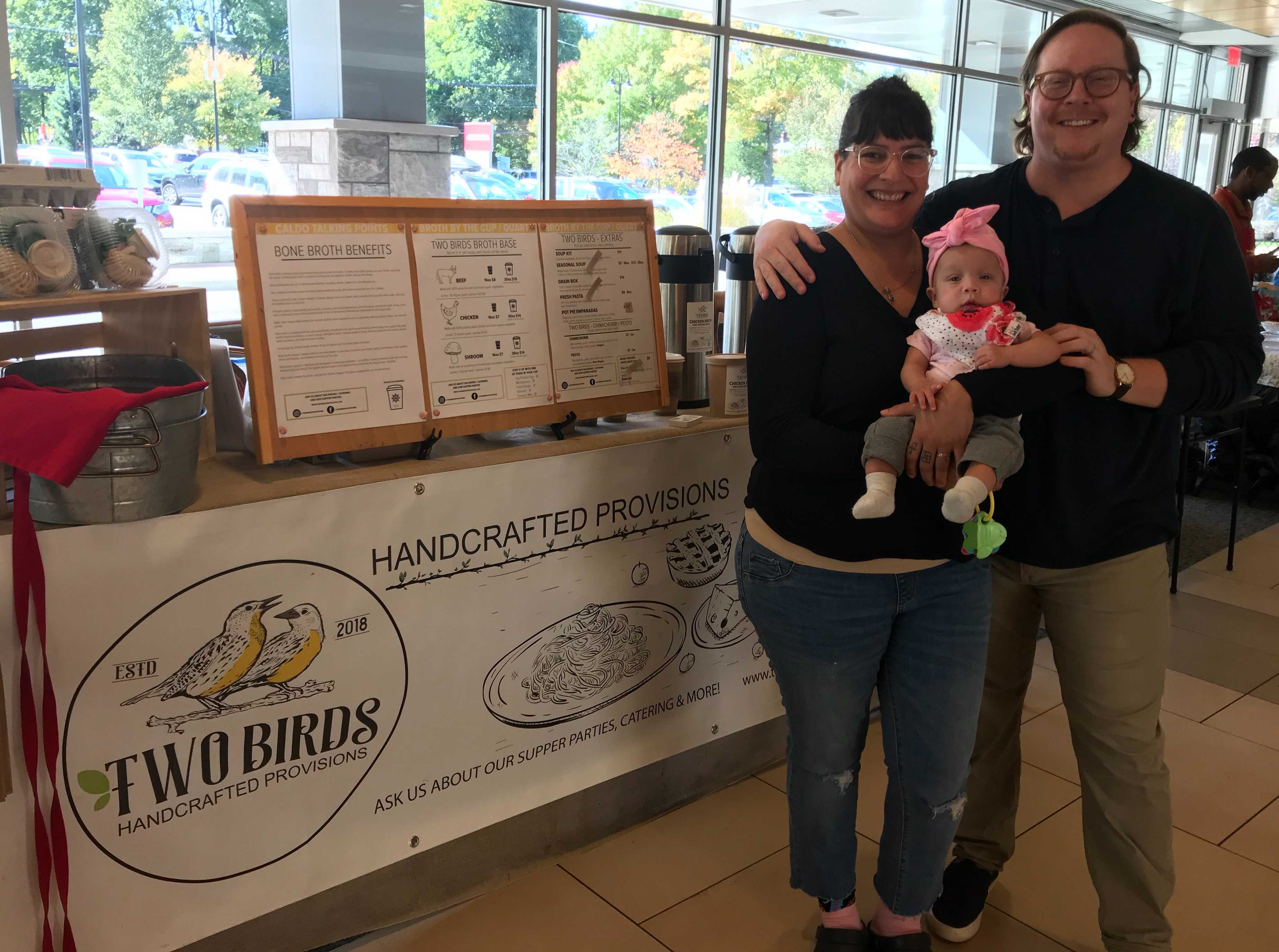 Working out of a rented commercial kitchen in Mt. Kisco, Elizabeth, 39, dehydrates all the vegetables used in their broths. They buy only organic, locally grown vegetables and bones from farm raised, grass fed animals.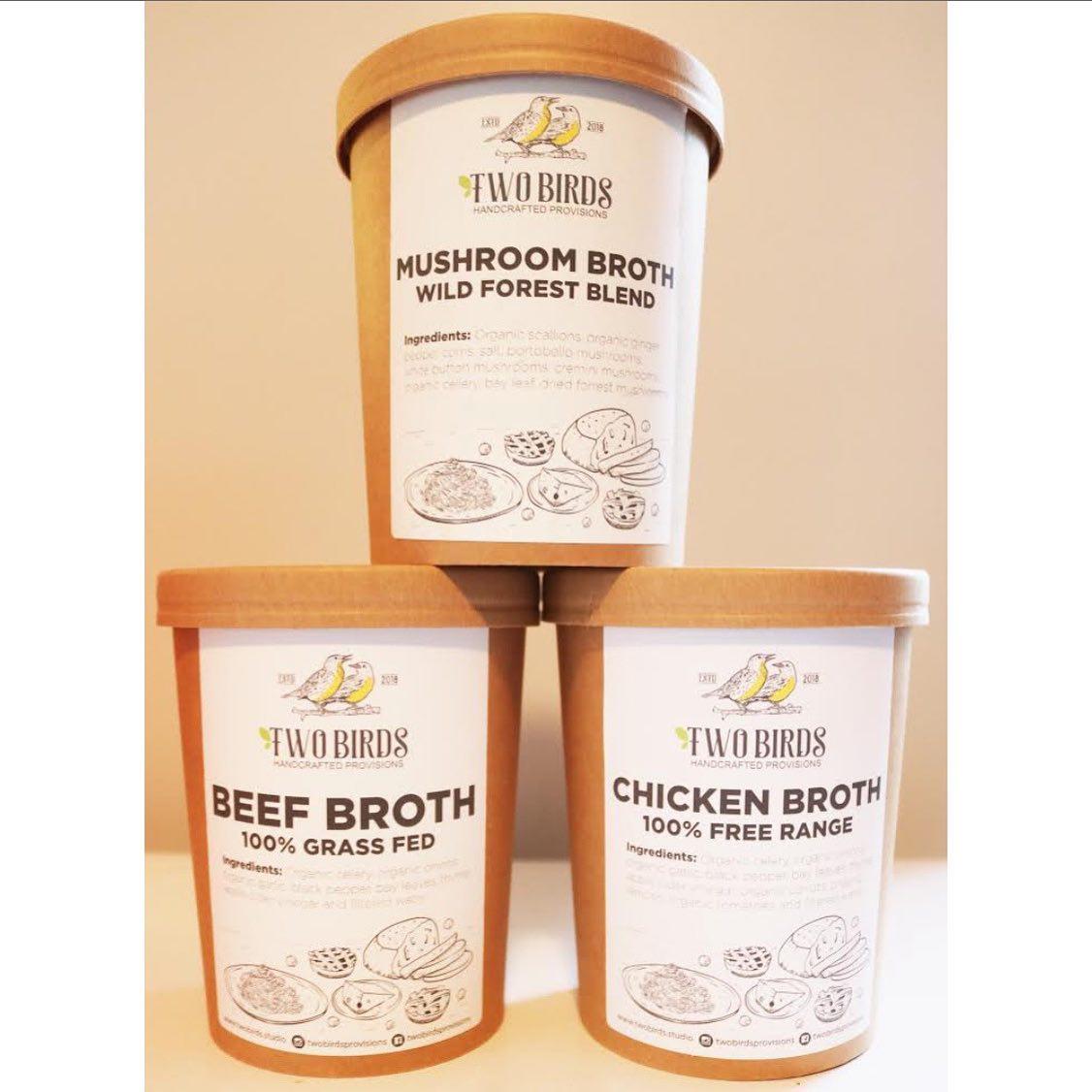 It's a three-step process to create a broth, which involves boiling, roasting ad boiling again. The second boiling or simmering for chicken and beef broths takes 24 to 48 hours. The mushroom broth (their biggest seller) takes 4 hours. In addition to broths they sell micro-greens, salads, bowls and sides such as herbs to put in the broths as extras. They also sell empanadas with a Cuban flair.
Shawn, 37,  who works in the lighting design industry and is certified to teach American Institute of Architects classes for continuing education teamed up with Elizabeth to cater his "lunch and learn" courses.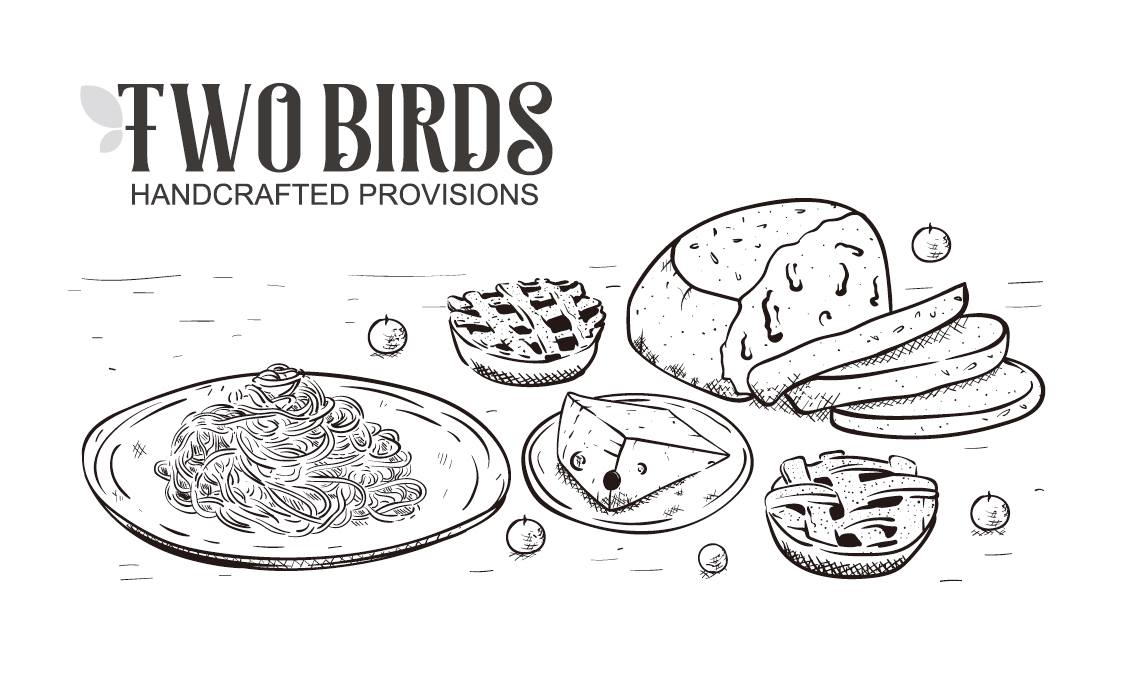 In addition, they did 'pop up' dinners with a movie in their Brooklyn apartment. Their goal is to have a brick and mortar business in Peekskill where people could eat a meal and purchase vintage furniture and lighting fixtures. That dream helped them create the name of the business. "People could eat a meal (one bird) and buy items (second bird) at the same time," said Shawn. 
The marketing and design of the business is handled by Shawn who grew up in Woodstock. He met Elizabeth in Brooklyn when he was the neighbor of one of her best friends.  Shawn is a natural teacher, educating visitors to their display about the benefits of bone broths. He tells of how in countries such as Austria and Finland people sip bone broths as they would coffee and use it as a meal replacement. The practice of boiling bones from animals has been around since humans discovered fire, but the current trend sells people on the health benefits.   
In addition to the New York Presbyterian Hudson Valley Hospital Center Farmer's Market every other Tuesday, they are at the Peekskill Farmer's Market every Saturday. On December 9 Elizabeth will be teaching a class at the hospital's cooking kitchen on how to make a healthy soup broth. 
For more information on Two Birds, visit their website: https://www.twobirds.studio.