Garden Passage & Things Hidden in Plain Sight open this weekend
Two events in Peekskill this weekend illustrate what happens when a person is committed to a vision.  The Garden Mural Passage opens with a reception on Friday and Saturday from 12:30 to 2 pm at the Jeannette J. Phillips Health Center on Main St. in the Atrium. And on Saturday at The Field Library from 2 to 4  pm: "Peekskill:  In Plain Sight, Unseen" opens, also with a reception. 
Both events are the results of two people following their passion and taking some risks by throwing all their emotional energy and thoughtfulness into their projects that are on display for the public. 
"Peekskill, In Plain Sight, Unseen" is a photo exhibit by renown Hudson River photographer Joe Squillante. His love of Peekskill history, people, places and things will be brought to light through photography. He captures images that we walk by and never notice along with artifacts of historic value reclaimed in a historically rich city.


The exhibition brings together artifacts from the 18th century and artisans still working in the old world style. Peekskill's ever-changing cityscape has inspired resident artists and visitors for over three centuries.
As vice-chair of the Historical and Landmarks Preservation Board, he has a unique interest in chronicling the depth of history in the city.  Squillante, a Peekskill resident, has been photographing the Hudson River with its enchanting light for some 40 years. He notes that Washington Irving compared Peekskill Bay to Italy's Lake Como. There will be a section of the exhibit featuring his classic Hudson River photographs from Peekskill Bay. 
The Garden Mural Passage is a labor of love for Karen Allen.  Allen is a Health Center dental hygienist who is also a professionally trained artist. Three years ago when the Health Center was renovated, she would eat her lunch at a picnic table outside the expanded building. The area Allen sat at everyday faced a blank wall that is the back of the Empire Beauty School building owned by Christine and Tony Fragameni.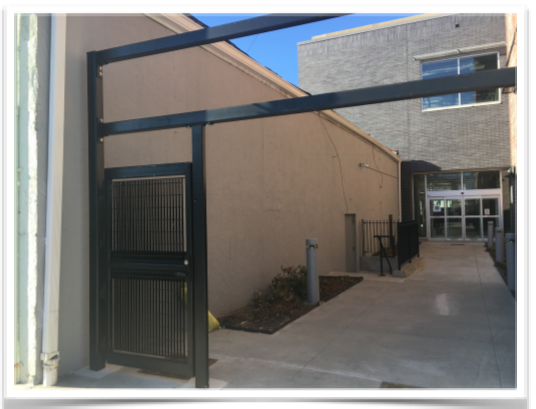 She liked the texture and dimensions of the wall and envisioned a mural there but it took a few years for the idea to take root. At the same time, she was seeing the What Matters mural (on the Park Street parking garage) and a particular line resonated with her: Listening to the inner voice and acting on its wisdom. She also wanted to honor the vision of Jeannette Phillips, one of the women who founded the Hudson River Health Care and who still works at the Health Center.


When Allen talked about the idea for a mural on the wall to her boss in the dental department as well as Phillips, she was encouraged to continue researching how it could take shape. That enthusiasm along with support from Peekskill's artist community and financial sponsorship from Arts10566 helped her project become a reality.  She was especially grateful that the Fragameni's were receptive to her idea to create art on their building. 
She began brainstorming designs with artist Lana Yu and came up with the image of the plane tree which is an integral part of the Health Center's mission. The plane tree health care approach is holistic and encourages healing in all dimensions —body, mind, and spirit. Allen was also influenced by a quote of Dr. Oliver Sacks, a Brittish neurologist who was known as "the poet laureate of medicine." 
In his 40 years of medical practice Sacks said he only found two types of non-pharmaceutical 'therapy' to be vitally important for patients: music and gardens.  "The role that nature plays in health and healing becomes even more critical for people working long days in windowless offices, for those living in city neighborhoods without access to green spaces, for children in city schools or for those in institutional settings such as nursing homes. The effects of nature's qualities on health are not only spiritual and emotional but physical and neurological. I have no doubt that they reflect deep changes in the brain's physiology, and perhaps even its structure," said Sacks. 
Allen knew she wanted nature to be on the wall which measures 60 feet by 12 feet. The entire process took five steps from initial brainstorming that began in January of this year. By February she had her sketch and was researching how to get it on the wall.
She decided to make 2'x2' blowups and put them on the wall and then begin 'pouncing', using a tool that pokes holes in the outline of the sketch.


Once all the holes were punched, the next step was to mark the holes with chalk. After all the lines were drawn in chalk, the 210 squares of 2×2's were removed and what was left looked like a 'paint by numbers' outline. 
The logistics of getting the correct colors in the right spots on the wall posed a challenge.  She labelled the Benjamin Moore paints (purchased from Robinson's Paint on N. Division St.) and developed an intricate system of color coding along with grid numbers and letters. She knew she needed an orderly system because 15 friends and family were coming from different parts of the country to help.The painting began on June 15, Allens' 65th birthday, and took 8 days. A quarter of the wall was done the first day.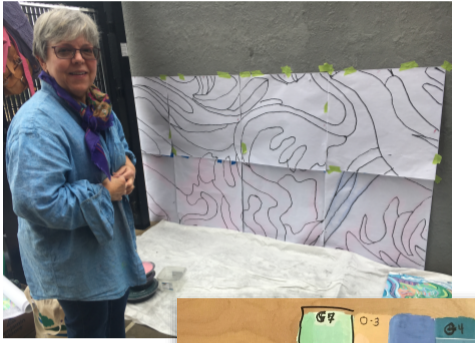 The final result is a beautiful mosaic of color that brings to mind a luscious garden and contributes to providing a healing, healthy environment for patients as well as staff at the community health center.