Backstory on Peekskill's $10 million gift from New York state
If 'location, location, location' is the mantra of real estate, 'timing is everything' is the mantra when it comes to winning a $10 million state grant. When Peekskill officials learned the city won the downtown revitalization initiative grant in August, it was the culmination of four years of trial and error. 
"We learned something each time we entered," said Jean Friedman, Peekskill city planner. Peekskill was a finalist for the past three years of the program's existence. Understanding the timing was a critical factor. As soon as they submitted their 14 and a half page application on May 31, they reached out to the Peekskill Business Improvement District (BID) to share the production cost of a 5-minute video about the city. They also created a 5-minute power point presentation narrated by Mayor Andre Rainey. And they started rehearsing the presentation.


Rainey, Friedman and  City Manager Richard Leins practiced two or three times to ensure they stayed within the ten minute limit. This was all done before they were aware the city made it to the group of seven finalists. When they received the call a few days beforehand to come to New Paltz on June 20 to present, they were ready. Mayor Rainey presented to a group of 20 committee members of the Mid Hudson Region of the Economic State Development Council.  
The Council, comprised of leaders from the business community along with university and hospital officials, had the chance to ask questions following the presentation. 
Marsha Gordon, president of The Business Council of Westchester said committee members were impressed with Peekskill's presentation and that the video was well done. One factor that contributed to their decision to award Peekskill the money was the amount of private investment that has happened in Peekskill recently. She pointed to developers Louie Lanza and Martin Ginsberg as examples of instilling great confidence in what was happening in Peekskill. "There is great positive energy, smart development as well as good leadership. All those things really made us feel positive about investing in Peekskill," said Gordon.
Gordon also noted that it's not unusual for municipalities to apply numerous times.  The first year Peekskill presented they had a video, that was hastily produced and the last two years, they opted out of having a video.  For the first time this year they also only had the mayor making the presentation while the City Manager and City Planner were available to answer questions. 
The major focus of the application, which Friedman wrote, concentrated on economic development. "It needed to be geared towards long term economic development. Paving the street isn't long term. Tourism creates jobs," said Friedman about some of the points in the proposal which was limited to 15 pages. 
Last year Peekskill received a federal designation as an 'opportunity zone' which means developers can take advantage of state and federal historic preservation tax credits in addition to relief on capital gains tax. And, the city was identified by the state economic development council in a 2015 Progress Report as an "Opportunity Agenda Community' that is prime for revitalization because it is  'walkable, affordable and has plenty of job options." Three years later, the same state report noted that Peekskill was one of only a few "Opportunity Agenda" cities that has been successful in decreasing its unemployment rate. 
One area that the grant will address is the Central Avenue/McGregory Brook corridor. According to the city's application this area needs strengthening as a walkable pedestrian-friendly link between the downtown and the train station/waterfront. Another area on the wish list is an improved central public meeting place focused on the gazebo plaza area.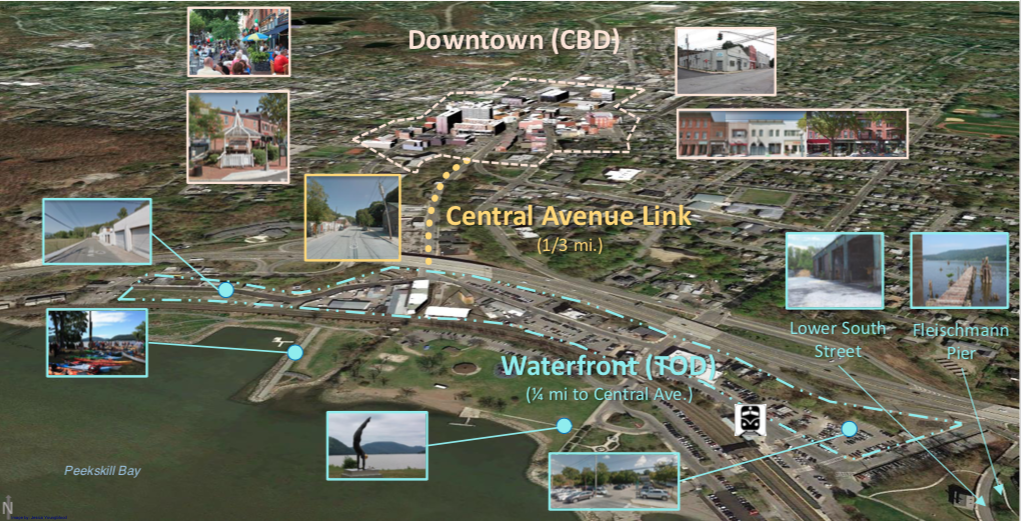 A steady incline in the amount of private and non-profit investment in Peekskill compared to public funding was illustrated in Peekskill's presentation. When Peekskill applied for the grant in 2016 there was $154M private/non-profit investment to $30M in public funding. This year the number is $246M private/non-profit to $49M public dollars. 
In spelling out how that investment translates into new employment opportunities, Friedman illustrated where the $246M was spent and how it is poised to generate 500 new jobs. "An array of innovative curing edge businesses allows Peekskill to rely on a diversified employment base rather than on a few large corporations." She then listed some of the large employers in Peekskill and discussed the amount of hiring they've been involved in. For instance, she pointed out White Plain Linen with its 600 jobs relocated to a larger facility on John Walsh Boulevard and expanded entry-level employment opportunities by 162 jobs. Manzer Landscaping added 20 jobs with its relocation to Peekskill. The US Census Bureau chose Peekskill as its regional headquarters and 50 employees will conduct the 2020 Census here starting in 2019. 
Friedman said that she is now waiting to hear from the department of state about the consultant who will be assigned to the city to walk through setting up a committee of Peekskill residents along with government and business officials to implement the grant.