Wendall Bowman: Protecting the People and Animals of Peekskill
     We see him driving in his white van on Main Street, in Depew Park, at the riverfront. If we're lucky, he pulls over and gets out to greet our pup with a smile on his face and a dog biscuit in his hand. But Officer Bowman does a lot more than spend his days making the city of Peekskill's pups and, by extension, their owners, happy. His work as the city's Animal Control Officer (ACO) is as varied as the faces of the dogs we see all over town. "Every day is new and different," Bowman, 57, told the Herald, "which is what I like."
Bowman works with wildlife as well as domestic animals. Most often he responds to complaints about dogs at large or lost dogs, but he's got stories—and scars—that tell other stories.
And he has lots of stories from the more than 20 years he has been Peekskill's Animal Control Officer. In his work as ACO, Officer Bowman has handled more than 75 different types of animals, from hawks to hamsters, and copperheads to coyotes.
"I once had to secure a loose goat," Bowman said, "and that was very difficult." The goat was running free on a long grassy slope in a housing complex near the Bear Mountain Parkway. Bowman chased the goat for a week before he caught him the day before the Halloween blizzard. "I didn't want the goat to get caught in the snowstorm," Bowman said. Determined, that day he chased the goat and when he got close, tackled it. "I ziptied its legs," he said, "and drove it to the farm at the end of Maple Avenue."
Another unusual catch was an alligator. "I got an anonymous 911 call," Bowman recalled. "A guy was going to release an alligator into Mitchell Pond in Depew Park." Bowman put a stop to that. "I seized the guy and was able to transport the alligator to a reptile refuge."
Bowman loves animals and finds the job rewarding—especially reuniting pets and their owners—but it is also dangerous.
The most challenging part of the job, "is safely securing an animal that is trying to maim or kill you," Bowman said. "I was once called in by troopers to secure a dog that had just, moments before, literally killed a person." Bowman says that when he arrived on the scene, the dog was in one room, and the state police were in another. "They thought I was crazy to go into the room with the dog," he remembered. But that's what he did. "I walked in, calmed the dog down, and walked out with the dog on a leash." One way he calmed the dog was by using one of his secret weapons, dog treats. "That one took more than one cookie," he said.
As for the scars, Bowman has been bitten by dogs—and cats—more times than he knows. "I stopped counting animal bites after 300," he said, "and that was years ago." Bowman has acquired more than scars during his work as the city's Animal Control Officer. He has won awards and adopted pets.
Officer Bowman is reluctant to talk about the awards. "I don't do the job for that, and I don't really like to talk about it," he said.
He is much happier talking about the animals. "Many of the pets I have had over the last two decades are from the streets of Peekskill," he said. Today his pets include aquatic turtles, a box turtle, a desert tortoise, and chickens. He also has four dogs, including his partner, Juice.
Juice is the highly trained border collie who works with Officer Bowman on what Bowman calls "goose hazing." Her job is to help keep the green areas of Peekskill free of goose-poop by chasing away the geese who flock to our parks.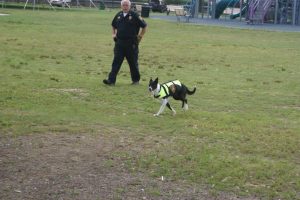 This is Juice's tenth year working with Officer Bowman and, as much as he loves her, Bowman misses Basil, her predecessor. "She was my perfect dog," he said. "She just got me. She worked so hard, and at times she seemed to know exactly what I needed of her without a single command. She even saved me from what could have been several terrible beatings." If someone laid a hand on Officer Bowman, "Basil would exit the vehicle and place herself in harm's way, several times engaging the individual. She did this with no instruction to do so."
Animals have been part of Bowman's life since childhood. He grew up on a farm in a small township in Maine with his parents, three sisters, and two brothers. He studied at the University of Hartford and then moved to New York where he worked as a professional artist—he still paints—and a dog trainer.
How did Officer Bowman become an animal control officer? "I called the police chief to make a complaint" he said. "The chief (Gene Tumolo) asked if I could do a better job." Bowman said he could, and the chief said he'd give him five minutes to make his case. "We interviewed for about two hours," Bowman said. After winning over the chief, Bowman trained at the Westchester Police Academy and the National Academy of Animal Control.
Bowman says that his job hasn't changed much over the years. "I do know that the city has changed a lot, though," he says. "We have grown as a city and as a community, and that's to the credit of all the city departments."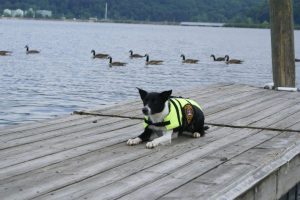 Another thing that has changed is the number of dogs around town. "Due to Covid, adoptions have gone way up," Bowman said. He added that the pandemic has allowed "the parties involved to get to spend the right amount of time being with and training their new friends."
With so many new dog-owners in the city, the Herald asked Officer Bowman for tips on how to keep these pups safe. "Leave your dogs at home if you have errands to run," he said. "And leash up!" While reuniting pups and their owners might be the most rewarding part of his job, Officer Bowman would be even happier if they weren't separated in the first place.