Humble Hispanic group helps community
When there is a crisis in Peekskill such as a devasting fire that's displaced many people or a catastrophic illness that prevents the familiy's breadwinner from working, a grassroots rapid response group known as Peekskill Hispanic Community Corporation reaches out with immedate help. 
"They are very well embedded in the community and they do their work with fluidly, kindness and with great sensitivielty," said Maria Flores of the Peekskill City School District. They work collaratively with all groups within the community said Flores. "Their sensitivity is crucial because they are able to assess the needs, be they financial and emotional, and respond," said Flores.  Every family has different needs when they are in crisis and this group works with great sensitivity. 
As an example of the low key and sensitivie manner in which they operate, she referenced the Christmas toy drive that the group helped with this past December. "We had over 400 toys to distribute and it was a huge venture. About six of their members came in and set up a room to be a shop and did it in such an honorable and respectful manner" said Flores. 
The all-volunteer group began as neighbors helping neighbors after a fire on South Division Street in March of 2015 left four families without a place to call home. The building that burned is across the steet from Assumption Church. When parishioners learned that two of the families had no place to live at the end of a three-night Red Cross sponsored motel stay, Dinora Pacheco opened her home for two months before new housing was found for the families. Helping families navigate after a traumatic event requires diligence and compassion because there are varied obstacles, especially the lack of affordable replacement housing. 
Four months later, in July 103 people lost their home when a 20-unit house on Fremont Steet caught fire. By that time, Dinora Pacheco and three fellow parishioners at Assumption; Ramon Fernandez, Simon Guaman and Pablo Antunez knew what to do to help famlies find a place to live.

 A year later, in July 2016, they obtained their 501c incorporation papers and they are a non-profit that has contributed approximately $30,000 helping those who need it.  "We are not just for Spanish people" says Antunez who owns a remodeling company. 
When an African American family with three children lost their home in a fire on Main Street the group helped them with the transition after the three days at the Red Cross funded motel ended.
"Regardless of race, religion or ethnicity, they help where there is a need" said Flores. "I share with them a need and they are there 100 percent. And they know how to connect and network with other organizations in Peekskill."  
When members of the community are struggling with illness and lost wages. Dinora, who is a daily communicant at Assumption, usually gets a request to go and pray with a person.  "When I leave their home, they stay with me" she said and she starts figuring out a way to help the family. 
This Saturday, May 4th from 7 pm to 2 am Peekskill Hispanic Community Corp is hosting a bingo night in the back room of Onorfrio's Pizza at 1011 Cortlandt Street. The event seeks to raise money for a family with two children because the dad has been sick with cancer for more than five years. The event is free and there will be food but people pay for their bingo cards. 
As much as it's a group of people helping neighbors in need, it's also a social group. One of their members owns La Casa de Lucy, a restaurant on Washington Street, and they cook food for their events in the commercial kitchen there.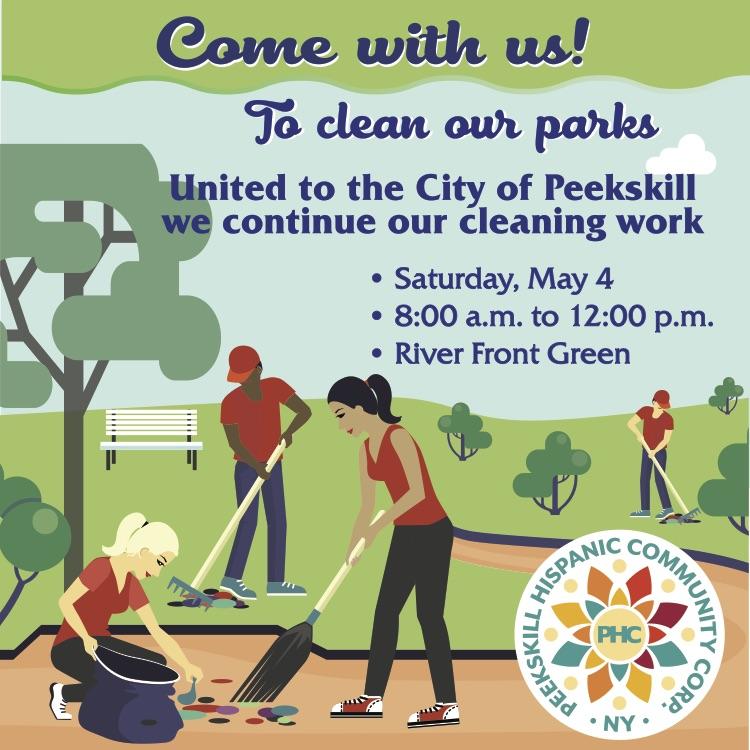 They did a clean up of Monument Park, picking up garbage and planting flowers on April 7 because its the site of Memorial Day events at the end of May. They will be at the Riverfront on this Saturday, May 4, doing a cleanup. 
From organizing forums on the subject of domestic violence and bringing in a lawyer to educate people about the issue to helping a woman who was an organ donor match for her sick sister get the proper visa's to come to this country, PHCC members advocate and network for those in need. The group's states their intention is to foster faith in humanity through good deeds.  Their actions amplify their words.