Growing Community Through Gardens and Food
By Regina Clarkin The days are lengthening, melting snow turns the ground soft and gardeners envision what fruits and vegetables the soil yields this coming growing season. Those visions take on new meaning for Peekskill residents this spring as Regeneration Farm, adjacent to Lepore Park, becomes a reality. Meanwhile, a new gardening-focused community organization called the Peekskill Sustainability Network is spreading its roots and gathering members.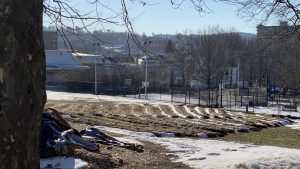 Putting into action the saying of Native American author and scientist Robin Wall Kimmerer,  "As we work to heal the earth, the earth heals us", a Sunday Morning Practice will begin at 7 o'clock at Regeneration Farm, 800 Main Street, on the first day of Spring, March 21. The event is the brainchild of professional gardener and Peekskill resident Laura Perkins and is sponsored by the Environment and Climate Justice committee of the NAACP. Through a reading that brings awareness of what a healthy relationship with the earth looks like or how to get there, and a 20 minute meditation, the purpose of the Sunday Morning Practice is to deepen human's relationship with nature. The quiet reflective time is followed by an hour and a half of garden work. Micah Benson from Mt. Olivet Baptist Church will lead a non denominational guided meditation. For those interested in attending, bring work gloves (if you have them), water bottle, mask (required), warm clothes, and something to sit on. It's going to be chilly for the first six weeks or so, especially during the meditation part! For more information email  [email protected]. Regeneration farm is dedicated to promoting food security, fostering wellness, and connecting people with the land.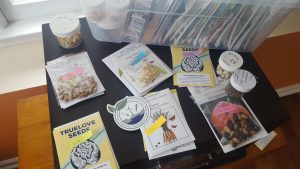 Since January, a handful of Peekskill residents signed up for the Peekskill Sustainability Network's "Start a Garden, Feed your Neighbors" food donation program. The Network was founded by Chris Barrett, pictured above, as a platform for bringing like-minded Peekskill residents and stakeholders together to discuss, plan, and implement grassroots projects in the areas of local food security, climate adaptation, and community resilience. He has promoted the Network on social media. About ten residents signed up to take seeds from Barrett and grow vegetables in their backyards, containers, window boxes or raised beds.When it comes time to harvest they will share with people who are in need
The germ of the idea came to Barrett last spring when his neighbors gathered for an outdoor movie after being quarantined for months.  He had some seedlings that he didn't have room for in his garden, so he brought them in trays to the movie night and told neighbors to take what they wanted. Some neighbors built raised beds, others put them in containers. It gave him the idea to create a Food Donation program "Start a Garden, Feed your Neighbors"  
Barrett and his wife Lis moved to Peekskill nearly three years ago. He said his idea for the Peekskill Sustainability Network was born out of what he wanted to do in his Queens neighborhood – but never got around to starting. "I never felt the impulse to get it off the ground" but here in Peekskill, because I knew this is where we were staying, I wanted to create something where all the ideas could live."  Barrett, who does development for a community based housing non-profit in New York, had familiarity with creating a website and asked his sister who is a graphic designer to create the logo for Peekskill Sustainability Network. He is a member of the Conservation Advisory Council and plans on working with the people he's given seeds to, helping them along on the growing process. 


Barrett is interested in what people would like to focus on as part of the Network, so he's created a survey that can be accessed here. Additional information about Peekskill Sustainability Network can be found on their website, https://sustainablepeekskill.net/