Candidates for Democratic Primary Outline Priorities
The nearly 7,000 Peekskill residents who are registered Democrats can go to the polls on June 22 to cast their vote for who they want to represent them on the ticket in the November general election for Mayor and City Council.  
At the Peekskill Democratic City Committee meeting  in January,  committee district leaders voted to endorse the nominating committee recommendations of Deputy Mayor Vivian McKenzie for mayor, along with current council members Dwight Douglas and Ramon Fernandez. They also nominated Steve Kolias who withdrew last week because of a family medical emergency. Rob Scott was nominated and accepted the position on the slate at last week's PDCC meeting.
Four candidates who were also nominated, but did not receive the vote of endorsement, said they were going to challenge the recommendations of the PDCC nominating committee, resulting in a primary – assuming all announced candidates collect the minimum required signatures. The four, Conor Greene, Vanessa Agudelo, Amy Perlow and Amy Vele, are calling themselves Progress4Peekskill. 
The Herald reached out to all eight candidates and asked them to answer the following: "If elected in November, what are your priorities for the people of Peekskill, and how do you propose to accomplish them?"  We also gave both groups an option to tell us their overview. Progress4Peekskill responded: 
"Progress4Peekskill came together at the urging of dozens of residents to give voters the chance to elect a truly progressive Democratic slate offering bold, creative and courageous leadership. Our platform is built around Housing Justice, Equitable Growth, and Open Government and is being shaped with input from residents to ensure it represents different priorities and perspectives. We will institute policies to protect existing affordable housing and increase the availability of quality, genuinely affordable and workforce/middle-class housing. We'll prioritize the environment in order to protect and preserve the incredible natural beauty surrounding our city. And, we commit to ensuring an open, accessible and responsive government, and to working in a just, equitable and unbiased manner for all residents of our great city."
"We are running as a cohesive slate of passionate, unified Democrats, but we also each bring unique backgrounds, skills, and priorities to the ticket. Conor Greene has nearly two decades of government and nonprofit experience, working with residents to address community issues and improve their neighborhoods. Locally, he has led the call for safer, more accessible streets and healthier neighborhoods as co-founder of nonprofit Peekskill Walks and has worked actively on other community-based efforts around housing, civic engagement and downtown revitalization. Vanessa Agudelo is currently a member of the Peekskill Common Council and is Hudson Valley Member Engagement Manager for New York Immigrant Coalition, working to institute equitable policies on the state level. Amy Perlow has spent her career supporting the fight for school equity, working alongside nonprofits and public schools to increase the percentage of Black, Latinx, and low-income students who graduate prepared. Locally, she is an active member of Peekskill's NAACP branch and chair of its Education Committee and a founding member of the Peekskill Equitable Housing Coalition. Amy Vele is Legislative Aide for County Legislator Colin Smith and served as Campaign Manager for the local Democratic Party in 2019. A lifelong resident of Peekskill, she previously worked at New Era Creative Space and is active in organizations including Hispanic Democrats of Westchester, Westchester Young Democrats and Westchester County Democratic Committee."
"As Peekskill continues to grow, it is imperative we create opportunities for all residents to benefit from our city's popularity. We are each committed to championing our ideas to make Peekskill even better, while working together to advance our shared commitment toward social justice, shared economic prosperity, and to build a fairer, more equitable city for all our neighbors."
                                           Peekskill Democratic City Committee Endorsed Candidates 




For Mayor


Vivian McKenzie, age 58, Owner of Kathleen's Tea Room on Main St. Deputy Mayor      
I'm proud of the work I've done as Council Member and Deputy Mayor for the last 7 years to get Peekskill moving in the right direction. Throughout that time, I've been focused on improving quality of life for our residents, developing our economy, and working to improve the services we offer the residents.
We started to make real progress four years ago when Mayor Rainey took over for a conservative Republican and we can't afford to move backwards now. I would look to continue Mayor Rainey's legacy because while we haven't solved every issue, we've made things better for the people we represent – and that's what counts. I worked with commercial and residential developers and our Planning Department to streamline our planning processes so that projects could get approved more efficiently, and we have made great strides in attracting businesses, developing empty lots and providing market rate, affordable and workforce housing. We have also diversified our court system, appointing the first African American and first Latina judge to Peekskill City Courts, and further diversified our workforce so it better reflects our community.
If elected in November my priorities for the people of Peekskill will be:
Quality affordable housing for people who don't qualify for subsidies but who struggle to afford market rate rent. As developers present projects to the council, I will request that they include workforce housing in their plans. In addition, as we auction properties in our In-Rem process, I will request that we make some of the properties available for first time Peekskill homebuyers
Economic Development that supports our current businesses and brings new commercial business to the city – business that will offer jobs with good wages so that people can live, work and play in Peekskill. This can be accomplished by developing a campaign through our Planning Dept and IDA that will bring awareness of Peekskill and the value of doing business here. This will be especially important as we recover from COVID.
Continuing to build relationships with the unions and trades to bring apprenticeship programs and job opportunities to Peekskill.
Council Seats


Ramon Fernandez, age 48, car owner/operator for Rio Taxi company Common Council member
As a Council Member, my priority has always been to improve the lives of our residents by improving our environment, developing affordable and market rate housing, and expanding recreational resources. Due to my job, I know every street and every neighborhood in the city, and every day I hear the hopes and concerns of many residents. I will continue to work to modernize and improve city customer service, ensure equitable code enforcement, and improve the quality of life for all residents. In addition, I will focus on:
Improving our environment:  During my time on the council, I have worked to reduce the City's carbon footprint and worked with Westchester County to provide affordable green transportation by improving Bee Line Bus services. One of my priorities for my next term will be to introduce an ordinance that would require the Bee-Line's hybrid buses to only travel on electric power within Peekskill's city limits, so that we no longer have to breathe diesel exhaust.
Development: Last year I introduced an affordable housing ordinance which is currently under discussion. When passed, it will ensure that all developments include some percentage of affordable units. In addition, I have proposed that residential tax-foreclosures (through the in-rem process) be sold at affordable prices to first-time homebuyers as part of a lottery system giving preferences to income-qualified Peekskill residents.
Emergency Management Action Plan: Another goal for this term would be to implement an Emergency Management Action Plan to prepare the population and emergency services for unexpected disasters. As we're seeing in Texas right now, we need to be prepared for events that we might consider long shots.



Rob Scott, age 41, owner Pk Blendz on Main Street   
If elected to city council my three priorities would be Health, Youth Programs and Education, and Development.
Municipal Health:  My goal is to make Peekskill the healthiest city in Westchester, by making Peekskill a greener City, and expanding programs and initiatives that focus on nutritional, physical, mental and financial health.  I would work to expand senior services, with a focus on the nutrition program, and Youth Bureau programming with a focus on health and financial literacy. With an eye towards drawing eco-tourists and community building, I would work with various organizations to establish an annual day of health and wellness, engaging the entire city in family-friendly, healthy activities – everything from hiking to biking to yoga in the streets. Finally, as part of our efforts to reform and reimagine policing, the City should partner with non-profits and neighboring communities to establish a mental health response team that can work alongside the Peekskill Police to provide a helping hand to people who may be at the lowest moments of their lives.
Youth Programs and Education:   One of my priorities is to close the wealth gap, by working closely with the Peekskill School District, the Youth Bureau and the incoming Boys and Girls Club to close the achievement gap in our community. I truly believe that education is the way out of poverty, and will continue the work of my running mates, to coordinate with, and provide programs that compliment, the efforts of Peekskill School District, and to expand Youth Bureau programming to further help our children succeed.
Development: We need a more balanced and equitable approach to development. It is vital that our entire community has the opportunity to benefit from new development, that we provide both affordable and market rate housing for our residents, and ensure the economic diversity needed for a sustainable community. I would also work with organizations that help prepare people for home-ownership, to close the wealth gap and to assist in the creation of generational wealth.


Dwight Douglas, age 76, retired in 2020, Common Council member
Peekskill has been on the right track for a good number of years, making the city one of the most diverse, creative and inviting cities in the New York metropolitan area.  If elected, I will seek to continue this upward trend by focusing on three priority areas:  economic recovery from the pandemic's impact; implementation of the recommendations put forward by the Police Review task force, and exponentially expanding our youth programs by bringing the Boys and Girls Club into a refurbished Kiley Center.
Economic Recovery: The pandemic has hit the city hard:  Job loss, business closures, unpaid rents, mortgages and taxes. We must garner all available county, state and federal resources to meet this great need.  Dedicated outreach and education will ensure the fullest participation by our residents and businesses. There are a number of programs available, but not everyone or every business that is eligible is taking advantage of them.
Secondly, we must fast track positive job producing development projects.  These include both commercial and a mix of market rate and affordable housing initiatives.  Likewise, grant funded capital improvement projects must move forward expeditiously, providing a boost to the local economy and letting the world know that Peekskill is back and on the move.  I was Director of the Department of Planning and Development for ten years; I know how to help our city grow responsibly and deliver results for the people.
Police Reform: Our highly regarded police department can still benefit from improvement- increased training, expanded community interaction, technology enhancements, better oversight are just a few areas identified by the task force that will be addressed. As Village Administrator in Sleepy Hollow I assisted the police chief and the department in all hiring and promotions, union negotiations, and certain disciplinary actions. This experience makes me the candidate for Council best positioned to help implement the task force's recommendations and improve both public safety and police-community relations.
The Kiley Center and Youth Programs: The "new" gym addition was built in 1996, but we never finished converting the old, substandard gym into multipurpose classroom, office and workout space. We must complete the needed physical improvements and bring in the Boys and Girls Club to run a full range of programs to serve our youth.  As both a member of the City Council and the Peekskill Housing Authority Board, I will work to ensure our kids have every opportunity to reach their full potential.

                                                                        Progress4Peekskill Candidates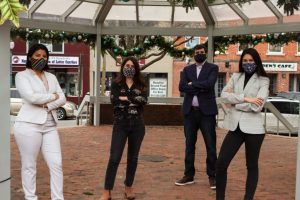 For Mayor
Conor Greene, age 39, graduate student, Urban Planning master's program at Hunter College
I'm running for mayor to create safe and healthy neighborhoods and a truly pedestrian-friendly city, improving our quality of life and ensuring that Peekskill grows in an equitable and sustainable way.
If elected, my priority will be a greener, more sustainable Peekskill, and the health and quality of life of residents. This will include improving access to parks and creating new public spaces like Esther Place, making our streets safer and more accessible, and addressing quality of life issues like reckless driving, trash, and ensuring safe routes to schools, parks, downtown and the train. I'll institute stricter requirements for the appearance of vacant storefronts and introduce a program to bring art to these spaces. I would create a community coalition to force the state to impose a truck ban on Main Street to reduce the number of tractor-trailers rumbling down Main Street and impacting our health, safety, quality of life and businesses. I'd also lead projects like bringing ice skating to Depew Park and launching a city-sponsored First Friday Art Walk.
Our city is growing fast and we need to formally plan as a city and create a stronger vision for the future. Peekskill's 1968 comprehensive plan needs to be updated so our zoning and codes result in the type of development we want as a city. This would be a big  commitment and multi-year process, but it's vital to our city's future success and can be done through a participatory process that allows residents to help shape their neighborhood and city.
Like the rest of the region, Peekskill faces a housing affordability crisis. I want to make sure everyone who lives here now can afford to stay, while also welcoming new neighbors. We can do this by mandating the inclusion of affordable and middle-class housing in new developments, protecting tenants and by creating additional housing, especially for the working, middle-class, artists and seniors. This would happen naturally as a result of the updated planning process, and by creating housing on underutilized lots and addressing issues like zombie houses and abandoned properties.
Finally, the Council needs to do a better job of listening. We will reach out to the community for input and solicit feedback and opinions on issues facing the city. This will include simple measures like town hall meetings and better use of social media, along with a commitment to comprehensive translations to as many residents as possible.
Council Seats


Vanessa Agudelo, age 28, Hudson Valley Manager of Member Engagement for New York Immigration Coalition, Common Council member
Hudson Valley Manager of Member Engagement for New York Immigration Coalition
This is a pivotal moment in the history of Peekskill. As elected representatives, we have the opportunity to craft policy that not only provides relief and stability to those facing dire hardship, but also empowers community members to be involved and work alongside us. It's crucial that we go out of our way to reach our community in ways that meet their needs, and draft policy that intentionally levels the playing field so everyone can live a life of dignity and opportunity. That is why I am proud to be part of a slate that's focused on prioritizing participatory and transparent government, equitable growth, and housing justice to ensure we are building a Peekskill where no one gets left behind
Peekskill is facing a housing crisis. Our city currently holds the highest percentage of foreclosure rates AND severely rent-burdened tenants in the    whole county. Families who have lived here for generations are being pushed out due to high costs of living, while new development is built for individuals making over six figures. We need to create stability for our existing residents, especially as it relates to a basic human right like housing. We must declare a housing state of emergency and opt into the Emergency Tenant Protection Act, adopted by many municipalities in Westchester.
Strong communication in local government not only creates trust, but inspires residents to become more involved. Ours is a community richly populated with immigrants with limited English proficiency, and we're not doing our part to ensure that language is never an obstacle to receiving quality services. It's critical that we implement a comprehensive language access policy to provide appropriate language services and to ensure our city staff are well equipped when faced with a language barrier.
 Peekskill is disproportionately impacted by environmental risks. Not only are we surrounded by fossil fuel infrastructure but we're home to several major sources of air pollution, including the county's top polluter—the Wheelbrator garbage incinerator. That's why we need to look toward the future and craft a plan to sustainably mitigate and adapt to climate change, and increase our community's ability to benefit from the growing green economy. This includes working toward Silver certification for the Climate Smart Community program and prioritizing the implementation of a Community Climate Action Plan as well as allocating capital funds for bigger projects like renewable energy retrofits, electric fleets and an Office of Sustainability.


Amy Perlow, age 42, Nonprofit Education Consultant
My drive to run for council comes from wanting to center the voices of everyday Peekskill residents. Progress4Peekskill welcomes public input, and we have already begun to tap into our many wonderful community groups. Once elected, we will prioritize transparency and responsiveness: by broadcasting town halls on multiple channels, passing a comprehensive language access policy including interpretation and translation, utilizing social media effectively, and being responsive to criticism in a productive way. We will also create a single point of contact at City Hall to manage questions, and a public tracking system to ensure accountability.
It is critical for our projects to meet the real needs of our residents and the unique challenges they face. This includes alarming levels of air pollution   that cause higher rates of asthma and other medical conditions within our community. Our public health agenda is robust, and includes a plan to   improve air quality by reducing motor vehicle traffic in the downtown: firstly, by investigating a ban on tractor-trailer traffic on Main Street, which passes directly in front of one of our public housing developments and a playground; and secondly, by improving walkability and bikeability to reduce car trips. We also plan to revamp the city's public health response by lobbying the state and county for resources (such as vaccination clinics), enforcing mandates (such as mask-wearing), and providing residents with critical and up-to-date information that is inclusive and accessible to all.
Education is another area in which the council can be a powerful force. Since 2007, the Peekskill City School District has lost $80 million in Foundation Aid and is additionally owed $1 million in pandemic adjustment aid. These are the funds we rely upon to run our classrooms. In a district where 79% of the student body is considered economically disadvantaged, this is devastating. We will represent the people we serve by using our leverage to lobby for equitable school funding and advocating for the rights of all students. We will also work to make sure young people have the option to remain in Peekskill by preserving affordable housing and creating new job training and employment pipelines.
Amy Vele, age 25, Legislative Aide for Westchester County Legislator Colin Smith


As a first generation Ecuadorian-American, living between two worlds gave me an opportunity to understand firsthand how lack of resources and funding can impact a family but also an entire community. Public schools are impacted the hardest, the resources needed for strong infrastructures are missing. Over the course of my professional career, I have found that having the courage and will to do things differently is vital and necessary when we talk about change. How can we reimagine our current system of government so that it works for all of us?
I'm running with Progress4Peekskill because the demand for structural change on a federal and local level is real and necessary. Change requires us to do things differently, challenge our perception of what we have considered "normal" and reimagine how we can do our job as council members differently. All of us have organized to some capacity, taken on a leadership role and have been on the ground, listening to the needs of residents and engaging in open conversation around some of Peekskills projects. Development has increased in Peekskill over the past couple of years and while we should welcome change in our city, we have to keep in mind as development rolls out, who will benefit from these changes and who might not.
Affordable housing is one of the main reasons I'm running for city council. My family moved to Peekskill in 1995 after migrating from Ecuador and saw that it was possible to build a better life here. They were able to save, and later on bought their first home here in Peekskill. That reality needs to still be possible not just for people who migrate but for everyone. No one, especially during this crisis, should fear being displaced because they're no longer making enough to sustain them. We need affordable housing that's going to genuinely be affordable to the residents of Peekskill. Both new residents and lifelong residents should feel like their city government is looking out for their best interests in every facet.
I look forward to working with every single member of our community to ensure that Peekskill residents feel like their needs and concerns are being heard. I'm proud to call Peekskill my home and I believe our slate will bring a new perspective on how city government can work for its people.