Pandemic Won't Stop Peekskill Schools' Renaissance
4-Year Graduation Rate Climbs 22% in Just Three Years
Peekskill City School District – often perceived as under-funded and struggling – is in the midst of a dramatic turnaround. In just the past three years, the four-year High School graduation rate has lept from 68% to 83% – a whopping 22% improvement over 2017. Taken separately, the improvement among Hispanic students is even more striking: a 46% increase in their 4-year graduation rate since 2017. Among English as a New Language (ENL) learners, the graduation rate is up 550%, from 10% to 65% in three years. And African American students have been closing the 4-year graduation gap with their Caucasian classmates.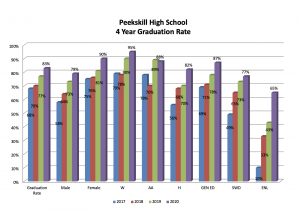 New science and technology (STEAM) facilities are being built at the High School and Hillcrest Elementary. The image at the top of this story is the STEAM lab at PHS. A brand-new Parent Resource Center opened in January in the former Columbian Engine Company firehouse on Broad Street. In the spring, student athletes will play sports on a state-of-the-art renovated Torpy Field. In a normal year, 2021 would be a golden age for Peekskill City Schools, with parents and community leaders celebrating this series of ribbon cuttings and academic milestones.
COVID-19 may have dulled the shine of this renaissance a bit; greatly increased the workload for educators; and complicated an already challenging learning environment for students – but according to Peekskill Schools Superintendent Dr. David Mauricio, the pandemic is also a teachable moment for educators.
"We have learned so many great things, from technology, from engaging students, from engaging families from afar – and in front (in the classrooms) – that we won't go back to what education looked like, pre-2020," says an upbeat Mauricio. "We're going to take this opportunity to reinvent ourselves – and we'll do that as we move into the next school year. That's going to bring us to a whole new level of educating students – not only in Peekskill, but in the whole country."
A Misleading Report Card
But for those outside Peekskill's school ecosystem looking in, the first impression is often less than stellar. The nonprofit GreatSchools – purveyor of the most widely-distributed public schools ratings – gives most of Peekskill's schools a failing grade. GreatSchools ratings, which are embedded in popular real estate websites like Realty.com and Zillow and are seen by millions every year, score Peekskill High School as a 3 out of 10. Oakside Elementary, serving second and third-graders, also gets a 3, and Hillcrest, which teaches 4th and 5th grade, gets a lowly 2. Only Peekskill Middle School rates above average, scoring a 7 out of 10 on GreatSchools' report card.


For city dwellers considering a move to New York's northern suburbs, the GreatSchools ratings are nearly unavoidable as they shop online for homes. A 2017 report by the National Association of Realtors found that almost half of home buyers under 36 years old considered the quality of schools when looking for a new home. "Peekskill schools' online ratings were definitely one factor," said Mike Sobo, a Brooklyn-based video editor with two children, whose family considered the city when shopping for a first home in 2020. "We also looked at comments from Peekskill parents in Facebook groups," before ultimately choosing a home in Connecticut
A 2018 report from the Public Policy and Education Fund of New York comparing the Peekskill and Scarsdale, NY school districts, found that Scarsdale students (who are 69% white, and virtually none of whom are considered economically disadvantaged) – receive an average $5,000 more in education funding per year than Peekskill students. When the additional cost to educate impoverished, special education, and ENL students is factored in, the funding gap grows to almost $10,000 per student per year between the two districts – a nearly two-to-one fiscal advantage for Scarsdale students. (The racial / ethnic breakdown for Peekskill students as of 2019 was 69% Hispanic or Latino; 19% Black or African American; 8% White, and all other groups 4%).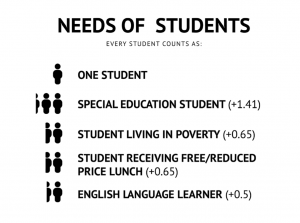 In 2020, GreatSchools released what they describe as their "largest, most comprehensive ratings update to date", which introduced a new, updated "Equity Rating" that includes student growth and college readiness metrics, in addition to proficiency rates. They also changed how they calculate the Summary Rating to favor growth data over test scores and put greater emphasis on equity data so that it carries a similar weight as standardized test scores and college readiness information. Education news site Chalkbeat covered the changes, which GreatSchools admitted would likely only result in a two-tenths of a point improvement for high-poverty schools.
We analyzed GreatSchools ratings for Peekskill schools, and found that the High School's 3 out of 10 rating is comprised of equal thirds: Test Scores, College Readiness, and something GreatSchools calls "Equity Overview" – a complex analysis of how each school serves different demographic groups as compared to one another. But their PHS rating contains no data for 'student progress'.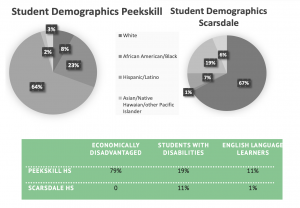 "Student Progress data is less common for high schools, because in many states high school students only take state standardized tests in one year. New York is not a growth state, thus no NY high schools serving grades 9-12 will have a rating for this measure," explains Carrie Goux, GreatSchools Vice President for External Affairs.
That means on one hand Peekskill High School is being treated even-handedly by GreatSchools – versus other NY State schools; on the other hand, by excluding student progress, additional weight is applied to areas like test scores, curving the grades in favor of whiter, more economically advantaged districts like Scarsdale – or neighboring districts like Yorktown, Lakeland, and Hendrick Hudson.
"To counteract these instances where student progress data is not made available by state education agencies, our methodology is designed to elevate metrics like College Readiness and Equity," says GreatSchools' Megan Walcek.
In the College Readiness category, GreatSchools gives Peekskill High a goose egg for "Percentage of students enrolled in Dual Enrollment classes grades 9-12", saying there's "less than one percent" of students enrolled. Dual enrollment classes earn students credit at both the high school and a partner college or university. According to Dan Callahan, Peekskill's Assistant Superintendent for Secondary Education, PHS actually has 339 seats filled in college-level, dual enrollment classes. At 32% of the student body, that's nearly triple the number enrolled at the average NY State high school.
And GreatSchools says only 16% of PHS students are taking AP classes – when in reality the percentage is 22% – same as the state average. Even a statistic as straightforward as '4-year high school graduation rate' seems to under-report the district's success: GreatSchools shows it at 78%, when in fact the High School's Class of 2020 represented 83% of students who entered the school in the fall of 2016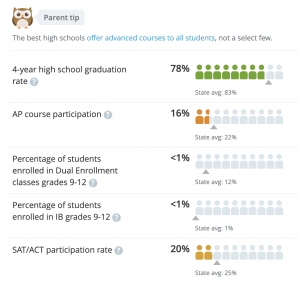 Asked about these discrepancies, Walcek points to data sources, which are cited for each statistic. "The discrepancies you've flagged for AP/IB/Dual Enrollment may be because we use the Civil Rights Data Collection as our source (as opposed to the state DOE data, since it's a more sustainable, disaggregated, consistent nationwide source)." Indeed, the 4-year graduation rate is based on older 2019 data.
At presstime, Walcek confirmed Peekskill's graduation rate will be updated to 83% once the state provides the 2020 data in the format GreatSchools requires for content management.
Dr. Mauricio sums up the equity problem as it applies to standardized school ratings: "If we were all beginning at the starting line, at the exact same time, at the exact same place on the track – and the home environments were the same – then I would say absolutely, apples-to-apples we should be comparing every school district to every other school district. But that's not the reality."
A Turnaround Story
Back in the real world, away from the esoteric algorithms of online ratings, Peekskill is a school district on a decidedly upward trajectory. Besides the remarkable turnaround in graduation rates, district administrators point to a long list of recent accomplishments.
Statewide test scores in both English Language and Math each improved by 4% in pre-pandemic assessments, a rare achievement according to Superintendent Mauricio. The district has begun offering full-day pre-kindergarten classes, and expanded the dual-language (English / Spanish) program from pre-K through fifth grade. 
Following last spring's sudden and challenging move to remote instruction, the district is approaching 100% placement of Chromebook laptops to its students, and through a fundraising partnership with the community, supplied $40,000 worth of MiFi devices to provide wireless broadband to households that lacked it. 
The highly successful Saturday Academy program, which offers free academic workshops, yoga classes, dental screenings, crafts, and other services – entered its third year in November – albeit in a virtual mode due to the pandemic.


Asked about the genesis of this turnaround, Callahan recalls, "About seven or eight years ago, we did a trip to Union City, NJ…a very similar city to us. They have the same type of demographic mix and socioeconomic needs. They did a big turnaround – it was covered in a book called "The Improbable Scholars" – so they were a unique place for us to go visit, to see what they did. And we brought back some of their ideas to use here. 
"We did a large reorganization; we brought on new programming – new ENL programming at our Middle School and High School; newcomer programs for a lot of our students coming in from Ecuador and Guatemala. We started what in essence was a new High School called the Summit Academy, to help kids who were going to be in their fifth or sixth year, that struggled coming back to school after not graduating in four years; kids that were over-aged and under-credited. Since then, we've taken that program and morphed it into a night school program.
"Really, it's about looking at all the data, then having programming to help address the needs of the students. We didn't have (those programs) seven or eight years ago – the amount of programs we were deficient in was noticeable. The classes we were putting kids in – it was unfair to them. 
"So the idea was to develop programs to meet the needs of all the students: the ENL kids, the new immigrants. More advanced placement classes were offered. It was about looking at what our data said, then trying to react to it. And then trying to stay ahead, and being proactive as we go."
Perspectives of Parents


Peekskill parents Merideth Harte and Todd Londagin, whose son Wilson has attended Peekskill schools since kindergarten, have noticed the difference. "Teachers, school administrators, and principals have been stellar – especially at Hillcrest and now the Middle School. There are so many great offerings that need more recognition: the strings program in elementary school and the music program/performing arts in the Middle and High School are notable," remarks Harte, citing "the inclusive, diverse, respectful, and nurturing culture of the school district; hardworking and dedicated teachers who push students to stay curious and do their best; parental involvement through the PTO and the Saturday Academy; and an extremely dedicated Superintendent who wants the best for the community and school district," as particular highlights.
For Kirsten and Ian Berger, parents of an 11th grade son who was an above average reader in elementary school, the introduction of Common Core standardized state testing in the early aughts brought with it a less inspiring curriculum. "In the first few years, his teachers noticed his reading level exploding and he was challenged. That changed when state-wide tests were introduced in third grade and teachers were teaching to the state tests. He didn't have such a great experience from grades 3 to 5," said Kirsten Berger. 
"When our daughters, who are now in 7th grade, were in elementary school, it was more challenging. Back then they had leveled math groups [segmented by ability level], and the dual language program." 
Berger said she understands that the district was under pressure to improve test scores, and that educators and administrators have a lot on their plates. She feels the school system is fine if parents stay involved. "It can be frustrating for parents of really bright kids, but the district is doing what it can to improve resources."   
Caught Off Guard by the Pandemic
Into the midst of Peekskill Schools' renaissance came the COVID-19 pandemic. District schools closed from mid-March through the end of June, causing a mad scramble to outfit every student and teacher with the technology for remote learning. In the course of that unprecedented learning curve, students inevitably lost some ground. "Certainly we were all caught off guard with the pandemic last spring. Because of the amount of lost time from in-person instruction, and technology issues that we had in the beginning of the year…our students have not had the amount of education that they would have had prior to COVID-19," explains Dr. Mauricio. "And so, [our goal is] filling in the gaps, supporting our students, identifying where learning loss might exist. Some of our students – those with special needs, and some of our English language learners, really need that in-person instruction."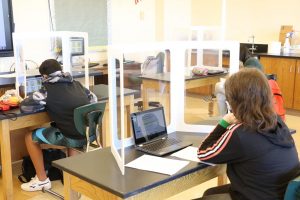 School buildings reopened in September, with an optional hybrid learning model: two cohorts of students alternating in-person and remote learning on different days of the week to reduce in-person class sizes and halve the number of exposures by creating two massive "pods". Students were also given the option to take classes 100% remotely. That system lasted until late November, when the state designated Peekskill a COVID "micro-cluster zone" due to a high infection rate, forcing a return to all-remote instruction until January 19th. 
For now, Peekskill City Schools are back on the voluntary hybrid model pioneered last fall. As of mid-January, 43% of elementary students have opted for 100% remote learning; in middle school, the number rises to 56%; and at the high school level, a full 76% of students are attending all-virtual classes.
While the pandemic has been challenging, at least some Peekskill students have been making the best of the situation. "Wilson has taken to remote learning easily as he was already comfortable on-line. He misses his friends and being in the classroom, but is making the most of on-line classes and has had to learn to use various platforms to do school work and communicate with his teachers and classmates," says Harte. "It has been interesting to see him work remotely and watch how he has been looking at information and data online (tracking his test scores, grades, etc.), and analyzing it. He certainly has access to his teachers – and from what I can hear from the other room where I am working – the kids are all so very respectful and engaged."


Asked about the district's short-term goals and needs, Dr. Mauricio is realistic: "We're going to certainly have to look at how we can better educate our students as we move forward – and more importantly, really catching up for the time that they may have lost. Goal number one is to enrich those who are already there, and support those who have those needs. One of our biggest challenges is going to be getting the government to provide New York State with its fair share of funding for education. Making sure that our kids get the equitable funding they need in order to improve our instruction for those who have fallen behind during this pandemic – and continue to accelerate on our pathway those who are still doing well."
Advice to People Considering Peekskill Schools for their Children
Discussing the "first impression" given by online school ratings like GreatSchools, Mauricio has some advice for new parents and others considering Peekskill: "As people think about whether to buy a home in our community; whether to move and rent in these beautiful apartments that are being refurbished and built; whether to send their children to our Pre-K and kindergarten schools; what's more important than that rating they find, is to talk to neighbors; talk to people; call the principal; ask for a virtual conversation. We created virtual tours of our schools last summer; [parents will] be able to see the school environment and all the things we have to offer.
He ticks through a list of new programs and initiatives: a string instrument program beginning in elementary grades; an orchestra expanding to the High School next year; an award-winning robotics program; the new STEAM labs at the High School and Hillcrest Elementary; the new Family Center; new athletic field; new reading series for dual-language students; new mathematics initiative already showing positive results.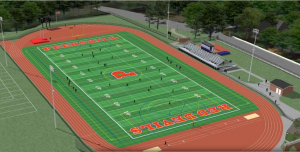 "Take a fresh look at our school district. Talk to people who have children in our schools. They're your best reality check of what's happening in our schools. And if it's right for your children, enroll them and we'll welcome them." Mauricio says the Peekskill PTO can refer interested parents to current Peekskill parents who are willing to provide a realistic viewpoint from within the school system, and adds that after-hours in-person tours of school buildings can be arranged while COVID is still a factor.
How Peekskill Residents Can Support their Schools
Maintaining the upward trajectory of these academic improvements and enhanced programming in Peekskill will inevitably be a challenge. Overcoming the obstacle of poverty, inevitable cuts in aid due to the pandemic, and reacting to ever-evolving demographics will take continuous effort on the part of teachers, administrators, parents, partners, and city residents. 
When asked how Peekskill residents can help, Mauricio says "the first and foremost responsibility of every resident is to be informed as we propose our school budgets for next year…it's important that everyone go out to vote, but it's also important that they're informed when they cast their vote." Secondly, he stresses, since state aid is likely to be the most limited it has been since the Great Recession, it's important to pressure our state and federal elected officials "to make sure that funding makes its way to New York State; and at the state level, to make sure that that funding is proportionately assigned to each district based on need."