Going out on a limb to protect Peekskill's trees
By Jim Striebich
Peekskill's Conservation Advisory Council enters its tenth year with a host of initiatives designed to help preserve and support Peekskill's natural resources and parks. With at least a dozen ongoing projects ranging from helping promote a community farm and solar energy installation, to hosting an environmental-themed film series, to working with Westchester County to launch a food scraps recycling program, the Council is concentrating initially on Peekskill trees. 
The Conservation Advisory Council (CAC) is a city-chartered, citizen-led advisory board whose stated mission is to "help build awareness, support, and stewardship for the management and protection of Peekskill's natural resources and parks." It is currently chaired by longtime Peekskill resident Kathleen "Kay" Barthelmes, and has eight official members who volunteer their time to help the CAC accomplish its goals. The CAC is joined by Peekskill City Planner Jesica Youngblood and Common Council members Vanessa Agudelo and Kathie Talbot as liaisons for the group.
One of the CAC's biggest goals for 2021 is enacting Peekskill's first-ever "Tree Ordinance", intended to protect against the indiscriminate or unnecessary destruction of the city's tree population. During the uptick in development of the last several years, Peekskill has seen a corresponding increase in tree removal, particularly for large residential projects like 645 Main Street. Additionally, a sizable number of trees have been lost to natural phenomena like summer and winter storms, and the recent invasion of the emerald ash borer beetle, whose destructive infestation is responsible for the loss of nearly all the street trees in the 200 block of North Division Street last summer.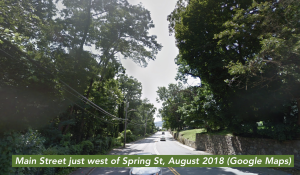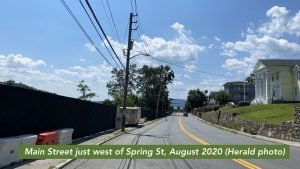 The proposed ordinance – which the CAC hopes will be taken up by the Common Council in the near future – would require city permits for tree removal on both public and private property, and require that builders either replace removed trees by planting an equivalent density of new trees; or if that's impossible, the developer would pay a set amount per tree into a "Tree Bank" – which would fund planting of trees elsewhere in the city.
If the Tree Ordinance sounds like cutting edge progressive legislation, consider that Peekskill is currently the only Westchester municipality with no laws protecting trees on its books. "We'd hoped to save Peekskill from being dead last," said Barthelmes, "but Mount Vernon got their tree ordinance enacted in December."
"The great thing is, we're finally almost there," she continued. "With the combined efforts of community members joining with the Council and city staff to work out the details, we'll soon begin a new era of protecting an asset we can't afford to lose!"
In recent years, studies have shown that tree-lined streets boost property values, lower street temperatures in summer, and lead to an increase in downtown walking and shopping. Additional research indicates that urban trees help reduce the blood pressure and stress of residents; they lower summer energy consumption; and they help absorb stormwater and mitigate urban flooding. 
Beyond the proposed legislation, much like Dr. Seuss's Lorax, the CAC hopes to "speak for the trees" in other ways in 2021. The Council hopes to begin a citywide tree inventory, to understand the current baseline tree population, identify species, and document neighborhoods and blocks with the greatest tree deficits.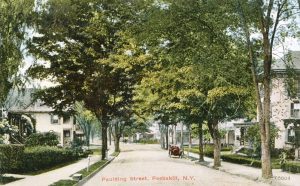 The Conservation Advisory Council was represented during the 2020 Downtown Revitalization Initiative (DRI) planning as well, with Barthelmes seated on the group's Planning Committee. Several of the projects recommended to NY State for funding include tree planting, including along downtown streets and within Pugsley Park.
Finally, the CAC hopes to begin a Heritage Tree Award program, with Peekskillians able to nominate specific trees based on criteria such as a tree's size, exceptional form, historic or landmark significance – in the hopes that consenting owners will be encouraged to preserve those special trees.