Community supports getting students computers and internet access
By the end of this year, each student in Peekskill city schools should have a personal computer and access to the internet.  A partnership between businesses and civic organizations raised $40,000 in six weeks to make the ambitious goal a reality.
Parents who are not tech savvy are able to receive free training from the district through technology boot camps beginning Oct. 27 and running two times a week through November. They plan to continue in December on Saturdays. The training will be provided by high school students, some of whom have already been employed through the Youth Bureau, to teach parents how to access a virtual classroom for their child. The boot camps are especially valuable for parents who may not work in an office environment where computers are commonly used.


The Peekskill Technology Equity Community Coalition was formed when a disparate group of organizations and businesses saw the need for internet connections and computers for families. The NAACP's education committee chairperson Meghan Kelly along with the Peekskill Education Foundation, the Peekskill Parent Teacher Organization,Peekskill Youth Bureau , Mt. Olivet Baptist Church and businesses Peekskill Coffee House, Feder Knives and Manzer's Landscape Design began meeting in July to pool resources and create a marketing plan for the fundraising effort.  Most of the graphics for the campaign were created by PEF president Meghan Sheldon Brungard.
Janice Reid, the district's technology director, said they estimated about 1200 families do not have internet access or if they did, it was unstable.  In the spring when schools shut down, 1700 Chromebook computers were given to students and this summer another 900 were distributed.


There is a back order of some 800 computes that Reid expects to arrive by the middle of this month.  But connectivity to the internet for the computers was a challenge. With the money raised, the district will be able to purchase 160 mifi personal hotspot connection devices that are about half the size of a cell phone. They get plugged into a computer and provide internet access for up to five people in a household. Each unit costs $240 which includes a year's worth of internet access.
Sunny Cover, owner of Peekskill Coffee House and Geoff Feder of Feder Knives collaborated this spring in response to the shutdown caused by the pandemic and raised $2600 to help feed frontline workers. "What resonated with me and Geoff was the realization that as children were about to enter into this crazy remote learning if they didn't have access to the internet it's like having a power tool without electricity," said Cover.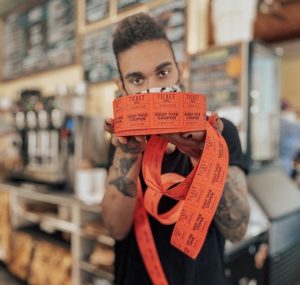 This time, they raised $4800 through sales of coffee and raffles at the Coffee House as well as the Saturday Farmer's Market.
"We'd always intended to be a 1 to 1 district," said Reid who has been the technology director in Peekskill since 2003.  That means that every child would have a computer and internet access and it wasn't a lack of planning that caused the current gap. She starts preparing a budget for the coming year in December and it goes to the school board in January with voters approving it in May. Last December and January there was no way to predict the need for each child to have a computer to facilitate online learning. "The support of the community was tremendous," said Reid.
Sunny Cover said in her experience people want to help those around them. "There is so much going on it is hard to know how to help. The Coffee House has always had a strong connection with the schools. We feel that the Peekskill community in general wants to see education improved upon in our school district and this is one way to contribute to that."
For people wanting to contribute to the Technology Equity Community Coalition, they can go to the website of Peekskill Education Foundation at https://www.thepeekskilleducationfoundation.org/donate