Community farm that yields food for residents proposed for part of Lepore Park
Jason Angell and his wife Jocelyn Apicello have had their sights on Peekskill for a few years. Through the Peekskill Community Congress they founded and ran early last year to their proposal for a solar project using some of the state DRI money, they've engaged community leaders and built a network of partners who share their vision for bringing environmental projects to life in  Peekskill.


The couple, who run the non-profit Ecological Citizens Project out of their Longhaul Farm in Garrison, proposed to the city earlier this month a 13,000 square foot community farm at Lepore Park on Main Street. The proposal requires no city money, only a site license agreement that gives the group permission to use the land. The couple are working with city staff on details and expect the Common Council to vote on the agreement at its meeting in mid-October. The farm would be located on the northwesterly side of the park where there is currently open green space.
In his presentation to the Common Council, Angell said the vision for 800 Main Street encompasses taking land that is open to the public and transforming it into something that is productive, welcoming, sustainable, and provides fresh food and opportunities for education to the community. This model will develop one of the largest urban farms in the Hudson Valley, connecting people to where their food comes from, improving local food security by providing community members with access to nutritious food, and sparking passion for growing and a more sustainable lifestyle. This project will enrich Peekskill's community by bringing free sustainable and experiential learning of organic growing practices to the community, provide local and nutritious produce to households, create an interactive and beautiful public space, jobs for youth, and promote economic development and tourism. The city of Newburgh is the other site that Angell and Apicello will be managing. Newburgh signed the site license agreement with Ecological Citizens Project in June.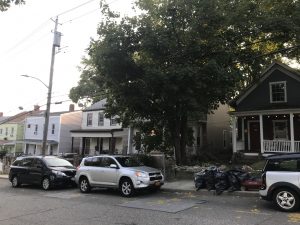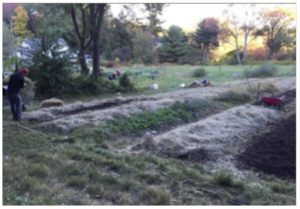 Homes of Hadden Street residents would look out on beds ready for planting similar to these.
The annual budget for the first year of the community farm is $56,000 and $42,000 has been raised to date through a private foundation and donations. When the site licensing agreement is signed, farm infrastructure could begin this fall along with paying a farmer and collaborating with community partners to produce the food for community distribution next spring.
The two farmers, known as Regenerator Fellows, assigned to the Peekskill Community Farm have been trained at Longhaul Farm. Maeve McGee, graduated from Binghamton University-SUNY with a Bachelor of Science in Environmental Studies and has worked as an educator in delivering experiential learning around the topics of food, sustainability, and wilderness skills. Emily Langer graduated from Sterling College with Bachelor's degree focused on Outdoor Education, Restorative Ecology, and Community Food Action. Emily has worked on Sterling Farm, as a landscaper, and as a youth mentor and farm educator.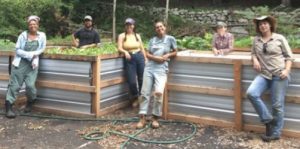 Since the philosophy of Ecological Citizens Project is the use of 'no till" machinery but rather hand tools, there isn't a noise factor. No pollutants, pesticides or chemical fertilizers will be used on the farm. No food scraps would be composted on site, avoiding odor issues. And beds will be kept in neat order during the growing and non-growing season, showcasing the beauty of diverse, regenerative growth.
One of the earliest supporters of the project is Ridvan Foxhall, founder of New Era Creative Space on Brown Street, which offers yearlong innovative programs that foster creative expression, critical thinking and joy for youth. She is  a member of the Community Farm project team and has partnered with Angell and Apicello with her Nature Connection Camp for the past two summers, bringing children to Longhaul Farm to learn about food, harvesting and what it takes to keep a small farm sustainable.
"This project would offer real life skills to high school students who would have to apply for apprenticeships on the farm. It's also a way for expand awareness and education about where food comes, sustainable living practices and healthy eating for more kids," said Foxhall.
Angell and Apicello include the Peekskill City School District, Business Improvement District, Peekskill Conservation Advisory Council, along with Peekskill Housing Authority that runs Bohlmann Towers  which is across the street from the proposed farm as supporters.