While residential construction in Peekskill continues unabated, public discussion around the affordability of those housing units was muzzled at Common Council meetings for the past six months. That restriction led to a grass roots campaign that saw residents gather at the downtown gazebo on Saturday of Labor Day weekend demanding their voices be heard during city council meetings.  The council responded during Monday's work session when they agreed to restore public comments beginning at their next meeting on Sept. 14.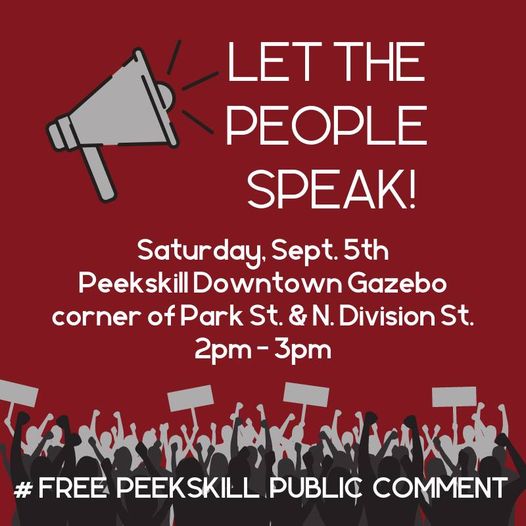 The group of citizens, under the hashtag #FreePeekskillPublicComment, organized a social media campaign and Saturday's rally.  When city council meetings transitioned from in-person to virtual in the spring, the comment from the public portion of the meeting was limited to items on the agenda for that meeting. This was a suggestion to municipalities from the governor's office.  Since March, citizens desiring to be heard at Common Council meetings have been restricted from commenting on anything other than what was on the agenda for that meeting.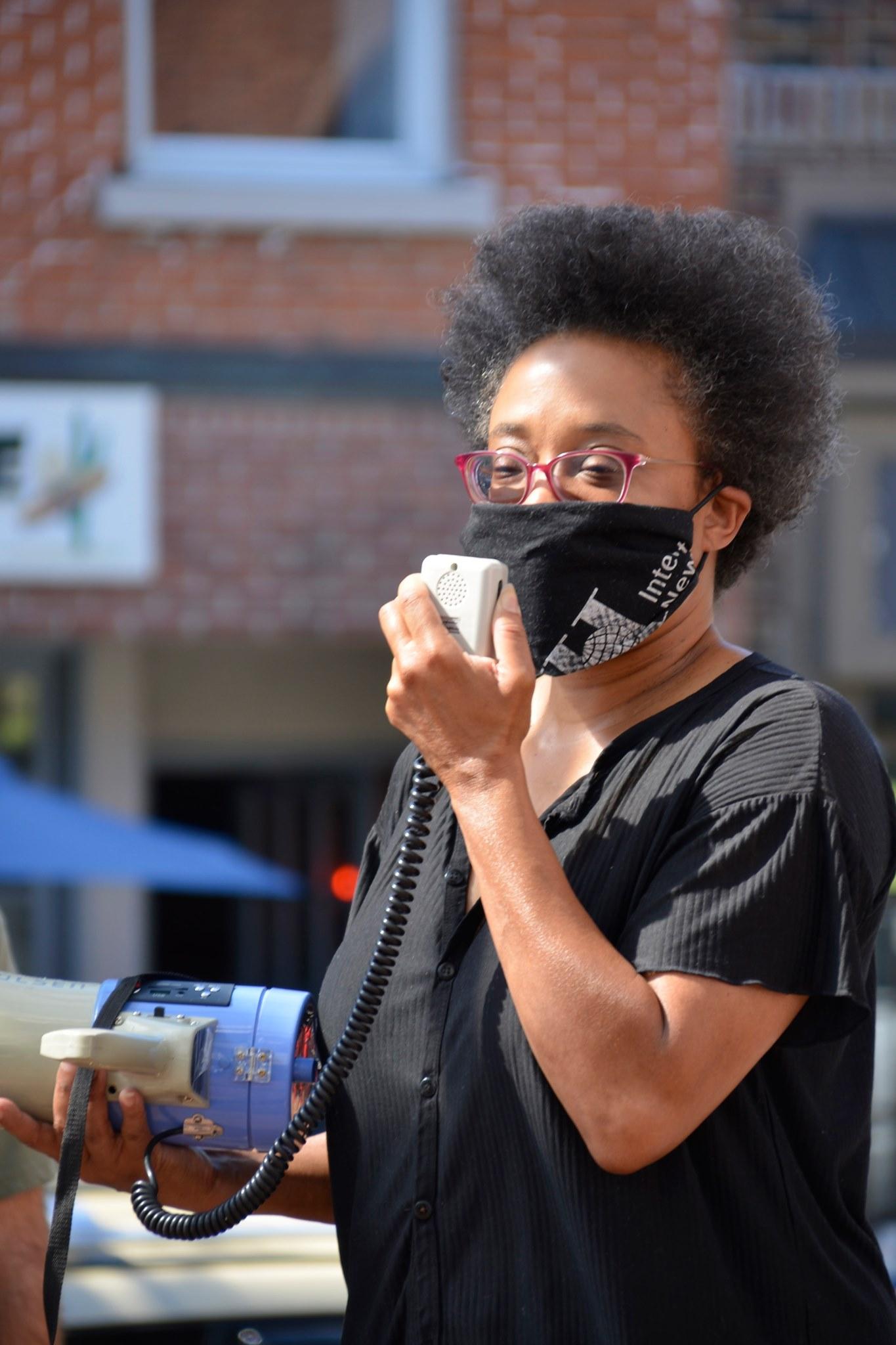 Photo by Ocean Morisset
The effort to restore general public comment was spearheaded by Councilwoman Vanessa Agudelo who spoke at Saturday's rally. She was the council member who brought the issue up for discussion at Monday's work session. After a brief back and forth about enacting a time limit for comments, the council decided to restore the public comment section to what it was prior to the pandemic, three minutes per speaker on any subject. 
The subject of affordable housing was on the agenda at Monday's council work session since the council is considering passing legislation around the percentage of affordable housing that developers will have to offer if they want approvals for building. Housing Action Council executive director Rose Noonan gave a presentation on her agency and its work with the county and municipalities administering and monitoring ordinances and developers. From her decade of working on this specific issue with local governments and developers she's learned that "whatever policies are developed, governments need to be as clear as possible from the onset."    She explained how developers are required by some municipalities to set aside a certain percentage of units that are not market rate and that it's up to the local municipalities to make the determination of what that number will be. 
According to Westchester County's Housing Needs Assessment study published in November of last year Peekskill is the highest rent burdened municipality in Westchester.  Rent burdened is defined as someone who is paying more than 30 percent of their gross income in monthly rent. People who are severely rent burdened are paying more than 50 percent of their gross income in a housing cost. Peekskill has a disproportionally high number of severely rent burdened residents according to the county study. 
Those numbers are what drives Councilwoman Agudelo's suggestion that developers need to set aside 40 percent of their units for below market rates. That would include also defining the income parameters for the rental or purchase price of units. She said she understands developers may experience financial hardship with that equation but if they demonstrated financial difficulty, they would be exempt from that requirement.  However, they would have to contribute to a rehabilitation fund to create housing elsewhere in the city into affordable units or contribute to a community fund to help people with rents, similar to funds the county runs.  The 40 percent number of units set aside for affordable units is higher than the 10 percent Councilman Dwight Douglas supports.
It was through that discussion among Agudelo, Douglas, and council members Ramon Fernandez and Vivian McKenzie that they learned from Noonan of an ordinance passed by Yorktown referencing the number of units set aside for people who are working but not able to pay the market rate. That ordinance is no longer in place in Yorktown but Peekskill city staff was directed to look at that legislation as a template for what could be put in place for Peekskill. 
The discussion about affordable and market rate housing is pertinent. Wednesday morning city officials attended a ground-breaking ceremony for the 645 Main Street 82-unit rental development that is expected to open in the spring of 2022. Wilder Balter Properties is constructing the $51 million project that will see 82 units built between Main Street and Central Avenues. The apartments will be for households that earn 40 to 80 percent of Westchester's median income of $94,8111. The range is $37,000 to $75,000. The housing cost translates into one-bedroom rentals for $900. There will be 18 one-bedroom units, 50 two-bedroom units and 14 three-bedroom apartments. 
In the next few months, the Common Council will be deciding on issuing a special permit to a developer who needs city owned property to move forward with his proposal to build housing between Central Avenue and South Street.  This proposal is one that has generated much interest from citizens who are advocating that the city use its leverage to lobby for more affordable units in the development.