Quiet Man Public House shuts its doors after lease not extended
A pioneer restaurant in Peekskill's dining scene closed its doors last week.  Cathal 'Chuck' McGreal, owner of The Quiet Man Public House on North Division Street, posted on Facebook that the lease on the building he brought to life was not being renewed and he was closing the traditional Irish pub almost exactly nine years after he poured love, money and craftmanship into opening at a time when Peekskill had limited dining options in the downtown.
He explained in a heartfelt video, addressed to all the friends of The Quiet Man, that when he began negotiations with landlords to renew his lease that was coming due at the end of the year, he was advised by the estate of the landlord that his lease wasn't being extended.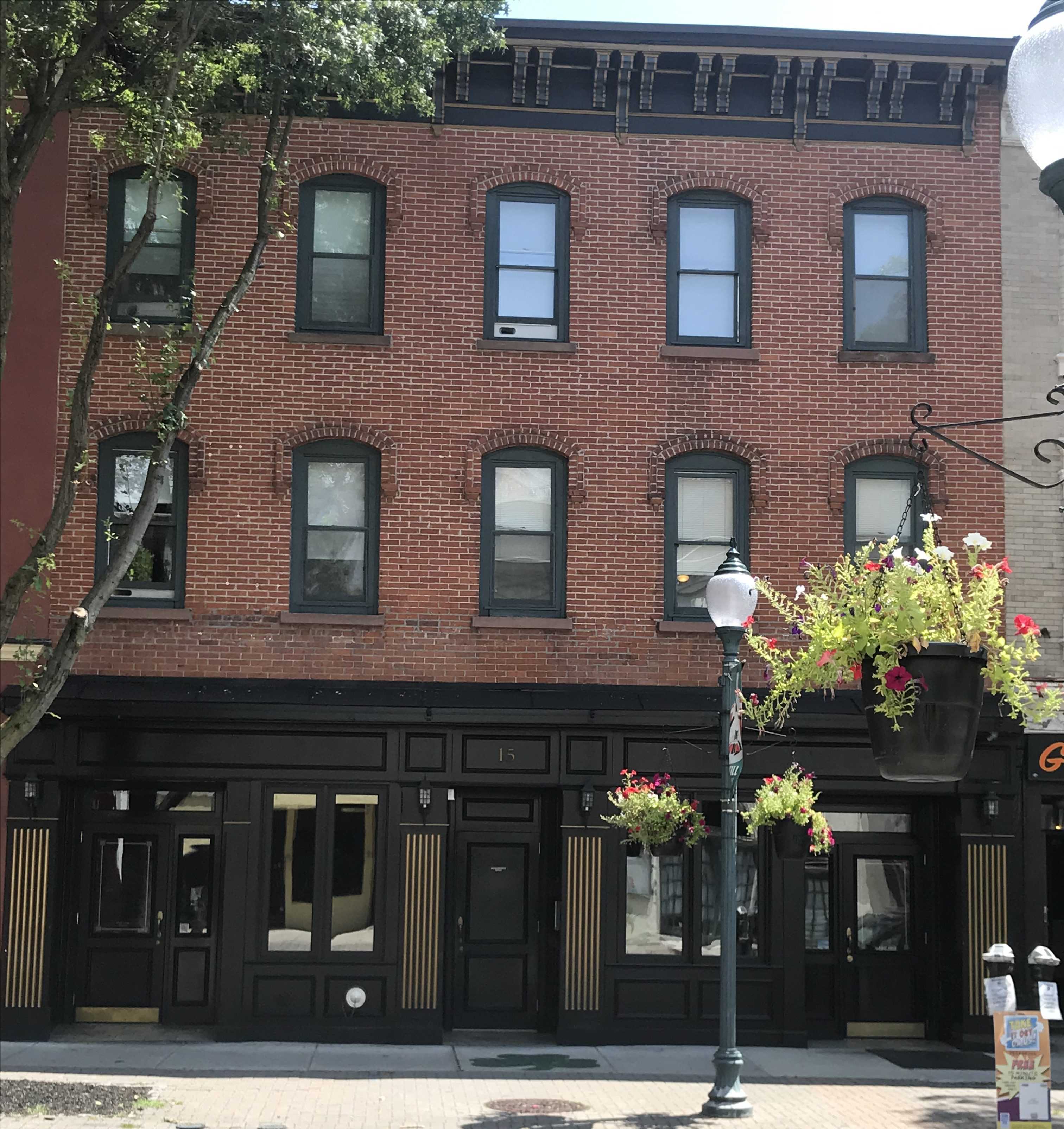 In March when the Covid-19 pandemic started, he made a conscious decision to close until the time was right to reopen. "The health and safety of my employees, their families, as well as all of our loyal customers and their families, was paramount to me," said McGreal. "While working toward our safe re-opening, we entered into negotiations to extend our lease. It was during this time that we were advised by the estate of our landlord that they wanted to go in a different direction."
And with that, an authentic Irish pub that was a gathering place for music, food and community disappeared. Despite efforts from city officials to persuade members of the estate to reconsider, the signs came down from the building and the bar that McGreal built was removed. He said it's been a roller coaster since word got out that he was closing and he's using this time to take a breather. He's been approached by a few other landlords and he's going to take a look. "Never say no," is how he termed it in his Irish brogue.
"It was a surprise to everybody, and the outpouring of support has been phenomenally incredible. I can't believe we touched and affected so many," he said. "I never wanted fame or fortune, this has been a labor of love to give back to the community," said McGreal who was quick to support fundraisers for various groups in Peekskill and the area.
The building, at 15 N. Division, was sitting vacant and boarded up when McGreal first saw it in 2010. "There was a mural on the outside, so it wasn't that noticeable that it was derelict and in need of a lot of work" said McGreal. The owner at the time had a vision for the building that he shared with McGreal. "He was a real visionary," said McGreal of Kenneth Laudon who passed away last December. In 2011, McGreal took a gamble on restoring it and opened later that year.
McGreal, 50, grew up in Ireland in the restaurant industry. His mother was a chef and the movie Quiet Man with John Wayne and Maureen O'Hara was filmed about a half hour away from where he lived on Ireland's west coast. "I loved the movie" said McGreal and his dad was the embodiment of the gentle giant that is the quiet man, said McGreal. His dad wasn't alive to see his son open The Quiet Man but naming it that was a tip of the hat to him said McGreal.
The strong Irish community in Peekskill and the surrounding area was left without a home when Kelly's Restaurant at the train station closed after Tom Kelly died, and the other gathering spot for the Irish community, Guinan's in Garrison, had also shut its doors.  "I always felt there was a hole in the community for that style place," said McGreal.  That style of pub is where families could gather, where the 'Rising Moon' music sessions happened on the first Thursday after the full moon.
McCreal owns Hibernian Wood Design which does restaurant and bar renovations. When he was sourcing material for The Quiet Man, he saw a pallet of unique lumber at a buyer in Long Island.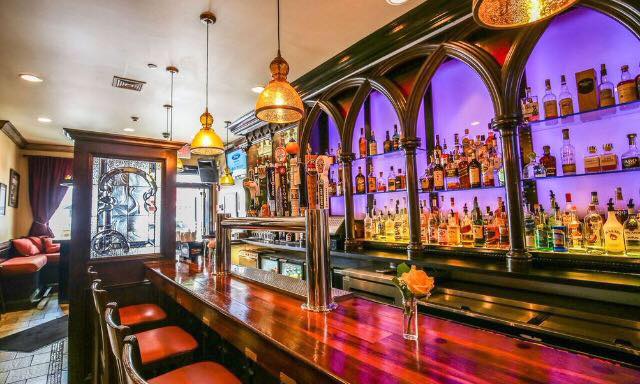 After learning that it was deck wood certified to be from the de-commissioned USS North Carolina, he decided to use it for the top of the bar he was building. The unusual wood is purpleheart teak. Behind the bar are arches from an 1891 church that he salvaged from a job and installed to create the authentic Irish pub feeling. In addition to the architecture that transported one to the Emerald Isle, the food featured traditional Irish meals such as fish and chips, nachos made with potato slices instead of tortilla chips and shepherd's pie.
McGreal's has deep roots in the Irish community;  a member of the Peekskill St. Patrick's Parade Committee since the 1990's, he was Grand Marshall in 2014 and has been chairman of the dinner. He is currently the chairman of the Hudson Valley Irish Feis (which will not be happening this September at the Riverfront Green) and is treasurer of the Westchester County Ancient Order of Hibernians.  His civic involvement isn't just with Irish organization.
He credits The Thanksgiving Turkey Trot, benefitting Caring for the Hungry and Homeless of Peekskill and the Mt.Carmel Food Pantry, as his brainchild.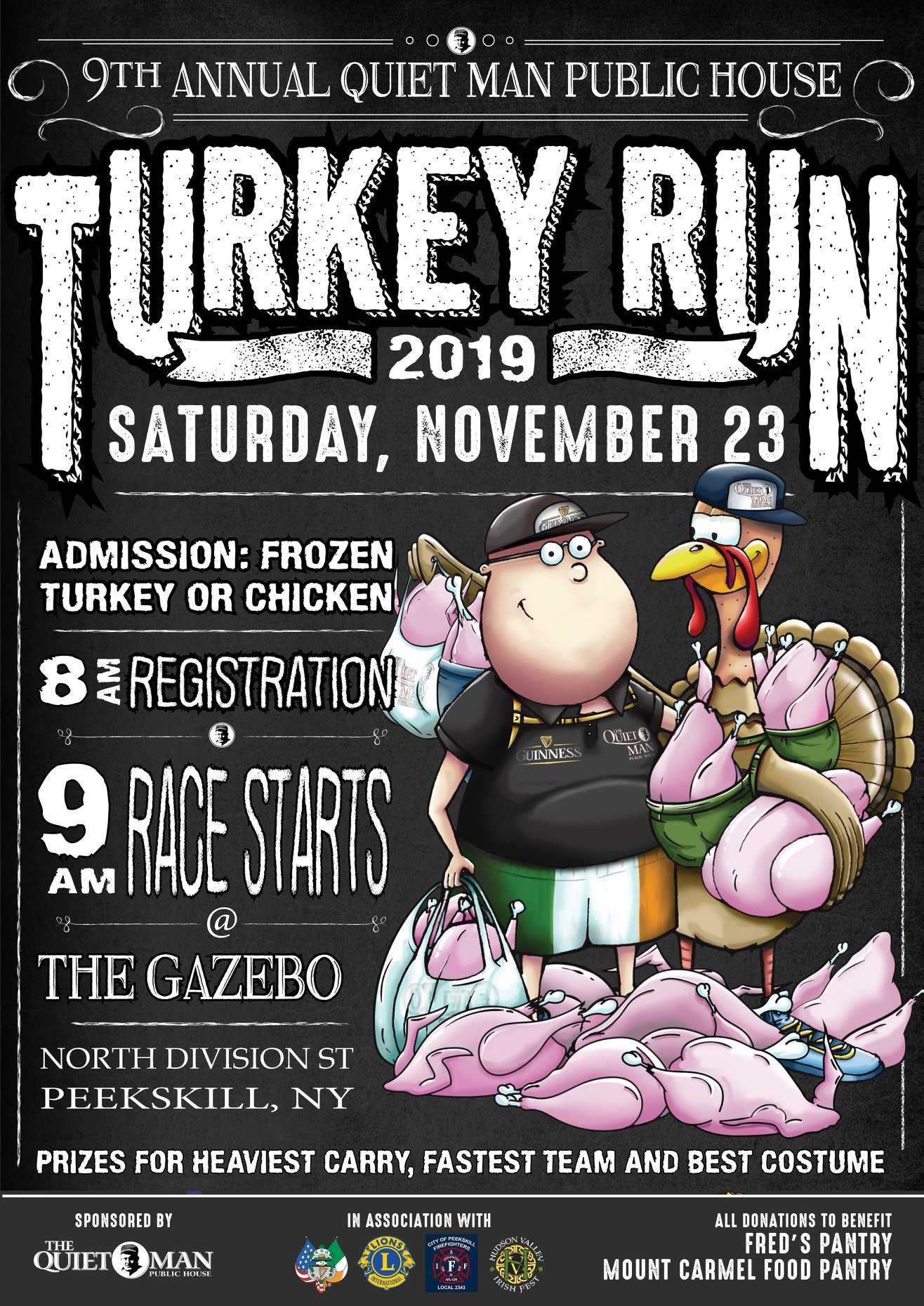 The Quiet Man sponsored the event since the restaurant bar opened in 2011.
When the pandemic hit, he decided to forgo menu take out after about about three weeks in March, saying the risk and reward calculation wasn't to his liking. He also noted that his dishes don't travel well. "By the time you get the chips home, it wouldn't work," but that didn't stop him from encouraging his patrons to support neighbors on Division Street. He posted the following in support of his neighbor, Ruben's Mexican Café, in May.
Good morning and Happy Cinco de Mayo to you all!
We just wanted to pop in today and urge you all to support Ruben's on what should have been a very busy day for him.
Just like the Quiet Man when we lost the Peekskill St Patrick's parade and then St Patrick's day itself, Ruben's has lost the Saturday street celebration and today, Cinco de Mayo. We felt the love on March 17th, now let's show that love to Ruben's at the new location, 12 N. Division St( directly across from the old Rubens, in the former 12 Grapes).
Remember, wear your mask in public, keep your social distance, wash your hands and don't touch your face. And please, dispose of your gloves in a proper manner, they do not belong on the street as litter.
That kind of encouragement of others was a hallmark of The Quiet Man. McGreal was quick to offer support to efforts to assist the community and have a fun time for those who want to be involved, like The Quiet Man's sponsorship of the Polar Plunge every New Year's Day at the Hudson River for the This Is Me Foundation and countless other groups.