The men Peekskill immortalized with monuments in Depew Park
The national conversation taking place around Confederate monuments led me to the bookshelf to pull out and reread the visually stunning copy of my friend Judith Dupre's 2007 work, Monuments   America's History in Art and Memory.
 
She tells how monuments are history made visible. They are shrines that celebrate the ideals, achievements, and heroes that existed in one moment in time. Rooted in the Latin monere, which means to remind or admonish, monuments are not necessarily about remembering, either. More often than not, they allow us to forget. She makes the comparison of erecting a monument to filing away a paper in a drawer; that action can reinforce the slim illusion that the memories associated with it can be retrieved when desired at some later date.  The very process of deciding how an event should be remembered allows reconciliation with the event itself, and in doing so frees history to move forward.  The best of them are redemptive, allowing us to understand the past in a way that is meaningful in the present. Ultimately, monuments are about resolution, the outward sign that finally all has been said and done.
But as our current conversation illustrates, all is far from said and done regarding monuments of Confederate leaders. Perhaps this moment is the opportunity to reach resolution around slavery, America's original sin.
Dupre writes that monuments, like everything else, require attention in order to retain their meaning, when neglected, they erode, crumble, and disappear from consciousness, if not from view.
One of Peekskill's most prominent monuments has slipped from view, tucked away on a knoll in Depew Park, overlooking a now closed playground.  The three-dimensional bronze statue of Chauncey Depew, which is 8 feet, 2 inches tall, and weighs 900 pounds is the work of Signard Neandross, an American sculptor.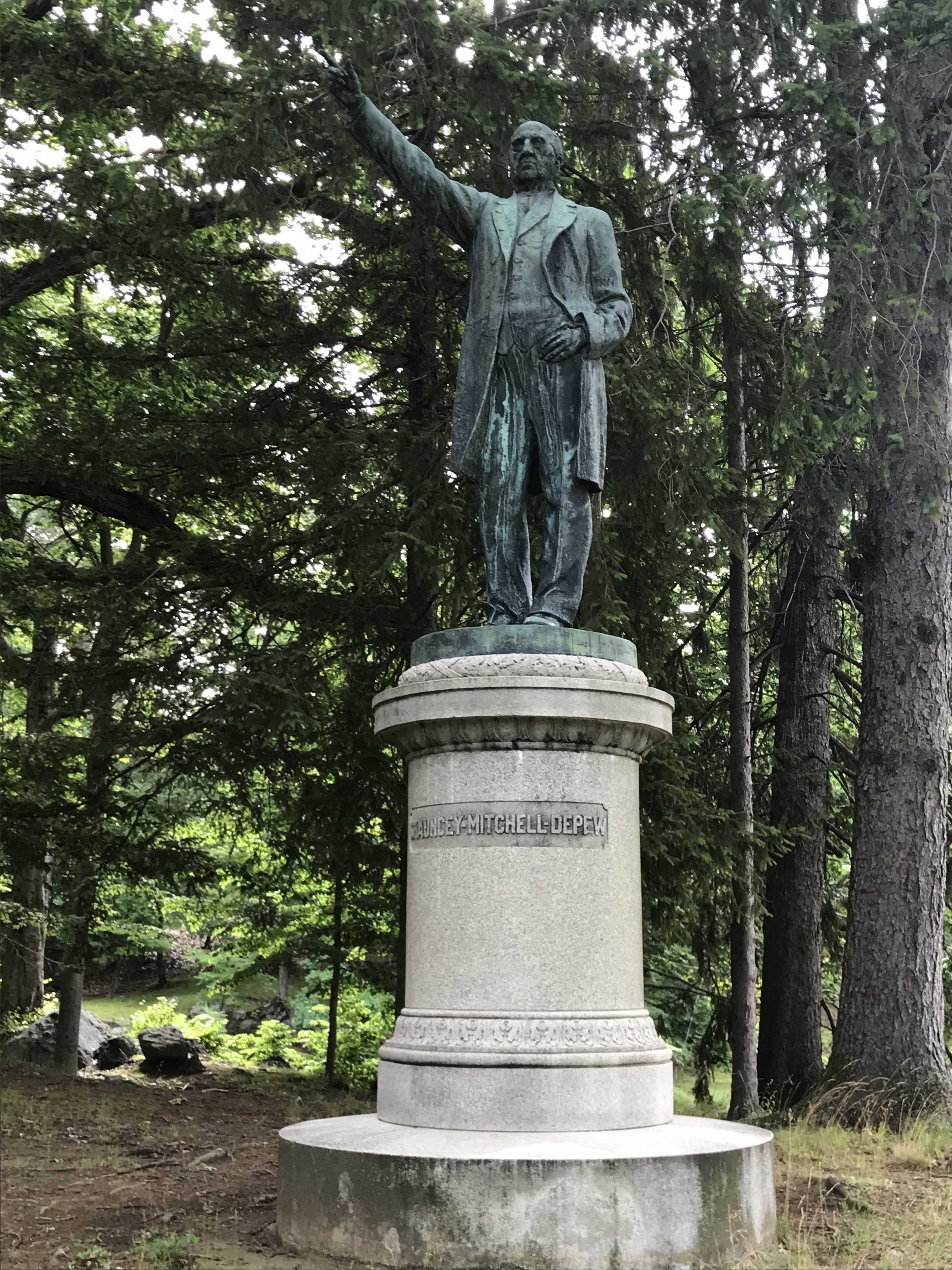 It was cast in the Roman Bronze Foundry of Greenpoint, Brooklyn. The 6 foot, 8-inch-tall Millstone granite pedestal it stands on was quarried near Peekskill and was erected by DeChristopher Brothers.
Chauncey Mitchell Depew was one of Peekskill's most famous native sons. He was born in April of 1834, went to Peekskill Military Academy and Yale College. A leader in the young Republican Party and a friend of Abraham Lincoln he was secretary of state in New York in 1864. He conceived the idea of canvassing the votes of New York State's soldiers in the Union Army. Their votes gave the state's electoral vote to Lincoln who was then re-elected as president. Depew was a member of the US Senate from 1899 to 1911.
According to Chester Smith's "Peekskill, A friendly Town: Its Historic Sites and Shrines; A Pictorial History of the City from 1654 to 1952"  Depew was famous as an orator, a statesman and railroad president (New York Central Railroad for 13 years)  He was responsible for donating 50 acres of his family's farm, which had been his great grandfather's from 1684, to the village of Peekskill in 1901.  The farm had been in the Depew family continuously with the exception of three years and consisted of farmland, meadow and woods. The deed recorded in the county clerk's office of Westchester County states the restrictive covenant as to the Park's use:  "to have and to hold the above granted premises unto the party of the second part (The Village of Peekskill) upon the express condition that the above granted premises shall be forever hereafter kept open and appropriated to and for the sole use of a public park to be called "Depew Park" and for no other use or purpose whatever."
Erecting the statue during the lifetime of one of Peekskill's most prominent sons was the idea of Franklin Couch, a long-time friend of Senator Depew. "It was a happy suggestion and entirely merited by Senator Depew, who always had a deep attachment to his native Village and never failed to mention it in his travels in this country and abroad," wrote Chester Smith.
Smith described the dedication ceremony that took place at 2 p.m. on September 24, 1918.
"The schools were closed and a great crowd of between 1500 and 2000 people, the largest audience seen at a public ceremony in Peekskill in many years, assembled to pay honor to the community's famous son. The ceremonies were simple, at Senator Depew's request. Judge Charles Nassau Wells, the only remaining member of the original Board of Park Commissioners, presided. The "Star Spangle Banner'" was played by the 6th Heavy Artillery Band, Rev. Benjamin H. Everitt, pastor of the First Presbyterian Church, offered the invocation. "America" was sung, Sanford Knapp, a classmate of Senator Depew in PMA, presented the statue to Peekskill on his behalf, it was accepted on behalf of the Board of Park Commissioners by George Briggs, Secretary of the Board and longtime friend of Senator Depew. The statue was unveiled by Miss Helen Husted, daughter of General James Husted, friend and classmate of Senator Depew at Yale.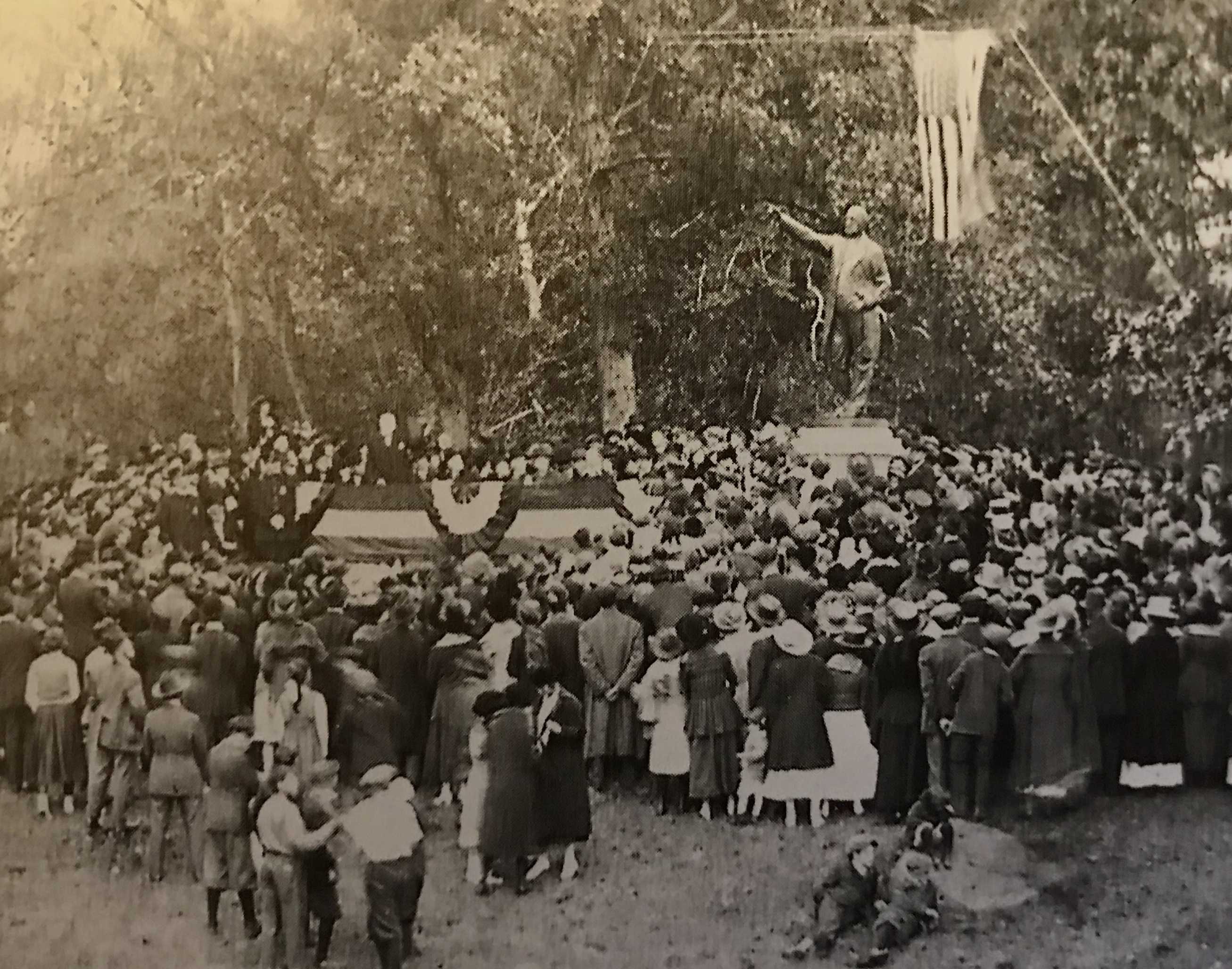 "Auld Lang Syne" was sung and Milton Jordan, Treasurer of the Board of Park Commissioners, raised the American Flag upon the flagpole which the Board had erected near the statue. Senator Depew then delivered an address, recalling his early life in Peekskill, his school days at  PMA, when Mr. Knapp was a classmate, and likewise John Husted, who was also present. He spoke of his public life and of the momentous events of the World War and hoped that the park would continue to be a source of pleasure and benefit to the people of Peekskill.
"At the conclusion of his address the Band played "For He's A Jolly Good Fellow, and the Senator and Mrs. Depew and the Senator's relatives and friends who had accompanied him to Peekskill for the occasion held an informal reception and visited with many of the people present."
Across the road from Depew's statue is a the two-sided granite bench with pedestal and bronze portrait of James Husted. Husted's monument was erected a year before Depew's.  Husted was a Peekskill lawyer who served in the New York State Assembly for 22 years from 1869 to 1892 and was Assemby Speaker for 6 years. While in Albany, Husted helped establish the State Militia Camp at Annsville, later renamed Camp Smith.