Community responds to feed the hungry
When Peekskill left behind its village status in 1940 and became incorporated as a city it never lost its small town feel and that is evidenced in the way the community has responded to the food insecurity experienced by so many residents during this pandemic.
From thousands of dollars contributed to an established food pantry to pop up food distributions throughout the city, Peekskill residents are exhibiting generosity and neighborliness.
Last weekend Fred's Pantry, a service of Caring for the Hungry and Homeless of Peekskill (CHHOP) received $4300 in donations and 10,000 pounds of food from a drive at PHS organized by state Senator Pete Harckham. And Peekskill Exurbanist, a website that highlights Peekskill's dining and entertainment scene, donated $1500 to Fred's after an online campaign through Birdsall Market and RIDE! Peekskill. A GoFundMe page created to cook and distribute food to frontline workers such as fire, police, ambulance corps workers and nursing home employees has netted $19,000 in three weeks.
In addition to Saturday mornings, Fred's Pantry located at St. Peter's Episcopal Church on Howard and N. Division streets,


added Wednesday afternoons as a distribution day when the pandemic started in March. If the current number of clients keep coming, CHHOP estimates they would be feeding 2,000 household members every week.
"We always want people to have healthy, nutritious food, but during this pandemic it is especially important to have the right food in order to help strengthen people's immune systems. We have an obligation to not just get food to people, but to get healthy food to people — fruits and vegetables, not sugary, junk foods. Currently, there is a tremendous demand on food banks and we must purchase some foods, especially proteins, at retail," said Cynthia Knox, chief executive officer of CHHOP.
Fred Dennstedt, who runs a social media site, Peekskill Exurbanist which just reached 2500 followers this week, designed the online shopping platform for Birdsall Market and Ride Peekskill.  In pre-pandemic days, the Exurbanist site listed where to go for live music and dining. Since the pandemic, Dennstedt has been publicizing the way local restaurants pivoted to new forms of business such as curbside pickups and online ordering. From watching some of the city hall meetings about what people in Peekskill were experiencing around food insecurity, he decided to 'crowd source' a campaign to support Fred's Pantry. In one week he received donations and presented a check to CHHOP Saturday.
"I've been posting about people ordering from restaurants and supporting local businesses but not everybody has that luxury, so I decided to see if there was a way to support those who need help with food," said Dennstedt who has lived in Peekskill for three years. Since he designed the online ordering site for Birdsall Market he created a link to the Fred's Pantry donation page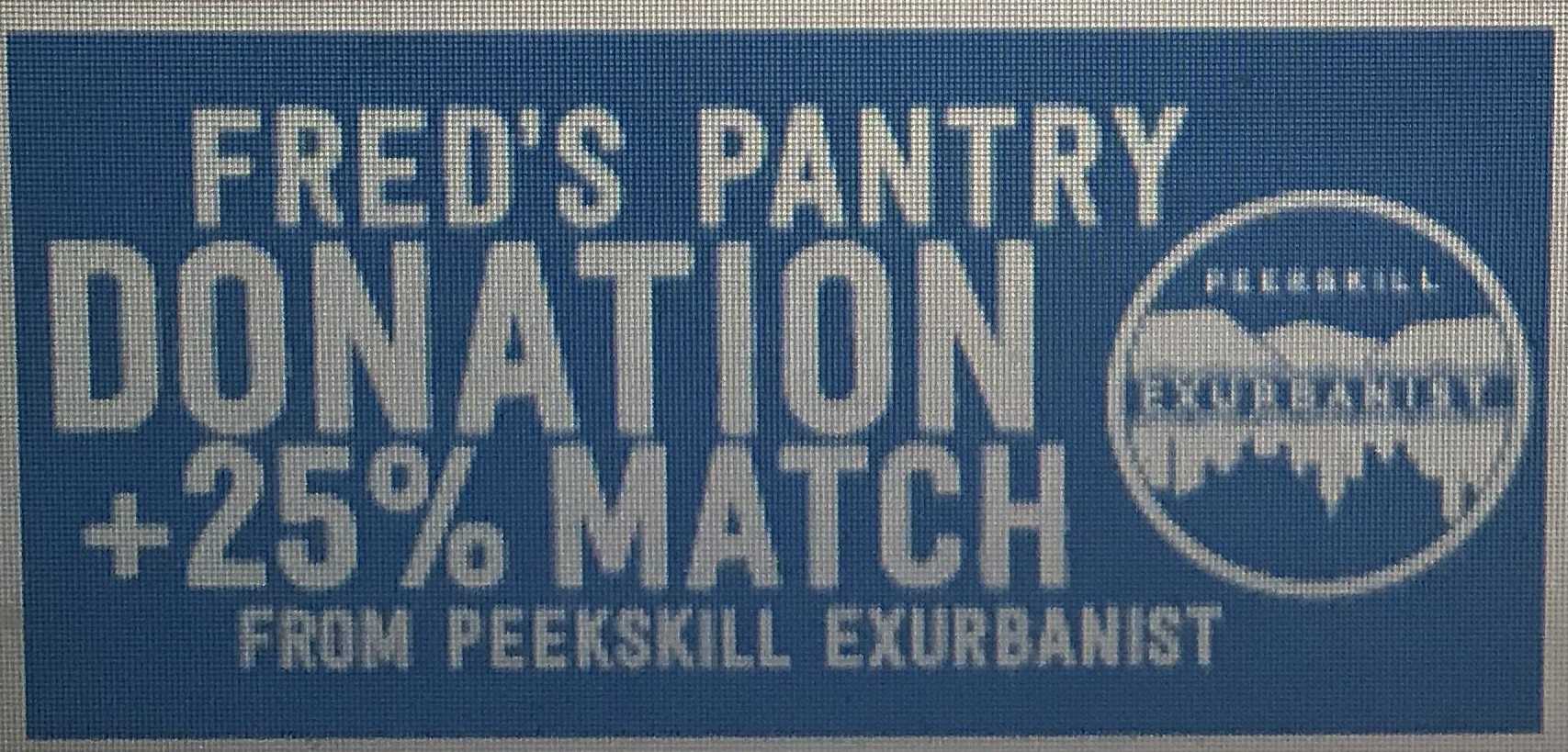 as soon as the description of each market box came on the screen.  Birdsall Market was created after CTown closed in April. The Market is a way for people to order groceries online and have delivered by RIDE! Peekskill or picked up at the outside garden of Birdsall on Main Street. CTown has since re-opened but Birdsall Market continues to take orders.         .
Other outreaches in Peekskill include groceries distributed by the Peekskill Rotary Club in conjunction with the city and Feeding Westchester and Manzer's Landscaping  from the plaza in front of the Field Library on Tuesday mornings at 10:30. They've given away four pallets of food every week for the past 6 weeks. There are a core group of 15 volunteers who come to help bag and give away the food.
Hot meals are offered to people on Friday's from Manzer's Landscaping on Lower South Street. The hot meal program is sponsored by Manzer's, the Hope for Youth Foundation and the Rotary. They contract with area restaurants to cook the food and have distributed more than 1,000 meals since they began.
A second site people can go for groceries sprang up at the First Baptist Church on Highland and Pemart Avenues three weeks ago so that people from that side of town didn't have to travel to downtown for Tuesday's giveaway. That distribution site opens at 11 a.m.
Manzer was recognized by his national professional landscaping association for the community involvement including offering assistance to his customers who are over 60 or have pre-existing conditions. If they need help with grocery shopping, picking up medication or walking their dog, they just ask. So far about a dozen of his customers have needed help.  He worked with his partners in the GoFundMe page, Crescent Companies and Nardone Funeral Home, to purchase and deliver 450 hanging plants to the staff at NYPresbyterian Hudson Valley Hospital for Mother's Day. The idea behind the GoFundMe was to give employment to restaurants and help feed those on the frontlines.