To the Editor:
I am writing in response to the November 2nd article entitled, "Trouble Brewing at Peekskill Brewery?" written about a place that has been a beloved institution in the Peekskill community for over fifteen years. The Peekskill Brewery is like a second home for many of us, our very own local "Cheers" bar, if you will. Whether visiting alone or with a group of friends, you can always expect to see a friendly familiar face on both sides of the bar. PB's Mug Club has become my second family. The brewery's beer garden has also served as a haven for day trippers from NYC (and beyond) as well as hikers in the Hudson Valley every beautiful spring/summer/fall weekend.
PB hosts so many great annual events for the community, including Block Parties, Pride events, Music and Art festivals, weekly live music and they have sponsored many more. As a founder of Run PB, a 501(c)(3) Non-Profit Organization offering weekly Wednesday runs out of Peekskill Brewery, I have been proud to call PB our homebase and main sponsor for the past three years. The work week always seems a little easier when you know you only have to get to Wednesday to enjoy some exercise and good beers with friends in such a welcoming space. Their team has partnered with us on some great local events, including two Block Party 5ks, a Pride Color Run, an Oktoberfest Race, a Global Running Day event, and a St. Patrick's Day Race.
On a personal level, PB is where I've met most of my adult friends and where (unbeknownst to me at the time), I had my first (and 2nd, 3rd, 4th, 5th…) dates with my now husband (surrounded by all of our favorite runners 😊). It is also where we celebrated with our out of town guests the night before our wedding. I have attended friends' weddings, rehearsal dinners, repass meals for loved ones, birthday celebrations and even an adult prom in the beautiful upstairs space. This is a place that holds so many fond memories for so many of us and that will be dearly missed if it is no more.
Sending my sincerest appreciation and best wishes to the PB team, whatever the outcome of this difficult situation.
Heather Bishop, Co-founder of Run PB and Mug Club Member from day 1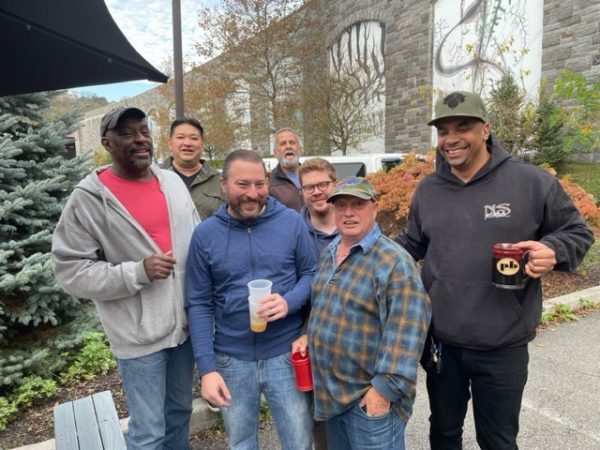 To the Editor:
In summer 2020, when the world was still largely shut down and fear of COVID 19 remained high, we approached the management of Peekskill Brewery with our idea to start an informal weekly running group from the brewery. We were two teachers hoping to bring people together to exercise and socialize safely during very uncertain times. Despite businesses everywhere struggling, Peekskill Brewery supported our idea.
Peekskill Brewery has offered our runners a home base ever since. Strong friendships and bonds have been fostered through our weekly gatherings there. PB generously provided special happy hour prices for our runners, heat lamps so we could continue to meet safely outside when the weather got colder, and later helped create our logo and website.  As the pandemic waned and our group grew, their team fully supported us as we formed into a 501c3 not-for-profit and started to host races and other events. Peekskill Brewery opened early for us for these events and let us borrow items we needed and didn't yet have, such as speakers, microphones and tables. Despite struggling in these post pandemic times, they have been our biggest sponsor; designing and sometimes sponsoring our race "swag," hosting and sponsoring club parties, providing a free beer for every participant in our events, helping us to advertise these events, creating special post race menus and booking bands to make for the best after parties around.
We think it is important to share this information with your readers so that they can understand how truly committed Peekskill Brewery is to its community and how much they mean to this local group of runners.
Francesca Battaglia, Heather Bishop, Co-Founders of Run, PB, Inc.
To the editor:
These are photos of us faithful PB customers, but we are not just customers we are friends who have gotten to know each because of the Brewery.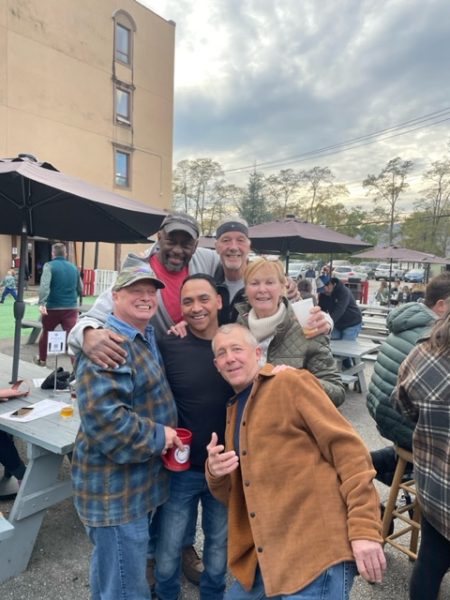 When we all met many years ago,  we walked through the door not realizing this was going to be our go-to place where upon we became fast friends, supported one another while listing to music, drinking great beers, joining the mug club then the PB running club. We all come from different walks of life yet we found that most common denomination: friendship.
Covid came and it was a scary time.   We could go to the brewery where Henry the best bartender would sell the beers through the glass doors and then we would go to the parking lot where we parked at the allotted distance and continued our conversations. We talked of our fears at that time, our families and when would we return to the norm we knew.
Romances started there and we've just celebrated a wedding from such a meeting. We were all part of that wedding. It was family, and at the end, that's what we are to each other.
So if you are reading this, perhaps you want to invest in and support a wonderful community business.
Siofra Vizzi