Adam Love and Lionel Wadsworth started casually jamming about  ten years ago. Adam, 53 sings and plays guitar while Lionel, 20 plays drums. The Peekskill duo has the unique distinction of being bandmates who also happen to be father and son. Last week, they released their first single, "Happy Halloween" which is now available on multiple major streaming services as the first-ever official track by their band. 
After a decade of noodling together here and there and playing gigs opening for friends, Adam and Lionel got serious about their artistic collaboration over the last year. They formed dadson about seven months ago, revisiting tunes Adam had written as a singer songwriter and adding live percussion from Lionel. The band may be relatively new, but some of the songs are from Adam's solo playing that go back about 20 years.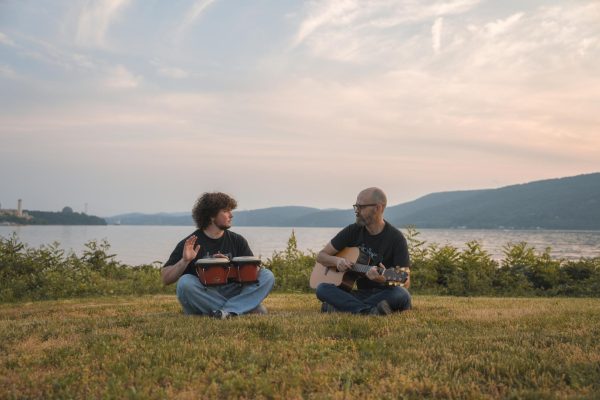 The pair have a laid-back approach to creating jams that compliment their chill energy and band mission (penned by Lionel) of "inspiring others through music." They each take care of a variety of duties to keep the band functioning. Adam is the social media manager, singer, guitarist, writer, producer, and underwriter while Lionel is the drummer, manager, booker, and junior producer who continues to hone his software skills. They record  at "Signpost Studio" (their basement space named after one of the wooden posts holding up the house that has been signed by friends, family, and visitors to the space).
When asked about the cliched family drama scenarios that have been known to tear some bands with strong blood ties apart, they were happy to report that they're, "Pretty chill." Lionel explained that, "We have a good vibe and good dynamic." Adam agreed, saying, "We've had our arguments but we're really enjoying it." 
As they build their dadson presence online and log more live performances, Lionel works in ecommerce and delivers pizzas. He's also busy creating their social media and streaming content, developing their website, which is still under construction and fulfilling all the backend duties that support the band. Adam is a landlord and an art installer, a career that was born of his longtime work as a picture framer.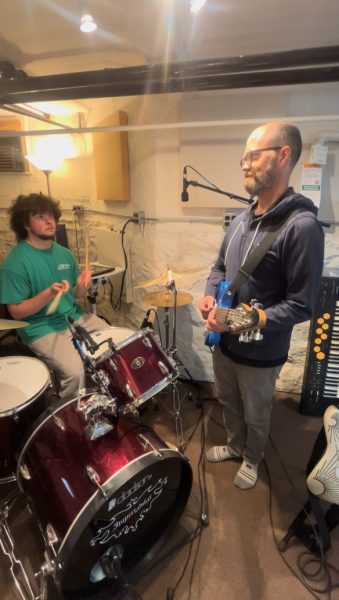 A trip to California six years ago led Adam to write the first iteration of "Happy Halloween." When he was visiting the Bay Area, he heard about a Halloween dance party hosted by American rapper and yogi, MC Yogi in Point Reyes. It inspired him to create a new song for the occasion to see if it might make it into the set. MC Yogi never picked up the track, but Adam had been revisiting it every year around this time. After Lionel added live drums to it last year, he started nudging his father to finish the song so they could get it on Spotify in time for Halloween.
Luckily for dadson, local producer and engineer Andrew Cardenas worked his magic to finalize the track with Adam, adding background vocals and spooky sounds. Just in time for the holiday, anyone can drop "Happy Halloween" into those Trick or Treat playlists where it would feel right at home between "Monster Mash" and "Werewolves of London."
Currently, the band is working on two more original songs to release as they update their website and seek out new local gigs to showcase their sound. Lionel likes where they are now and said, "Once we get more music out, we'll definitely have more gigs," so be on the lookout for dadson shows in the area. Their website, dadsonband.com, will be live soon with news, events, music, and merch. In the meantime the pair are enjoying the ride and feeling good about having this track as their introduction to the listening public. Adam is, "Super excited that it's live. It's our first experience with a published song and it all worked out."