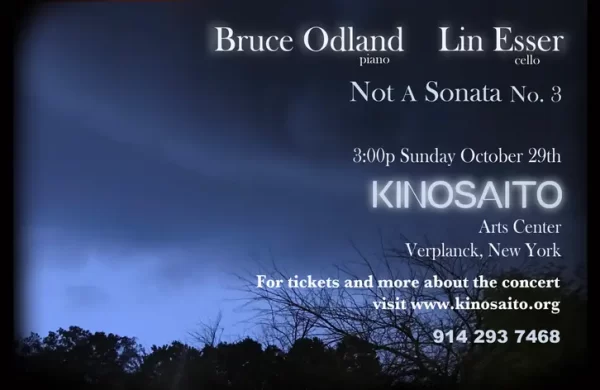 KinoSaito is pleased to present Not a Sonata No. 3 music performance by Bruce Odland and Lin Esser on Sunday, October 29, 2023, from 3 to 4:30 p.m. Tickets are $10 per person and reservations are required at: https://www.kinosaito.org/performances. This duo performance for piano and cello takes place at KinoSaito located on 115 7th Street in Verplanck, NY.
Not a Sonata No. 3 is a continuous experimentation of real-time spontaneous compositions by pianist Odland and cellist Lin Esser. The duo's return to KinoSaito  further draws upon the wealth of creative ideas that each artist has explored, along with their past duo experiences and enduring musical fellowship.
Tickets for this intimate musical experience are only $10/guest and seating is limited. To purchase a ticket and save a seat, visit: https://www.kinosaito.org/performances.
---
If you would like to have your event publicized and advertised for free, please add your event to the Peekskill Herald Event Calendar. You may even get to become a highlighted featured event of the week.
Do you like what you see? Click here to subscribe for free to the Peekskill Herald. Do you really like what you see and want to support local thriving journalism? Click here to donate and become a member of the Peekskill Herald. The Peekskill Herald is a 501c3 charitable organization and all donations are tax-deductible.