Whether you're a music fan, a sports fan, or just looking for a nice spot to sit for a pint of Guinness and a sandwich, you're welcome at Slainte Peekskill, the city's newest Irish pub, located at 21 South Division Street. The bar, which opened in August, has a cozy interior, with overstuffed armchairs, comfortable booths and a long bar that stretches the length of the main room. The owners, Enzo DeRaco and Anthony Maguire, want patrons to "Feel like family when they come in." 
DeRaco and Maguire are practically family themselves: they are godfathers to each other's children. The pair's skills are also complementary, with Enzo heading up the food strategy and Anthony bringing his design vision to create a new food and drink experience for the community.  
A partnership is formed
In 2017, when Enzo was the chef at Gleason's, he knew he wanted to be in Peekskill with his own restaurant but wasn't quite sure how to get there. He ended up leaving Gleason's, starting a catering business, and eventually opening the restaurant 140 Grand in Croton-on-Hudson. When DeRaco faced  structural issues with the building, he serendipitously met Maguire, a seasoned restaurant contractor, who helped with 140 Grand. They ended up working so well together, they formed a business partnership and started looking for a restaurant location in Peekskill in 2021.
Maguire hails from the village Meigh in County Armagh, Ireland.  When he moved to Croton-on-Hudson with his wife, he was a bit surprised by the lack of Irish bars in the area – he just wanted to sit with a  pint of Guinness! The closest place Maguire  found was the Quiet Man in Peekskill and when that closed in 2020, he felt there was an opportunity for something new in town that could deliver the comforts of Irish food, drink, and craic (Irish for "a good time, fun experience, or friendly conversation").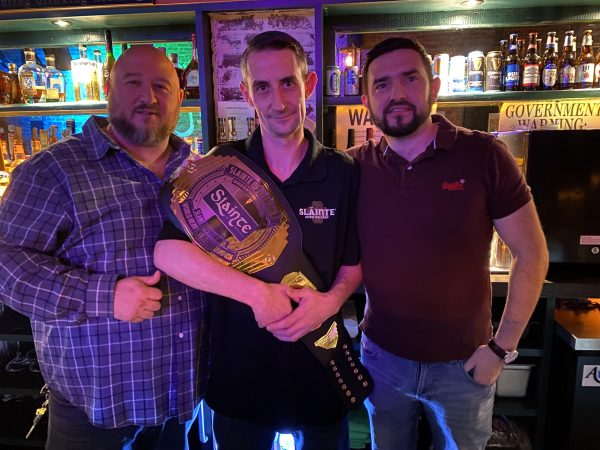 When DeRaco and Maguire found 21 Division Street, they looked no further: Slainte Peekskill had a home. Both were excited about joining the downtown Peekskill community with their take on the Irish pub experience, and worked to convert the space to match their vision for a cozy pub with room to host events, live music, and sports. The renovations took about a year, and the bar had a soft open in August.
DeRaco and Maguire genuinely appreciate the sense of community among local Peekskill businesses. They wanted everything about the bar's renovation to be  "as local to Peekskill as possible." Area artist, Brandon Cruz, painted the wall mural of Slainte's logo and the custom Erin Go Bragh painting on the opposite wall behind the bar. Enormous Creative (located on North Division Street) designed the bar's logo. 
Maguire feels that what he and DeRaco have created would be right at home in Ireland. The new interior is, "Cozied up with more winter and earthy colors," to make it "more comfy, more cozy where people could sit and have a chat, have a pint of Guinness, have a pint of Harp and have some comfort food because that's what the Irish community is about." And DeRaco is proud of the comprehensive menu: a fusion of the traditional and contemporary, with touches of American, Asian, and authentic Irish cuisine. In developing their offerings, he enjoyed experimenting with curry flavors before landing on the recipe they use today.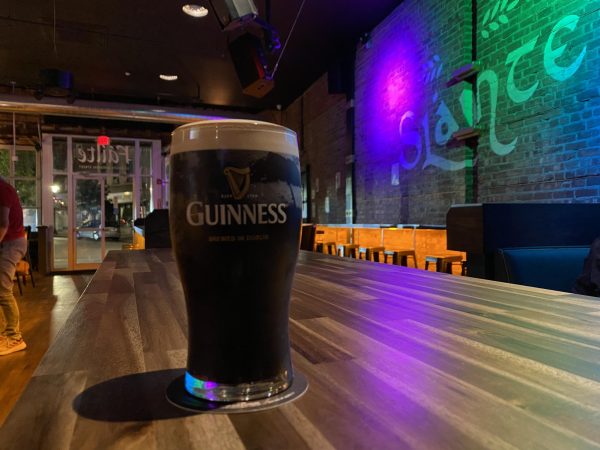 When asked about the menu standout, DeRaco recommended either "The shepard's pie, Irish curried chicken, or the fish and chips." Maguire was quick to chime in that, "The fish and chips is amazing." They both love that particular dish and are proud to be serving up what they consider to be among the best in the area. So far, everyone's favorite appetizer has been the Irish poutine: house cured corned beef pastrami over homemade chips with cheddar cheese and gravy, to bring a little Irish twist on a Canadian staple. "I'm a comfort food chef," Enzo explained and he's looking forward to the fall and winter when they'll add a hearty Irish stew to the menu.
In September, after having been open only a few weeks, they proved their Irish bona fides: after rain canceled the outdoor Hudson Valley Irish Festival, Enzo and Anthony stepped up and worked with the festival organizers to bring the celebration to Slainte Peekskill.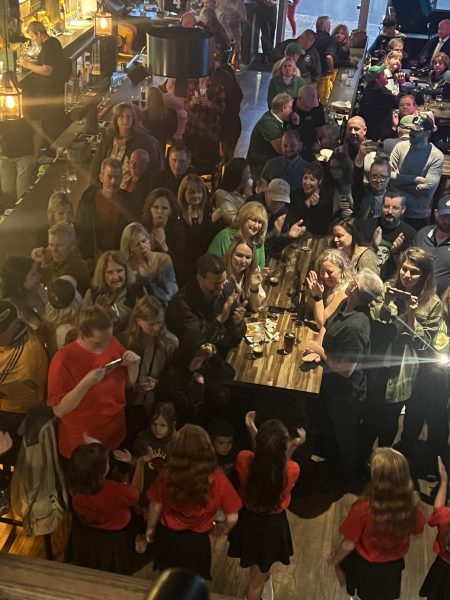 They had originally planned to host the after party, but in a short time, they were able to collaborate with the festival heads and Gleason's next door to accommodate the entire festival inside. They had bands, dancers, and a huge turnout, which worked out well for a new bar in town hoping to generate buzz. More importantly, it was a great time for everyone involved proving that Slainte Peekskill is true to their mission of being a welcoming, cozy place for the community to get together. "It was amazing. It couldn't have been any better. We all worked together as a community and it was beautiful," Anthony told me. Enzo agreed that, "The storm was actually a good thing. Everyone was so happy to be here too. There was a lot of love."
140 Grand will open at former Gleason's
DeRaco and Maguire are both excited to be part of this vibrant community and proud to add a bit of new flavor to this city they both love. They are also locked in and renovating the space at 911 South Street (original Gleason's location) to bring DeRaco's 140 Grand to Peekskill as well. After the success of the Irish Festival, they are looking forward to the road ahead and feel they are poised to thrive thanks to the support of the locals. "The reception has been quite welcoming and loving," DeRaco said.
Ultimately, DeRaco and Maguire want Slainte Peekskill to have something for everyone. Their goal is to build up the live music offerings at Slainte, to create a late night destination for people who come out for a night in Peekskill. They hope trivia, karaoke, and Irish bingo will all add to the character of the bar and draw crowds that are looking for something new in Peekskill. For Premier League soccer matches on weekends, they open up at kickoff  (10:00 a.m. at the earliest, depending on the match) and serve up an Irish breakfast  for the fans. They show NFL games as well, making it a popular destination for local football fans.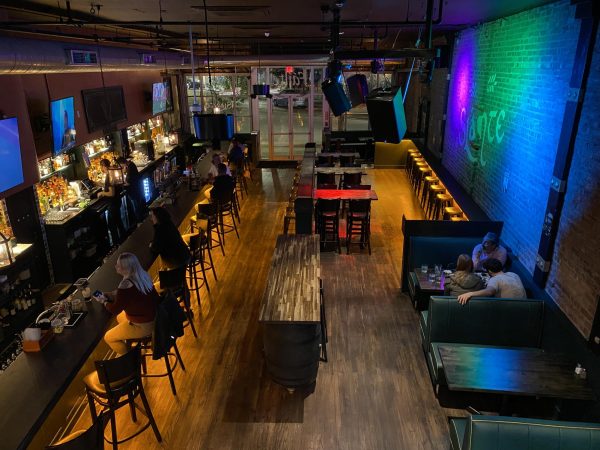 Slainte means "health" and is a popular toast in Irish culture. Slainte Peekskill is definitely an establishment where, in DeRaco's words, you can, "Come for the drinks, stay for the food. There's plenty of room here for you."
.