"H–A–double L–O–W–double E–N" spells HALLOWEEN!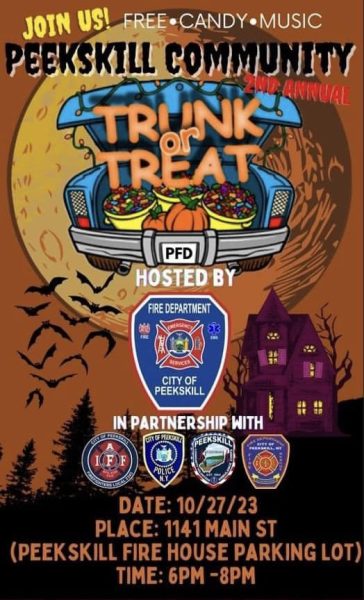 From the Field Library to the Peekskill Volunteer Ambulance Corp, to the Peekskill Fire Department and the Peekskill Elks, to the Peekskill PTO and decorated Halloween houses, the Peekskill Herald has you covered in a Spooktacular Halloween roundup of events all around Peekskill. 
On Tuesday October 24th at 3:30 p.m., the Field Library is hosting a create your own Spooky Kooky Halloween Bag for Halloween. Children ages 9-11 are encouraged to sign up early in the Children's Room as space is limited. 
On Wednesday, October 25th at 4 p.m., the Field Library will be hosting a decorate your own mini pumpkin event for children ages 3-5. Be there early as space is limited. Adults can sign up their kids in the Children's Room.
Also on Wednesday, October 25th from 7-8 p.m., the Field Library will welcome local history librarian, Sarah, for Haunted Places and Ghostly Faces for an evening of spooky (and slightly embellished) tales from Westchester County and the surrounding areas. There will be some very light treats provided, but the tricks are BYO. This event will take place in the Adult Room of the Library. 
On Thursday, October 26th at 4 p.m., the Field Library invites children from ages 6-8 years old to paint the day away when they create Jack O'Lantern mosaics. Space is limited so be sure to arrive on time in the Children's Room.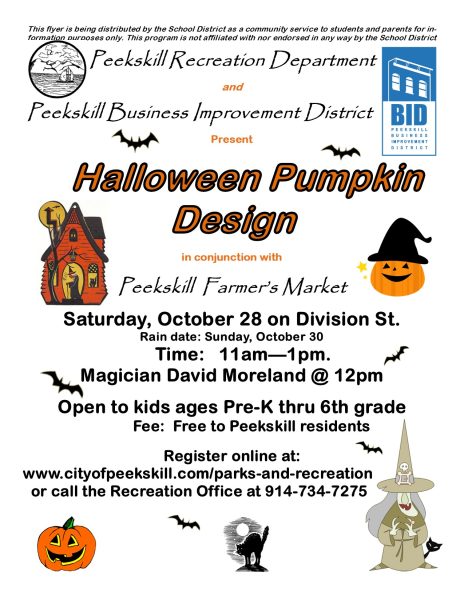 On Friday October 27th  from 6-8 p.m., the 2nd annual Peekskill Community Trunk or Treat will take place at the Peekskill Central Firehouse. All attendees are encouraged to wear their Halloween costumes and to bring their Halloween bags. This event is hosted by the City of Peekskill Fire Department in conjunction with Peekskill Professional Firefighters Local 2343, the Peekskill Volunteer Firefighter Association, the City of Peekskill Police Department and the Peekskill Volunteer Ambulance Corp. This community event is fun and exciting and is sure to be a blast!
On Saturday October 28th from 11 a.m. to 1 p.m., Peekskill Recreation and the Peekskill – Business Improvement District will join forces at the Peekskill Farmers Market on Bank Street and have a Halloween Pumpkin Design event. This event will also include magician David Moreland at 12 noon. The event is free for children ages pre-k through 6th grade but participants must pre-register. For more information, please contact the Parks and Recreation office at (914) 734-7275.
On Saturday October 28th from 10 a.m. to 1 p.m., the Peekskill CSD Parent Teacher Organization will host their annual Trunk or Treat at the Peekskill Middle School. All Peekskill City School District students are welcome and encouraged to wear their Halloween costumes and treat bucket.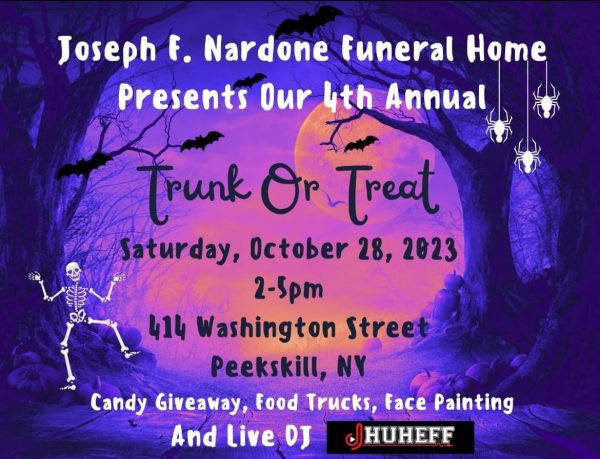 Also on Saturday October 28th from 2 – 5 pm, Nardone Funeral Home presents their 4th annual Trunk Or Treat. Located at 414 Washington Street, attendees are encouraged to dress in costume and will enjoy free candy giveaways, face painting, and food trucks. This event will not be ghoulish but rather lively with the sounds from a live DJ mixing it up for all to enjoy.
On Halloween, Tuesday October 31st from 10:30 a.m. to 5 p.m. at the Field Library children of all ages can enjoy a spooky Haunted Maze in the Children's Room. Dress in your Halloween costume and explore the library's spooky Haunted Maze where children will find plenty of thrills and chills – and some treats too! If you're going trick-or-treating, make the library a stop! You can wander through the Haunted Maze, pick out a FREE book, and choose a Halloween treat! If you can not make it on Halloween for the Haunted Maze there is no worry. Families can enjoy the maze starting Friday and Saturday, October 27th & 28th from 10:30 a.m. – 4:30 p.m., Sunday October 29th from 1 p.m. – 3:30 p.m., and Monday, October 30th from 10:30 a.m.-  5:30 p.m.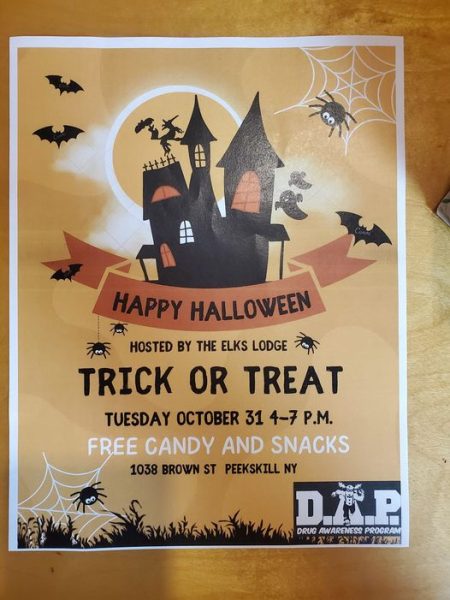 On Halloween Night, Tuesday October 31st from 4 – 7 p.m., the Peekskill Elks will host their 2nd Annual Halloween Free Trick or Treat Event at the Elks Lodge on Brown Street. There will be lots of free candy, snacks and other goodies for all to enjoy for kids 12-under. The Elks club is located at 1038 Brown Street.
Also on Halloween Night, Tuesday October 31st from 5 – 9pm, swing on up to a Haunted Open House at the Peekskill Volunteer Ambulance Corps located at 1427 Main St. Join the ambulance corps in your best costume for a haunted tour of the PVAC facility filled with Pumpkin Face Painting and Spooky evening treats. 
If it is just amazingly decorated Halloween houses you enjoy, stroll on over to the corner of Longview and Riverview Avenue any day of the week and enjoy Henry Seger's superb Halloween display during the day or the night. For the seventh year in a row,  Seger has assembled a gigantic pirate ship and an array of over 100 skeletons for the community to enjoy and gawk over. Seger's display caught the eye of Peekskill Herald Publisher and Editor Regina Clarkin last year and featured Seger and his Halloween House in No trick here, epic Halloween display is a real treat.
Whether it be a Trunk or Treat, walking around the block Trick or Treating or driving through the City looking at Halloween displays, safety is of the utmost importance. According to the National Safety Council, "The biggest Halloween danger for children is car accidents." According to the NSC, "children are more than twice as likely to be hit by a car and killed on Halloween as on any other day of the year." Therefore the National Safety Council wants everyone to keep these important tips in mind when children are out on Halloween night:A responsible adult should accompany young children on the neighborhood rounds
If your older children are going alone, plan and review a route acceptable to you

Agree on a specific time children should return home

Teach your children never to enter a stranger's home or car

Instruct children to travel only in familiar, well-lit areas and stick with their friends

Tell your children not to eat any treats until they return home, and take care to

avoid any food allergies

1
---
If you would like to have your event publicized and advertised for free, please add your event to the Peekskill Herald Event Calendar. You may even get to become a highlighted featured event of the week.
Do you like what you see? Click here to subscribe for free to the Peekskill Herald. Do you really like what you see and want to support local thriving journalism? Click here to donate and become a member of the Peekskill Herald. The Peekskill Herald is a 501c3 charitable organization and all donations are tax-deductible.