The wailing of ambulance sirens pierces the early spring air as Peekskill Community Volunteer Ambulance Corps members ferry patients from their homes to hospitals during the Covid 19 pandemic. Peekskill's volunteer corps handles some 3,000 calls annually.  But since the beginning of the year they have seen an 18 percent increase in requests for help with last Saturday being the busiest day of the year with 24 calls.
For veteran Chris Roberts who has been with the Corps for 31 years and half of that time as an active member riding the rig, he can't wait for this period during the pandemic to be over. "It puts a cramp in our style," said Roberts who is a captain at the Westchester County Jail for his full-time career.
Before the pandemic, ambulance members didn't have to suit up in personal protective gear and could shake hands of someone when they arrived at a home. Now they need to ask a lot of questions before coming into a home. "It's made the whole thing become sort of impersonal," said Roberts. "Everyone is scared and there is a lot of anxiety."
Roberts and his 18-year-old daughter Jessica who is also an emergency medical technician ride the ambulance together on the Saturday night shift from 6 to midnight.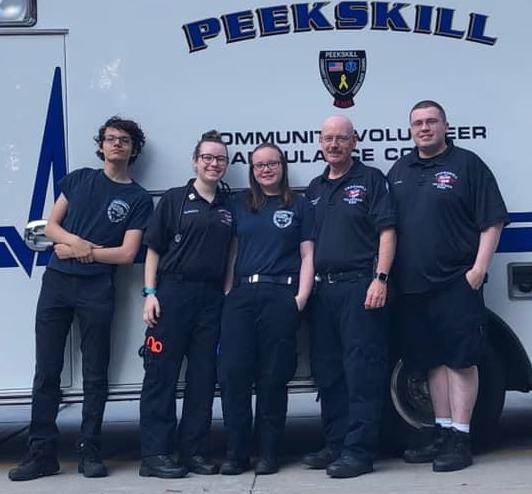 After every call, a crew comes back to the headquarters at 1427 Main Street and disinfects the vehicle. They've always done that after a call, but the procedure has become more complex since the pandemic. The PCVAC is fortunate to have a fogger machine, donated by an individual, which is an automatic sprayer that cleans the ambulance and takes about ten minutes to dry.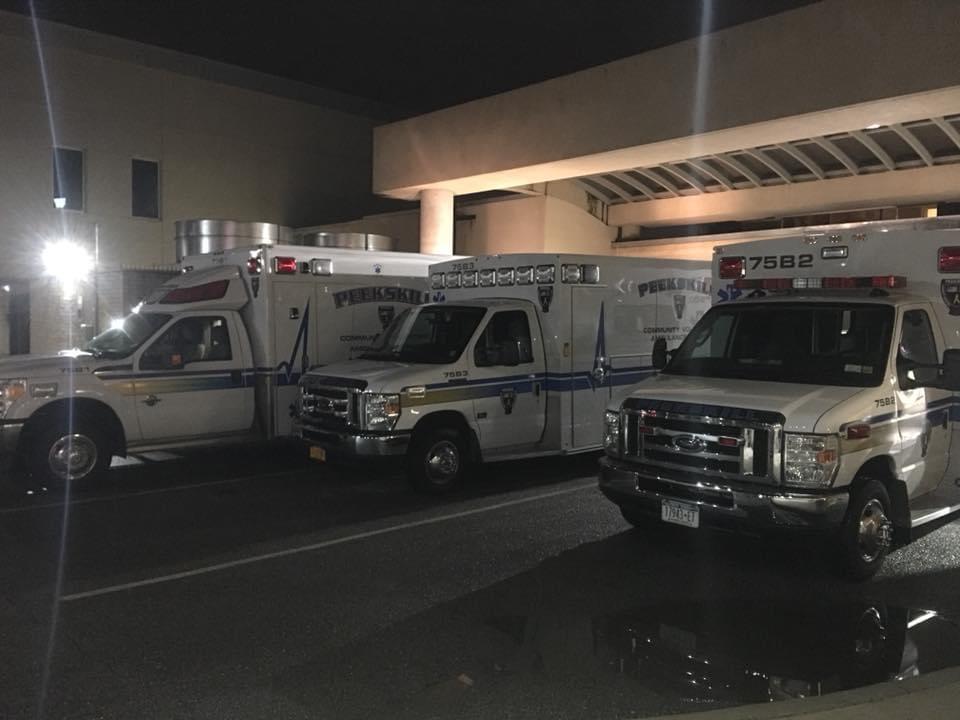 Usually an ambulance responds to a call with a driver, attendant and an EMT. Peekskill has a fleet of three rigs but because of the shortage of personal protective equipment (PPE), they've cut back from three people to two people on calls. "If we had 100 calls with three people going out, we would use 300 PPE's but if only 2 people go out, we can cover 150 calls," said Captain Will Koch.
The Peekskill Community Volunteer Ambulance Corps was incorporated 56 years ago and is staffed primarily by volunteers. PCVAC pays to cover one daily 18-hour shift to make sure there is always someone available to respond to a call.  The non-profit, volunteer organization receives some funding from the City of Peekskill, but their biggest income stream comes from insurance companies for transporting patients to hospitals. The final source of funding comes from personal donations from community members.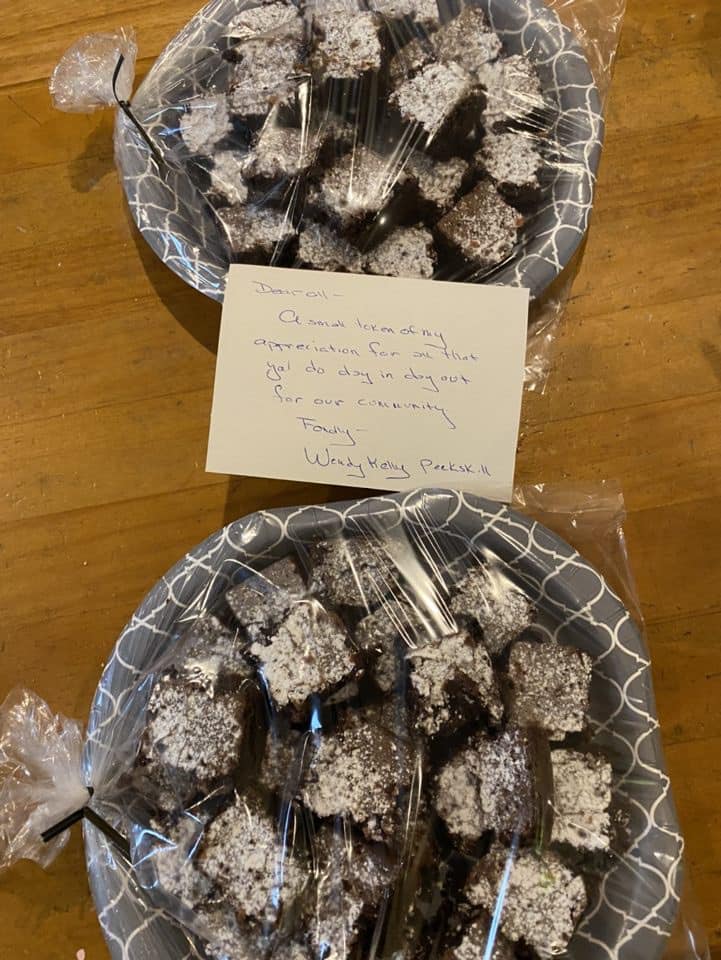 During the pandemic they have been flooded with generosity from members of the community who value and appreciate all they do. Such examples of that can take the form of the loaned fogger machine to decontaminate rigs to baked brownies and cookies to nearly daily deliveries of food from area delis and restaurants. This week a local automotive company donated 20 N95 masks.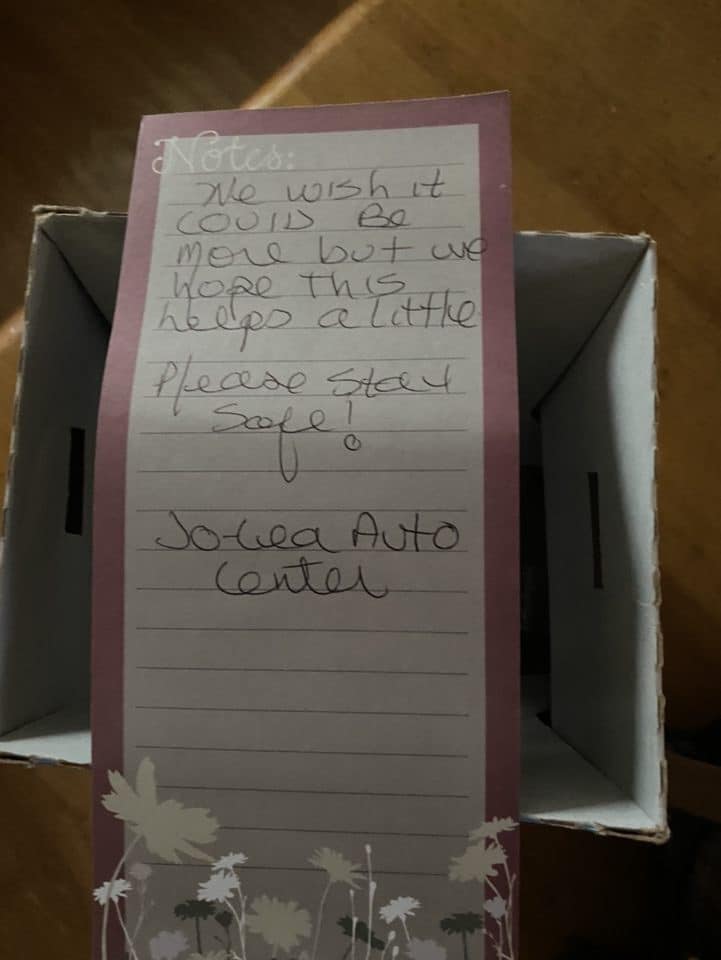 A difficulty of the new procedures for wearing personal protective gear is something as simple as communicating with the driver of the ambulance.  When an EMT is in the back of the vehicle with the patient and wearing a mask, the driver of the ambulance is behind a door in the front of the cab and unless the technician is shouting, it's very difficult for the driver to hear said 3-year-ambulance volunteer Elizabeth LaPadula.  A nursing student at Pace University, LaPadula who is 20 years old, said her biggest fear about volunteering isn't getting the virus herself but bringing it home to her parents and siblings. She is a triplet and her brother and sister live at home also.
She began volunteering as a way to become familiar with an aspect of the field she was studying at school.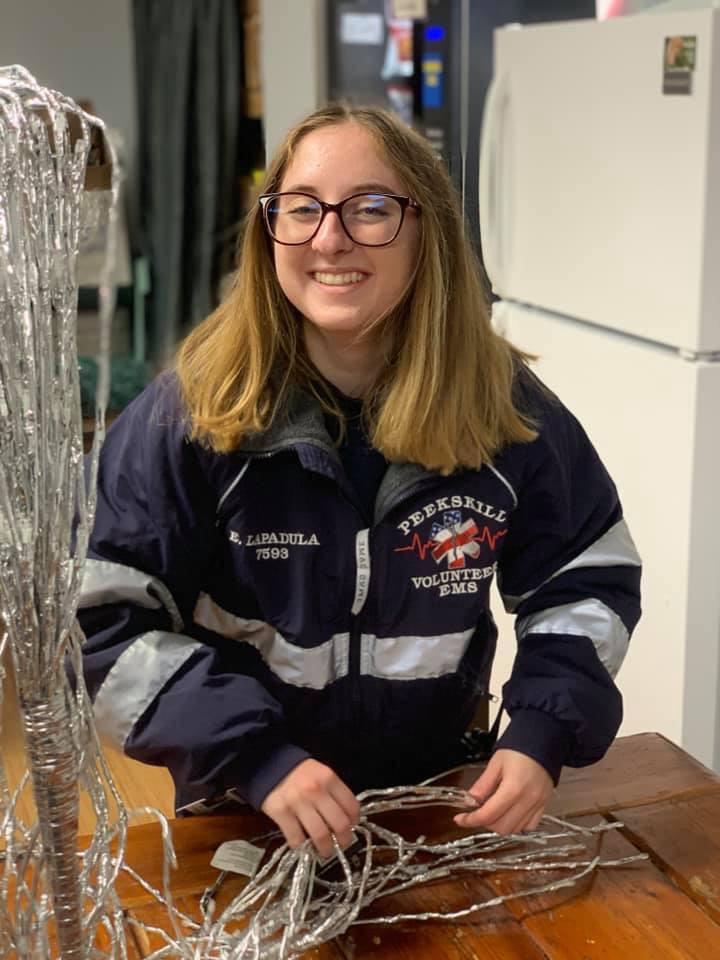 She wasn't sure she wanted to become an EMT but after a year of volunteering, she took the training and is now going out on calls. "It's a great experience and I love helping people in the community," said LaPadula who graduated from Walter Panas High School in 2017.
There has been a decrease in the number of traffic accidents that the corps responds to said Roberts, but the percentage increase has come from a higher number of people calling with sickness connected with symptoms associated with the virus. The second number of calls involves difficulty breathing and the third is falls. If they continue to receive the same amount of calls for the rest of the year, they will finish 2020 having responded to some 3500 calls.