The brother of Jason Sacasari Martinez, who has been missing for the past month, said there are many puzzling aspects around the 22-year-old's disappearance. 
"He left his wallet and credit cards" at their apartment on Oakwood Drive, said Steve Sacasari, 27, about his younger brother. But he did have his phone on him when he left their home on Tuesday, August 15. It was raining that morning so the two deferred their usual morning outdoor exercise routine. 
Steve left for his job on the 'Geek Squad' at Best Buy at the Cortlandt Town Center around 11:30 am, and said he thought his brother had to be at his job at ShopRite on Route 6 around 2 pm that afternoon. Jason has worked at ShopRite for the past six years, most recently in the online shopping department.
According to Steve, people reported seeing Jason that morning leaving their neighborhood by a side entrance, a route that they always took when they were going into downtown Peekskill.  For a week they thought he was in the Lake Peekskill area of Putnam Valley, but that turned out to be erroneous. They were led to that area because there was one ping on his cell phone from Oregon Road. That was the last time there was any activity recorded from his phone. There have been no transactions on any of his bank accounts, and no activity on any of Jason's social media accounts.
Steve thought perhaps his brother was on Oregon Road going to the cemetery where his mom, Manuela Martinez, is buried. She died in April of 2021. "It happened during Covid and it was a very difficult time for us," he added, noting that he had a car accident in October of that year and fractured his skull. "I wasn't conscious at that time as to how hard it was. Everything kind of compounded in one year and he was struggling," said Steve.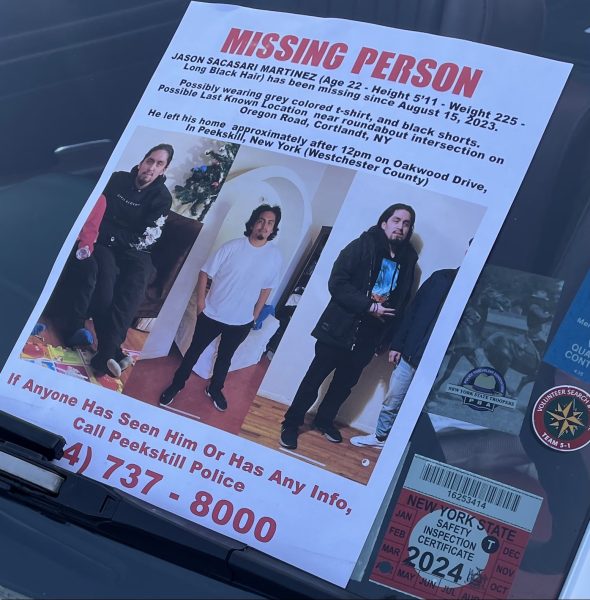 The evening before Jason disappeared, he and Steve went to a big dinner at the home of family friends who they hadn't seen in awhile. "We were catching up, and Jason said the next time they were together he would get the meal." 
Steve is a musician and plays with a band at wedding and birthday party gigs. Jason started playing the bass guitar during the last five years and in May played with the band. They had a lot of performances coming up and he was going to join them. "He was eager to do that," said Steve. 
The brothers were working with a friend who is a personal trainer and would frequently discuss which gym they would go to work out at – Planet Fitness, or 24 Hour Fitness in Jefferson Valley Mall. "He had been going to the gym since February of 2022, going after work often."  
His brother described him as a gentle, relaxed and calm person who had a quiet personality. "He's tall, 5'11" – while I'm short like a lot of our cousins." 
One friend, Innes Belshe, who has known Jason since freshman year when they were at Peekskill High School, recalls how his group of friends would hang out in the back corner of the cafeteria and play video games like the new Smash Brothers. 
"Jason would come up to us after eating and join in our competitions. From there we started hanging out at either my house or in Depew Park, pretty much daily during high school. After high school we hung out less but still made time to get together to play Dungeons and Dragons. Gijo' – as our friend group called him – was always the one to have a speaker and be playing music when we met up. He was always telling us about concerts in the city he was going to," said Belshe.  
"The day before he disappeared, Jason invited one of my friends and I to meet up in the park. He appeared to be in good spirits, and neither my friend nor I noticed anything particularly wrong with him. The whole situation makes no sense to me. It had been a tough few years for him and his family since Covid, but he was still the same friend I had in high school. He still has many people in Peekskill and around the world who care deeply for him and are worried for his safety," said Innes. 
Steve recalled the cross country road trip that Jason took last summer with some friends. "He ended the trip in Seattle and commented how much he liked that city." The brothers had tickets to a concert in lower Manhattan for October. "He liked traveling in general. He helped a friend move to Ithaca recently and took pictures of the place. Photography was something he liked to do." 
According to Steve, his brother was sighted at the top of Hudson and Maple Avenue, and so last week's search in Depew and Blue Mountain made sense, especially since he liked to hike and knew the trails in Depew. 
Anyone who has seen Jason, or has any other information that might help in locating him, is asked to call the Peekskill Police at (914) 737-8000. Lt. Adam Renwick said the police investigation is ongoing and if anyone has information they are asked to call the detective division.