Canine trainer speaks dog while fetching goodwill and obedience from owners
he passion Nate Bonilla exudes when he's talking about training dogs is palpable. He exemplifies the Confucian saying that if one finds a joy they love, they will never work a day in their life.
Peekskill resident Bonilla is the proprietor of the 3-year-old business Nate the dog man with a slogan of I speak dog. The day I noticed him, he was at the basketball court in Depew Park walking alongside a dog, training it how to stop when he stopped. The basketball court at Depew is where Bonilla's passion was ignited. 
As a child growing up in Chicago he had imaginary dogs and would spend hours watching National Geographic specials on animals. He became fascinated with the shows on wolves because they were like wild dogs. His family moved to Peekskill when he was in elementary school and he became a frequent buyer at the Zoo Pet Center on Washington Street. He would come home with guinea pigs, rabbits, hamsters and snakes. He even had a 125 gallon fresh water fish tank. When he was ten years old he was finally allowed to get a dog, a husky mix named Rocco. "I had a routine with him, he was a well-behaved dog," said Bonilla. 
When he was a student in Peekskill High School, he wasn't sure what kind of career he wanted. "I figured I'd get trained in a trade," but one day in Depew Park at the basketball courts he noticed a guy working with a dog.  Bonilla started talking to the guy, Mike D'Abruzzo, and learned that he was a dog trainer. Because Bonilla was searching for somewhere to do his senior work-study program, he asked D'Abruzzo if he could apprentice with him. That 2-hour-a day mentorship turned into a friendship and work relationship that flourishes today. 
After Bonilla graduated from PHS in 2000 his parents told him they were planning a trip to St.Louis and he was going with them where he would be studying at the Tom Rose School of Dog Training, one of the top schools in the country and a member organization of the International Association of Canine Professionals. Bonilla graduated from the school and has been working as a professional dog trainer incorporating all he learned about  obedience, agility and personal protection from dogs for clients in the Peekskill Cortlandt area.
During the six months he attended the school he trained the four dogs that he had to bring with him (three adults and one puppy). He spent hours training and learning about obedience, agility, sports style, click and treat training. He learned to tap into the psychology of dogs and he learned a lot of what not to do. He said he had to learn to 'read' the animal because dogs don't talk. 
"My job is to be able to create change for owners," said Bonilla, age 38. But he said he can't work with the dog if the owner isn't consistent when dealing with the dog. And that's exactly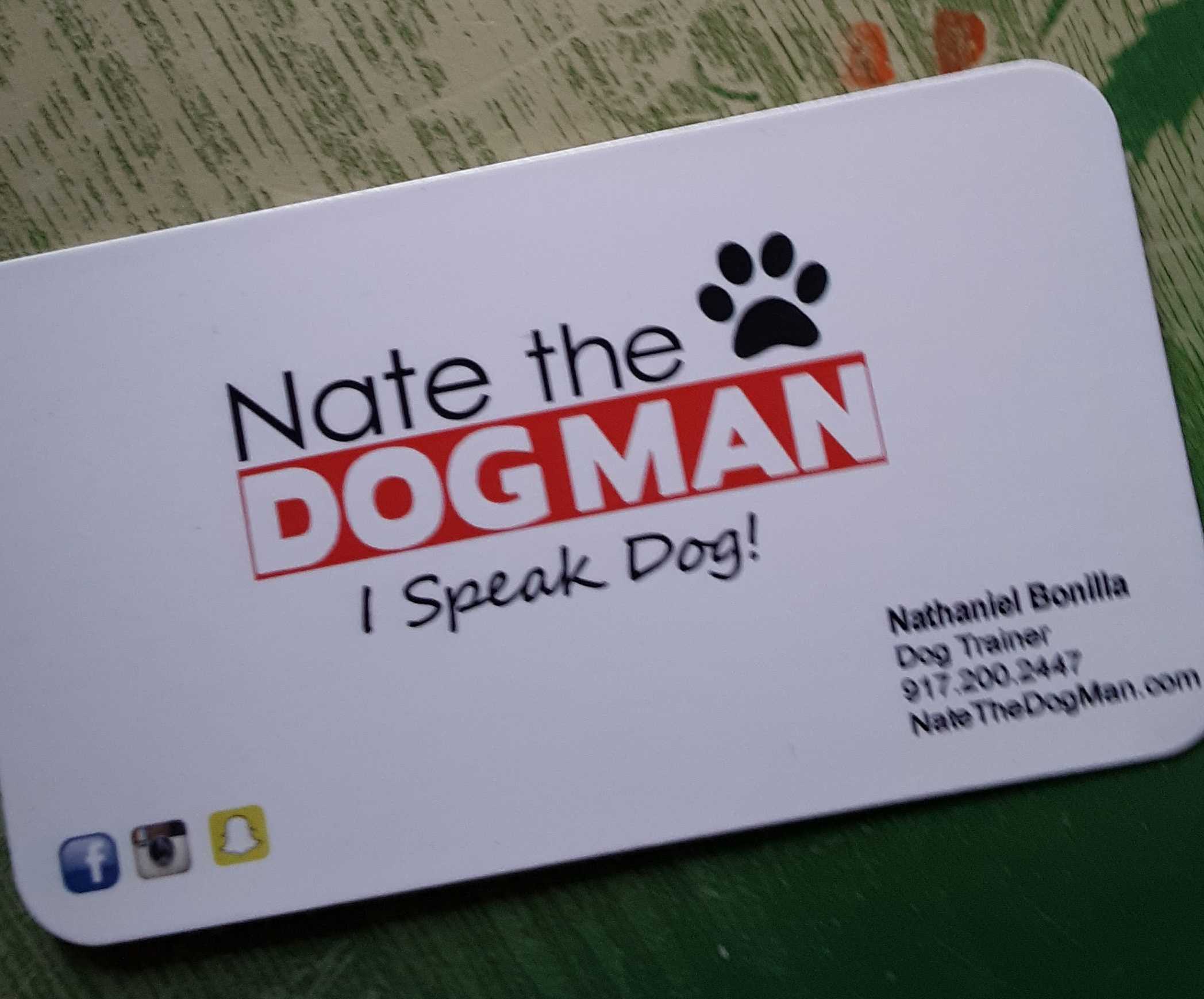 what Kathryn Stein of McKinley St. experienced when she had her rescue dog Penny work with Nate. "He was teaching us how to be with her," said Stein. Penny, a 50- pound mixed breed dog, would pull when Stein was walking her. Stein saw Nate one Saturday at the Peekskill Farmers's Market and hired him to work with Penny. "He's got a real connection with dogs," she said. "He gave us tips and we bought a different collar and leash and after a few lessons, she was listening and behaving."
Nate taught Pretzel, a rescue mixed breed of Michael and Tina Bongar, how to go to his place in their home and not be so gregarious. He was also destroying their couches. "Pretzel loves Nate because Nate believes in positive reinforcement,"said Michael Bongar.  Nate worked with Pretzel for three months.
At the other end of the spectrum is Nancy Smithner of Hoover Ave. and her purebred pit bull, Zeus, who developed aggressive tendencies after being fixed. "He wants to run after skate boarders and chase delivery people and became aggressive with other dogs" said Smithner who divides her time between Peekskill and New York City. Nate went with Smithner to New York so he could observe Zeus in action. "Nate is wonderful, he's very patient," said Smithner. We're working on basic leash techniques now and we'll see how that goes. Nate came with us to a skateboard park in the city, so he could work on desensitizing Zeus, who belongs to Smithner's son.  Nate's  not just training dogs, he's training people.