Punching up against injustice through the lyrics of a legend
Woody Guthrie's song about Peekskill on new album
Eight days ago those Ku Kluxes come
Beatin' folks around and drink a sip of blood
When Paul sings tomorrow those goon-thugs will try
I gotta get to Peekskill, break a leg or die
Those unreleased lyrics written by Woody Guthrie over 70 years ago, in support of fellow artist Paul Robeson, are featured in a powerful new song released on March 31. Fans of folk punk protest music are getting a rowdy history lesson on the 1949 Peekskill Riots thanks to Dropkick Murphys and Violent Femmes' new single, "Gotta Get To Peekskill." The video launched on April 6th and the song appears on Dropkick Murphys' Okemah Rising album, releasing on May 12.
The album is the second from Dropkick Murphys that uses the lyrics of Woody Guthrie as a creative springboard for the band's songs. Previously, they released This Machine Still Kills Fascists in 2022 (that album's title was taken from words Woody Guthrie once had painted on his guitars). The band has been working with Guthrie's daughter Nora to take selections from his unpublished lyrics and create music that embodies the spirit and values of the prose in the form of original Dropkick Murphys arrangements.
Dropkick Murphys' Ken Casey had a blast with the song, saying, "Acoustic Dropkicks sounds a lot like the Violent Femmes in my opinion, so the collaboration is musically and symbolically fitting. And singing a song about fighting the Ku Klux Klan is always extra fun." Violent Femmes' Gordon Gano was effusive about his participation as well, "Long live Paul Robeson! Long live Woody Guthrie! It's an honor to be singing and playing on this song."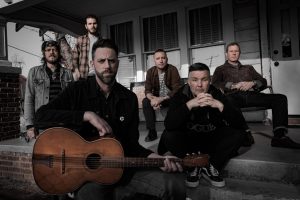 In the spirit of fighting the good fight against anti-democratic foes, Guthrie was instrumental in the protests and counter-protests that took place here so many years ago. The riots were born out of what was intended to be peaceful demonstrations against what many saw as communist ideology of Robeson. The first incident took place on August 27, 1949 when Robeson was set to hold a concert at Lakeland Acres off Oregon Road in Cortlandt.  When demonstrators and concertgoers clashed, a stabbing sparked violence and 12 people ended up in the hospital with injuries.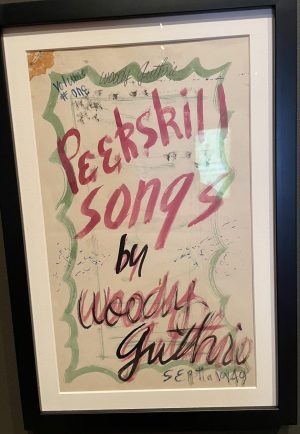 Paul Robeson defied protestors and scheduled another concert on September 4th and invited fellow artists Woody Guthrie and Pete Seeger to perform as well. The show took place at the old Hollow Brook Country Club on Oregon Road and demonstrators came out again. In anticipation of potential disruption, security was organized by labor unions and the Communist Party and guards were in place to protect the artists and 20,000 concert-goers. The performances were held without incident, but when the concert ended and the attendees were driving out, protestors who lined the road along the exits hurled rocks at cars. Violence broke out between the groups and there were 145 people injured in the conflict.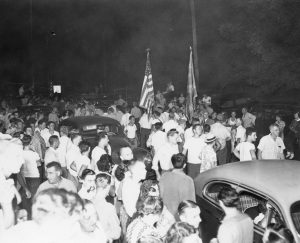 Guthrie's lyrics reflect his unwavering support of Robeson and a willingness to stand up to the Ku Klux Klan, and the forces that showed up to prevent the artists from appearing. He and Pete Seeger both came to the area to stand with Robeson and were genuine crusaders against the looming threat of fascism at the time.
Walk in that gate when the daylight breaks
I gotta get to Peekskill, break a leg or die
 Dropkick Murphys have never shied away from punching up against injustice and it's a fitting tribute to Peekskill that these prolific Boston underdogs are shining a light on an important moment in American history that happened here. Dropkick Murphys and Violent Femmes carry on the legacies of outspoken artists like Paul Robeson, Pete Seeger, and Woody Guthrie who came to Peekskill back in September of 1949 to perform as a way of pushing back against those who attempted to silence free speech.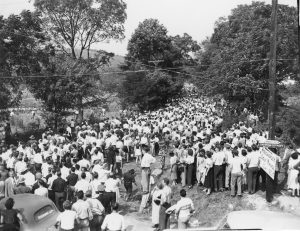 Look around Peekskill today and you'll see an engaged, inclusive, positive community; rich in culture and art. If any city can appreciate a song by three iconic American artists that celebrates freedom and solidarity, it's Peekskill.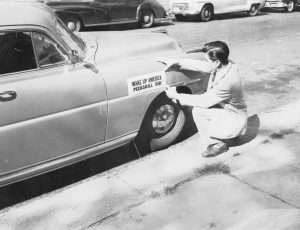 To learn more about Peekskill's role in the Robeson riots, visit the Peekskill History App featured in this Herald profile.