Fabric of city is strong thanks to workforce
Mayor celebrates diversity and inclusion in State of the City
In her State of the City address, after more than a full year in office, Mayor Vivian McKenzie walked the audience through an hourlong retrospective heavy on numbers.  From showcasing grants that will upgrade aged water infrastructure, to building pickleball courts, she ran through a litany of the city's 15 departments highlighting accomplishments. 
McKenzie, Peekskill's first black woman mayor, grew up in a family with nine children. She's also been a restaurant proprietor. Those two facts give context to how she structured her talk for the crowd of family, friends, Peekskill Democrats and city department leaders assembled in the Council Chambers on Monday night, emphasizing relationships and gratitude.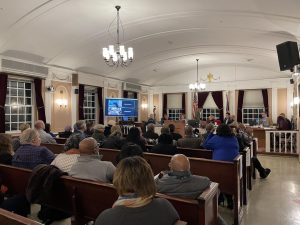 She exhibited how staff investment, conducted through a relational lens, is well spent as teams are trained and built to work together. She focused a fair amount of time acknowledging the efforts of city staff and elected officials, declaring "Our city is nothing without our employees." 
Many facets of the talk had already been presented by McKenzie and City Manager Matt Alexander to the business community at the Hudson Valley Gateway Chamber of Commerce networking breakfast earlier in the month. What was unique to Monday's speech was the recognition of McKenzie's fellow Common Council members – and the specifics of what city departments have accomplished. 
The 60-year-old mayor acknowledged each of the Common Council members by name and gave a brief description of their liaison area. "Our Common Council is more diverse and truly representative of the full fabric of our community in terms of race, gender, sexual orientation, age and experience." 
"We've had many successes and reached or surpassed many goals, found opportunities for improvement and put plans in place to continue moving our great city forward," she began. Shortly after taking office last year, she queried council members about their visions for the city. An outgrowth of that was the Mayor's Downtown Initiative, focusing on making Peekskill more walkable, improve the Paramount Theater, increase community policing, address quality of life issues, move the $10 million state downtown revitalization grant along, and her particular area of interest, investing in the city's workforce.  
To address the quality of life issues, city staff assembled various task forces where different department leaders met regularly to hold each other accountable on areas such as litter, fixing walkability issues, infrastructure concerns – along with code enforcement, safety, and cleanliness. 
She cited statistics from the Building department showing that 313 violations concerning issues of litter, trash, rubbish and sanitation were issued from last July to February of this year. Of those violations,118 complied – which is 38 percent, up from 24 percent the previous year. A fulltime code enforcement officer has been hired, one factor for which McKenzie credited the  increase in citations. 
Peekskill's government structure includes an appointed full-time city manager, who is the day-to-day administrator, with a mayor elected every two years as the public face of the city. McKenzie thanked the Council for their insight in choosing Matt Alexander for the job when the position became available last year. "He is a strategic thinker, a problem solver with a strong financial background. He knows the ins and outs of funding and is dedicated to the city," said McKenzie to rousing applause. Alexander, who was Peekskill's comptroller before becoming city manager, spent 14 years as the mayor of Wappingers Falls.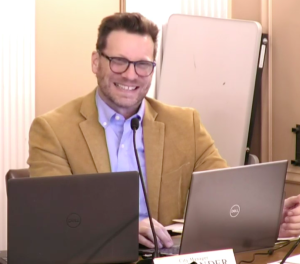 .  
As a small business owner of Kathleen's Tea Room, which she is planning on re-building, McKenzie understands the value of relationships when it comes to employees. The bulk of her speech was comprised of identifying each department leader by name and describing what they do for the city – and referencing how they work as partners with their teams.  She also made a point of noting the city's workforce as a most dedicated group of public servants who get the job done.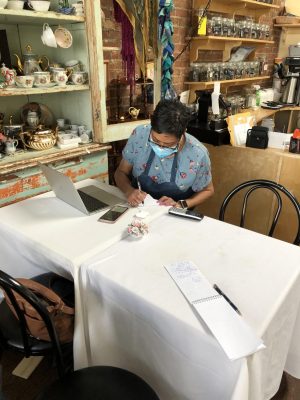 "When people call me reporting a broken light, dead animal in the street or uncollected garbage, these (the department of public works) are the people I call – and they always answer. There are not enough thank yous for all that you do," said McKenzie. 
Turning to the numbers, she spoke of the upward trend of housing real estate in Peekskill. The city's median home sale price rose 11 percent from 2021 to 2022 with an average house selling for $481,500. A two to four family home sale price rose six percent to $510,000, and a condominium price increased 14 percent to $366,000 – giving the city an increase of $8.5 million in the taxable section of the assessed rolls. Peekskill's 98%  diversity score shows that people are moving here because of its cultural mix, she noted.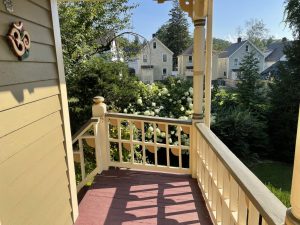 Peekskill's hospitality industry (restaurants, entertainment, arts and niche food production) now surpasses the government as the largest employer. "There are 1,000 businesses which employ seven to eight thousand people, generating $1 billion in sales revenue," noted McKenzie. 
Her deep dive into the departments started with Finance "Because everyone wants to know about the money." Nine years ago, the city's fund balance (savings account) was $7.3 million, compared to $21.8 million for 2022. The increase, McKenzie said, was due to monitoring, planning and budgeting conservatively.  There were also major revenue sources that came in higher than forecast. For instance, sales tax of $1.9 million was higher than expected; the city's transfer tax on property sales was $730,000 above budget projections; and mortgage tax came in $442,000 higher than anticipated.  
Of that fund balance, the amount for unexpected spending grew from $497,000 in 2014 to $7.8 million in 2022. The benefit of those numbers is reflected in the city's Moody Investor rating going from an upper medium rate of A1 to a higher AA3, which allows the city to borrow at lower rates. The city's overall debt decreased $14.3 million in 2022. And there was no spending from the city's reserves in 2022. 
She spoke of a newly created position in the Department of Public Works, which encompasses highway, sanitation, parks maintenance, building maintenance and vehicle maintenance. Since recognizing there are a lot of moving parts in such a large department, a lead foreman position was created and filled by a 30-year-veteran of the department.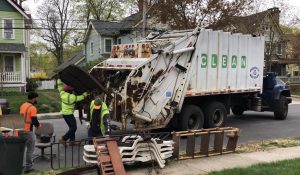 In listing the accomplishments of DPW, she referenced the 103 street lights that have been repaired since November 2022 by city staff, and how training employees to do jobs that outside vendors usually handle saves the city money and gets jobs completed in a more timely fashion. Wireless connectivity of all parking meters has been upgraded to 4G by city staff. The DPW picked up 8,456 tons of garbage last year; 644 tons of cardboard, and 499 tons of commingled materials for recycling. 
Reminding the audience that water main breaks are not scheduled, McKenzie noted that no matter the time of day or year, the Water Department crews are outside fixing them. That department received a $3 million grant to replace the 1922 main water tank on Benefield Drive. The city is adding $2 million to increase the scope of the project to replace undersized water mains. A drinking water protection plan was approved by DEC, which is a specific roadmap to protect the city's watershed which provides our water supply.  Working with an engineering firm, the city's water department will conduct hydraulic flow testing of Peekskill's fire hydrants. "The information collected will calculate locations that need to be upgraded," she explained, noting that all water samples in 2022 met or exceeded drinking water standards.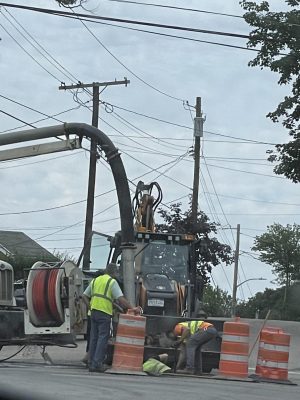 Regarding police, McKenzie cited the global increase in crime – not just in Peekskill – following the pandemic. "In 2022, the major incidents [in Peekskill] have resulted in arrests, with some pleading guilty," she said. She referenced the goal of increasing staffing of the police force to pre-pandemic levels, and mentioned the hiring of five new officers in 2022, bringing diverse experience and backgrounds to the force. She also noted the purchase of five new police vehicles, one purchased with funds from the auction of old vehicles and equipment, saving the city money. Two officers were promoted to sergeant and one new sergeant position was created to oversee the community policing unit full time.Two sergeants were promoted to the rank of lieutenant. One of them, a female, became only the third female lieutenant in the department's history. 
According to McKenzie, the police department has also created 'new and innovative' measures to deal with quality of life issues. Those measures include PWT, an acronym that stands for "park, walk and talk". The department has utilized crisis response teams to assist officers in getting proper resources for people when needed, and has worked with other city departments to handle building violations and issues. City law enforcement is also coordinating with city staff to get the CCRB (Citizens Complaint Review Board) staffed. The mayor also noted the work the police department is doing with the NAACP in conjunction with the April 22 Gun Buyback program. 
Despite placing updates from the two groups back-to-back, the mayor reminded listeners that Peekskill's fire department is not in competition with the police department. In his first year in the newly created position of a full time fire chief, Jim Seymour has hired two career firefighters, ordered two new vehicles (an engine and a ladder truck), created an operational manual of department policies, sold off surplus inventory, and installed new software systems for reporting and scheduling – allwhile the department responded to 2,353 fire and rescue calls in 2022.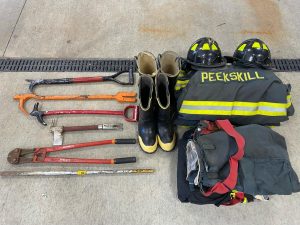 McKenzie spoke of the two fires she's been present at, and acknowledged the way the men and women of the department "act professionally, in unison and with heart. They run towards danger to take care of us, so thank you." 
Moving on to Parks and Recreation, the mayor acknowledged how grateful she was that the bids for the $1 million upgrade to Depew Park (a new multipurpose field with new track around it) will be returned this week – and construction will begin on April 26.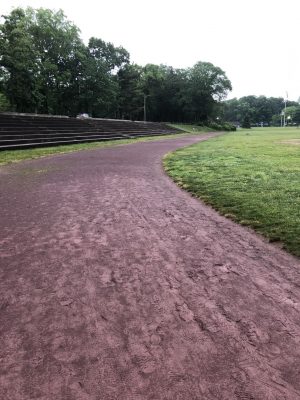 The small downtown parks, Monument and Puglsey, are getting major facelifts with funds from the downtown state grant, she announced – along with a renovated and larger Fleischmann's Pier at the Riverfront. The Paramount will see a million dollars of upgrades, and the Kiley Center will be reimagined as an airy glass structure which will house the Boys and Girls Club, thanks to grants from Westchester County.  
After McKenzie completed her description of the city programs, she referenced the multiple partnerships with community organizations.  McKenzie grew visibly emotional as she recounted the moment she received a call to help someone who had no place to live and she could call Caring for the Hungry and Homeless of Peekskill (CHHOP).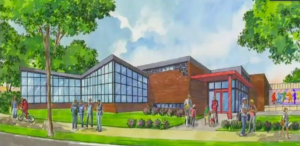 She spoke of the two full-service medical institutions serving Peekskill residents, SunRiver Health, and NY Presbyterian Hospital. She wondered where else would a hospital sponsor a computer class for senior citizens and give each of the seniors a laptop at the completion of the course. She noted that Westchester Community College offers courses to employers, including the city, for soft skills for personnel. She spoke of partnerships the city has with a yoga business that offers free programs to senior citizens, children, and children with disabilities. 
Weaving together all the pieces of the fabric that make Peekskill the unique place it is, McKenzie concluded by saying "the state of the city is strong, not only inside the doors of City Hall, but as a community that works together; that makes sure we take care of one another. We celebrate diversity, and treat it as the asset it is."