Water Restrictions Not Yet Needed in Peekskill
Reservoir Still Holds Water Despite Summer Drought
"We're fine for now." That was the message regarding Peekskill's primary water source from Water Superintendent David Rambo after visiting the city's Wiccopee Reservoir in Putnam Valley last Thursday. 
The Lower Hudson Valley – and much of New England – is experiencing drought conditions this summer. Here in Peekskill, where lawns have turned brown and (prior to Monday and Tuesday's heavy rain) hiking boots kicked up clouds of dust on city park trails, the dryness is undeniable. So we decided to go see for ourselves how the city's water supply is holding up.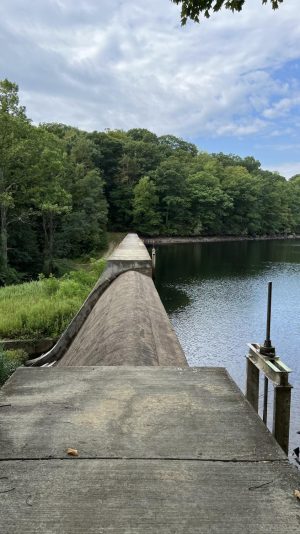 The last time we'd been up to the Wiccopee Reservoir was late 2020, while reporting on the city's infrastructure. On a mild day in early December, we found the Lower Reservoir filled to the top with calm blue water, gently flowing over the dam's spillway into Wiccopee Creek on its way to Peekskill Hollow Brook – and eventually to your kitchen tap via Peekskill's water treatment plant.
The Wiccopee Reservoir is actually a complex of two reservoirs and two dams located ten miles northeast of Peekskill in northern Putnam County.  On our August 19 visit, we found the lower reservoir's water level about four or five feet below the spillway, and only one of the dam's two gate valves discharging water into the creek. Instead, most of the flow was coming from a drain at the base of the dam.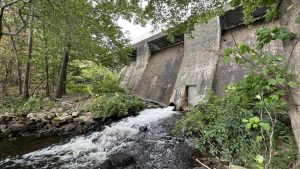 The Upper Reservoir's level  on August 19th was roughly ten feet below the historic water line – about the same water level we saw in December, 2020 – but well below the clearly-defined shoreline. A series of painted hash marks on the upper dam confirm just how low the water is below the spillway. Like the lower body, with water levels well below the spillways, the upper reservoir is also being drained via valves in the base of its dam.
"Last year we were at eight feet down on the upper and the same as today for the lower," explained Rambo via email "In past years we had rain to replenish the reservoirs all throughout the summer." According to Rambo the combined reservoirs can hold 1.2 billion gallons of fresh water. With Peekskill's water treatment plant processing an average of 4 million gallons per day, by our calculation a topped-off Wiccopee should keep the city's taps flowing for some 300 days without rain.
When asked if Peekskill residents would likely be asked to conserve water any time soon, Rambo sounded cautiously optimistic: "At this point we are fine. If however, an extended drought occurs into the entire Fall, we will then revisit the conservation issue. A decision will be made collectively between myself, the Mayor and City Manager."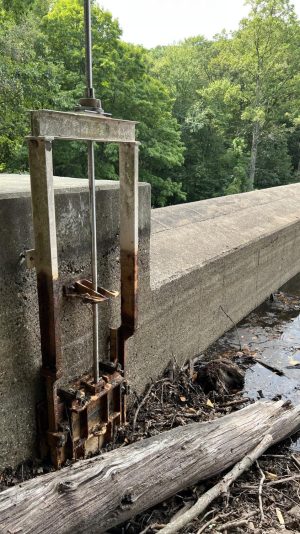 He explained that the Water Department is observing the dams and reservoir levels more closely than usual right now. "We are checking the reservoir levels and adjusting the valves 3 to 4 times a week.  Normally this is done one to two times a week…we set it and leave it.  Today we are in a more conservative mode and trying to not allow water over the Hollowbrook Dam," referring to the structure just north of Peekskill off Pumphouse Road in Cortlandt that collects water from Peekskill Hollow Brook before it's pumped to the Camp Field Reservoir and Water Treatment Plant. 
If other Hudson River communities are any indication however, conditions can change rapidly. An August 26th Highlands Current article announced the City of Beacon was encouraging residents to conserve water because the city's three reservoirs were at 70 percent of capacity. On August 31st – with reservoirs having dipped to 60 percent in less than a week – Beacon officials instituted Stage One emergency water use restrictions, with residents required to curtail certain water uses. 
Other Hudson Valley municipalities have imposed similar measures, with Cold Spring instituting a Water Emergency on August 12th, Saugerties taking similar action on August 23rd, and Kingston requiring mandatory water reductions by both residential and commercial users beginning August 11th, when the level of the city's primary water source dropped well below normal for this time of year.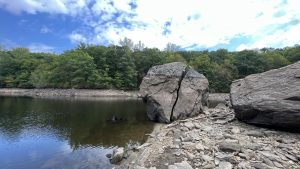 According to Rambo, Peekskill's water source is in comparatively good condition for now: "We are at normal levels for this time of year. Spring rains had us at full capacity in May."