The good ole' days of summertime
Back in the day (in 1992) and just like now, summer was Peekskill's finest season. For folks in the Friendly City, summer always started way before the calendar claimed.  Perusing the bound pages of the Peekskill Heralds from 1992, I spotted the official announcement of Summer: "The Veterans Memorial Pool is scheduled to open on Memorial Day!"  Youngsters throughout the city would utilize their reading skills when they spot this important article and start planning their swimming adventures.  The article listed all the crucial details: family passes $50, adult daily pass $2.50, kids daily pass just $1.25. Today a family pass is $200 and daily admission is $5 for adults and $3 for children over five and up. It's no surprise that charges have increased, but one happy and major difference between then and now is that now senior citizen passes are free and enjoyed by many local residents today.  
Summer would draw hundreds of kids and adults into Depew Park for activities of all sorts. Maybe it was our park's great baseball fields and track, which inspired the makers of the classic baseball film A League of Their Own to feature Madonna in a "Peekskill Parks" baseball uniform, as she plays a softball star on her way up to the ladies' hardball leagues.  This film came out in 1992 and lots of us accepted the story as historical Peekskill fact.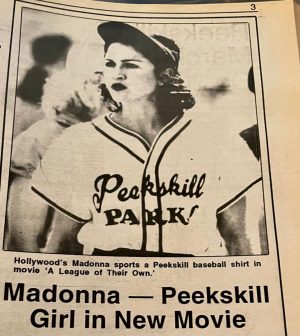 On the same page with Madonna was a story about the success of the 3rd Annual All-American Fishing Derby.  More than 40 children took places along the shores of Lake Mitchell and their families watched as the young anglers caught catfish, blue gills, sunfish and at least one 12 inch long wide mouth bass.  This event is still held annually, but it has now been officially re-named "Melvin T. Bolden All American Fishing Derby."  (I am reminded of a summer day when my brother Niles came home from Depew Park with his trap full of live catfish. He had the brilliant idea to dig a big hole in the backyard, fill it with water and then add the flopping fish. This inadvertently resulted in the first Catfish Party for all the local raccoons later that night.  Not so brilliant after all!)
As summer was underway in 1992, The Peekskill Herald reported the successes and one small failure of the men's tennis team in the Westchester Tennis League.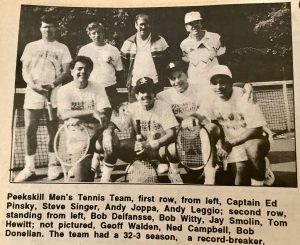 Members included Jay Smolin, Steve Singer, Andy Joppa, Andy Leggio, Bob Delfansse, Bob Witty and Tom Hewitt.  They finished their season with a 32 to 3 record for an outstanding year. They'd find it a bit of a challenge to use the tennis courts as they exist today, but Director of Recreation Cathy Leahy Montaldo reports that by this time next year the tennis courts and the new pickleball courts will become the pride of the park.  She states that it's the largest infrastructure project on tap and that the team of surveyors, engineers and contractors have been carefully chosen for their skills and experience.   Montaldo relates that "James Hahn Engineering has been hired to oversee the process.  And that it will be wonderful when completed."  If you grew up taking tennis lessons from quirky artist/tennis coach Monroe Reisman, you've got to LOVE the idea of those courts coming back to life!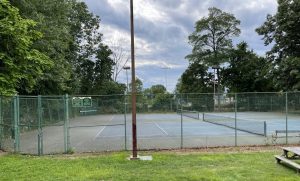 Another sure-fire way to know that summer was blooming was to see the wedding announcements and festivities listed in the 1992 newspapers.  I spotted the summer wedding announcement of Leslie Elaine Phillip and Jeffrey Lawler, with details of their ceremony at the Church of the Assumption and the reception which followed at Sorrento on the Hudson.  Leslie and her husband took up residence on Constant Avenue, where they still live, much to the benefit of the entire neighborhood.  
Over the years, Leslie has proven to be an engaged citizen, who in many instances helped steer city government to better decision making and integrity.  She made it a point to be aware of budget and development issues and was particularly knowledgeable and vocal about the Highland Laundry and White Plains Linen neighborhood. Several years ago, Leslie created a popular Facebook group called the Peekskill Community Network, which I and many others  use as a go-to place for up-to-date information on a wide variety of news for the City of Peekskill. 
 Summer weddings give way to summer anniversaries and a celebration of their forty year long marriage was planned in 1992 for Mr. and Mrs. John Isabella of Union Avenue by their son, John Jr. and his wife, Debbie.  The senior Isabellas had been married in 1952 in the Bronx and moved to Peekskill to start their family.  The party was held at Reef 'N' Beef, which has now been reinvented as Table 9 at Annsville Circle.  For many years, they enjoyed their home on Union Avenue, where it was perfect viewing for the annual 4th of July Parade.   If Mr. and Mrs. Isabella, who are both now deceased, were looking down on Peekskill this July, they would have been proud to spot their son John, strolling the downtown area and portraying Uncle Sam in the Friday evening Fireman's Parade, which kicked off this year's local 4th of July celebrations.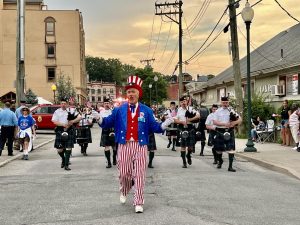 Louise, who spent many years in Peekskill working at various local stores, from Genung's/Howland's/Steinbach's department stores to Brothers Two at the Beach Shopping Center, would have noted the absence of Downtown Sidewalk Sales in todays' Peekskill. 
In the summer of 1992, the newspaper was full of ads for all the local businesses and their summer bargains, as well as schedules of free entertainment events and children's activities.  Drawing folks from all over our area into the Main Street/Division Street corridor was an ongoing struggle, but there were countless merchants taking up the challenge.  In July an entire expanded issue was full of enticing ads for household goods to men's and women's clothing to back to school shoes and silk stockings and hosiery.  (Now there's a word that we don't get to use nowadays!)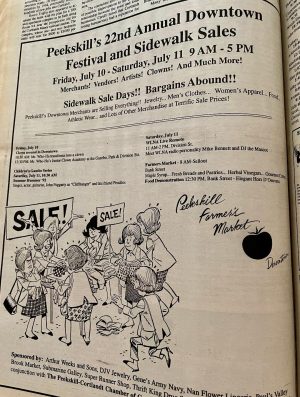 One annual feature of the downtown sales days was the annual Jan Peek 10K race.   Much loved "Peekskill Runner" columnist (and lawyer and raconteur) Jack Burns would keep us all posted about plans for the race and share wise and witty insights into all the local participants. For months prior, a large committee, including members of the Taconic Road Runners, would plan and organize and solicit volunteers who would oversee the course and hydrate the runners during the event.  On the appointed day, a few hundred participants would line up to race up and down the hills of Peekskill and into the Town of Cortlandt while hundreds of residents would line the streets to cheer them on.  Peekskill never seemed more truly the Friendly City than on the days of the Jan Peek 10K. As for myself, the nearest I got to participating was spending the morning along Maple Avenue,  passing out water to the fleet footed. 
Greg Diamond of the Taconic Road Runners tells me that Dan Caffery, the owner of the Super Runners Shop on Division Street played a crucial role in promoting racing and increasing foot traffic in the downtown.  According to Diamond, Caffery and others also started the New York to Peekskill Relay 35 or 40 years ago.  The Herald had some press coverage of this annual summer event, where eight teams shared the 40 mile course. From the photo coverage it was clear to see that foot traffic around the stores was bountiful, as folks came out to cheer on the event.  Diamond tells me that the New York race had to be abandoned, since it is now impossible to get all the necessary permits, insurance and government cooperation, etc. And Diamond knows what he's talking about, since he was the runner in 1992 who got the baton on Hunterbrook Road and ran it into Peekskill. 
While the relay is no more, the Taconic Road Runners are still light on their feet and look forward to their annual Peekskill Brewery Mile, which is scheduled for August 21st.  They created this event, "because it seemed like a good idea" and it has been used as a fundraiser for CHHOP.  Raising money for CHHOP goes way back.  In fact there is an article about a Car Wash Fundraiser for Jan Peek in the July 23, 1992 edition.  Too bad that it isn't for this weekend.  My car could really use a bit of TLC.    
All these folks jogging along Peekskill's streets no doubt helped widen the appreciation for many of our lovely Victorian and turn of the century homes and buildings.  The Herald ran a story about a lecture noting that "the Color Doctor is making a house call in Peekskill." Featured was John Crosby Freeman, noted author and colorist, who wrote for the Victorian Homes Magazine.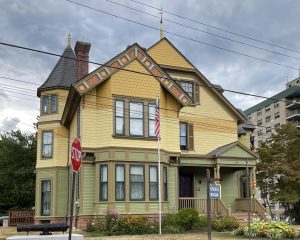 After a slideshow featuring Peekskill's architecturally interesting residential and business stock, he suggested ways to enhance buildings with results that would entice more customers into the downtown. It's just possible that some who attended also saw the press releases and ads for the nearly finished Forest View townhomes that ran in the July '92 issues of the Herald.  I'm just realizing that many of today's residents at Forest View may have purchased their homes 30 years ago.  To some strict locals this would classify them as "newbys", but I happen to know that there are many of these residents who are active members of community groups, area churches and many sit on City of Peekskill boards and commissions.  Talk about being neighborly and engaged!
If you were looking for summer fun and events in 1992, checking each week's edition of the Peekskill Herald was the perfect source of information.  Summer camps, children's library activities, youth bureau opportunities and recreation services were portrayed with all the where and when details.  Currently, in these post Covid days, some of these offerings have had to be modified somewhat, but there is still plenty to enjoy in Peekskill for folks of all ages.
According to Cathy Montaldo, one of our summer institutions, the Riverfront Green Summer Concert Series, was created and financed by radio station WLNA/WHUD, which used to call Peekskill home.  Starting in the 1980's, radio talents Mike Bennett and Kacey Morabito made Wednesday night appearances on the Peekskill Show Mobile as they introduced the talent for the evening and engaged in some light hearted banter and trivia contests with the thousands of people who would attend.  The Herald had a large weekly ad promoting the nationally known groups who were featured and the widely broadcast radio stations aired lots of promos.  Cathy Mondaldo points out that with the expenses handled by the radio stations and the fact that Peekskill was the only community in the Hudson Valley offering great free entertainment and the world's loveliest sunsets, the concerts drew an audience from up and down the Hudson and across the river.  Once the radio stations relocated to Beacon, new financing had to be found and for as long as they could, the Peekskill Celebration organization helped cover the budget.  Eventually the City of Peekskill assumed total responsibility, which resulted in less money, with a few less programs and talent that is not so well known.   
Still, for many of us the concert series is a highlight of the summer.  Like hundreds of others in our area, I welcome just about any excuse to watch the sunsets at the Riverfront Green Park, but when there's music in the air I am even more likely to linger on the lawn.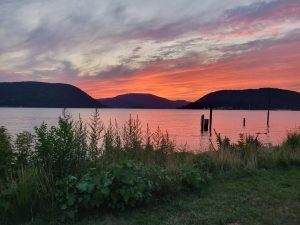 A friend and I managed to enjoy a few of the concerts held on Wednesday summer nights and although the crowd was less robust than back in 1992, the audience was no less enthusiastic. While the music is the focal point of these concerts, the ambience and people watching is perhaps the real attraction.  Dogs of every kind pull on their leashes, as they enjoy the potpourri of scents wafting on the evening breezes. Little girls in their summer frocks dance on the lawn or join the other youngsters on the playground equipment, racing up and down the slides and swinging back and forth towards the shimmering river.  No matter how hot the day has been,  the beautiful Hudson River always manages to send some fluffy waves of cool air to refresh the audience seated in their camp chairs or relaxing on blankets.  And peppering the music soundtrack are the periodic whistles from the clickety-clack trains on the nearby tracks. Close your eyes for a moment and poetic paintings by Monet, Seurat , Renoir and many others will come to mind.  
One evening this summer, the Hillbilly Parade band performed solid country music, with five guys on guitar and a female vocalist slash M.C.  She kept the tunes coming, as she cajoled many audience members to pop to their feet and join in a few numbers with line dancing.   As the sun faded beautifully over the mountains, the silhouettes of the line dancers added to the loveliness of the evening. If there had been a painter working nearby at her easel, the painting might have been titled "Peaceful Night in Peekskill."  And we can always use more of those.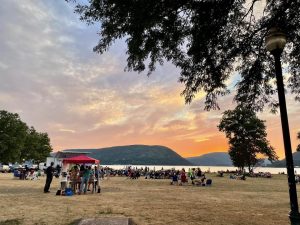 Speaking of artists, during the intermission I wandered over to an area where a little tented booth had been set up.  Local collage artist, Candace Winter,  was enticing young and old park visitors to play with one of my favorite things: scissors!  Candace is one of the successful applicants for a portion of the DRI money from New York State.  Working with artist Christine Knowlton, the two have involved the community in creating the pieces for the murals that will occupy the five stone arches on South and Requa streets.  On the night of the concert, Candice had a basket full of colorful, textured paper squares and encouraged everyone to use the scissors to create a new shape, promising that each shape will become part of the final mural.  Needless to say, I seriously took up this challenge.  I chose an oddly patterned yellow square and fashioned it into a symmetrical, but unique shape.  I don't think that I have a chance of finding my shape in one of the finished murals, but you can bet that I'll take a serious look!
My real mission, during the concert break was to speak to some of the other members of the audience and get their feelings about attending the concert. There were four women sitting in chairs in front of me and I had observed them rocking to the music and exchanging laughs.  I politely introduced myself to the group and asked if I could pose a few questions.  When I asked if this was the first time that they'd attended, there was an immediate response of "We've been coming for years! Maybe 20 years."  They were happy enough to talk about the Riverfront Concert Series, but they were firmly uninterested in going on the record.  "Why not?" said one younger woman to one of the others, who may have been her mother.  "You love these concerts.  You brought me here as a kid!"  "No worries," I said quickly, "Enjoy the rest of the music." 
I was about to give up on getting anyone "on the record", when I spotted a friendly face.  Sitting dead center of the stage were Karen and Bill Wallis and they offered me a big hello. One of the best aspects of my job at the Field Library was the many ways that I interacted with our school district. Karen (now Dr. Karen Wallis)  taught in the City of Peekskill School District for 26 years, before retiring in 2020. She taught students at Oakside, Hillcrest and Woodside and I was in and out of all those schools  as I did assemblies and class visits. Karen was always a welcoming faculty member, ready to make my visits more successful and enjoyable.  I also knew the whole Walllis family, since they were frequent visitors to the library and we also were parishoners at Church of the Holy Spirit.   I remember one Sunday afternoon, when they arrived in the Children's Library with their young son, Ryan.  Spotting me at the reference desk, Karen said to Ryan, "Who did we pray for at church today?" Ryan threw his hands wide, saying "Misssss Bentley!"  Needless to say, that was an unexpected moment that has stayed happily in my memory.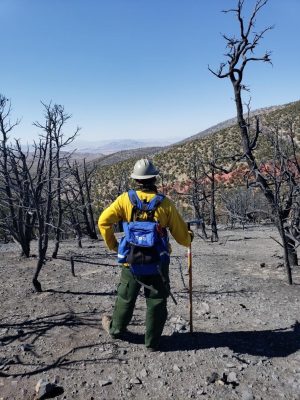 Karen was more than delighted to talk about the many years of concerts and other events that the Wallis family continues to enjoy at Riverfront Green Park.  
When they moved to Peekskill in the 1980's they quickly adopted the tradition of attending just about every event offered for families in this peerless park.  Baby Ryan probably took some of his first steps on this great lawn and saw his first trains on the nearby tracks.  Maybe all those times surrounded by the beautiful Hudson River and the majestic mountains helped inspire Ryan to focus on environmental science and forestry.  Now in his 30's, he graduated from both Syracuse University and  SUNY and currently works in the Mojave Desert doing restoration work across various habitats. This summer, part of his job responsibilities include supporting firefighters working on endless wildfires out West.  I'd like to think that when he finally gets to rest at the end of these challenging days, he closes his eyes and has visions of the Hudson River flowing serenely along the green mountains.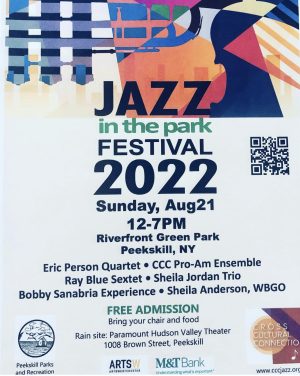 I got to enjoy one other concert, the spirited Van Morrison tribute band.  It goes without saying that this "Brown Eyed Girl" was ready to do a "Moondance" by the time the sunset and the music was just a pleasant memory.  But there are more concert memories to come, when Ray Blue holds his annual Riverfront Jazz Fest on Sunday, August 21st.  It will be a full day of great talents, beginning at noon and running until 7 p.m.  Check the Recreation Department for complete details of the different groups that will be performing.  Bring a chair or blanket and a tasty  picnic.  But don't wait till then for your next visit to the park.  Maybe I'll spot you at sunset, enjoying the final glow of a summer's day.  We should all keep enjoying the pleasures of summer in Peekskill.  It ain't over 'til some lady sings!