Food and friends give comfort to children and adults alike
Author Doug Brown inspired by Peekskill school children
A bunch of jittery kindergarteners waiting for a bus that was late was the impetus for Doug Brown, their bus monitor, to construct a story on the spot for the mischievous children. A few more of those experiences provided the catalyst for Brown to find his muse and write The Polar Bear, Chicken Soup and Friends, a 34-page children's book about friendship. 
 Brown, who is the school district's television program director, started in the district as a substitute teacher. The seed of his interest in writing was planted in the third grade, in Jeanie Sabshin's class. He enjoyed and excelled in English writing, loved spelling bees, practicing vocabulary, and cursive writing. Brown started writing as a freshman in Peekskill High School. He wrote down his ideas, dreams, struggles, and successes in a regular loose leaf notebook, "I'd pay attention to what the teacher was teaching but most of the time, I would have my head down into my journal to write about my thoughts or whatever was going through my mind at that time." he says.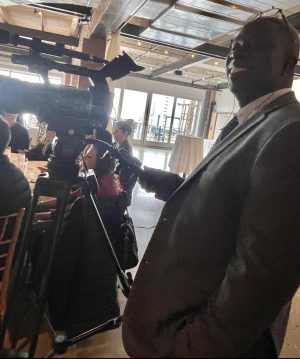 Brown, 56, didn't always like writing though, "I didn't set out to be a writer, it was something that sort of just came to me." He continued writing at SUNY Old Westbury and graduated with a degree in sociology, media and communications. 
Perseverance played a part for Brown when writing his book. It took him about three years to write and another 15 years to publish. The self publishing part played a big role in his journey. "Writing this book was a challenge because I had to believe in myself, I was the one responsible for writing and publishing this book. If something is easy, everyone would be doing it." There were many challenges along the way but there were also many successes and accomplishments. Believing in yourself and overcoming those challenges and obstacles, put you closer to your goal. It has been one of the sweetest successes ever." 
He loves hearing about how people have overcome obstacles and odds. "Life is a struggle, everyday is a struggle. We all have to go through something even if it's just getting out of bed." 
Brown wrote this book not only to entertain these young readers but to teach great lessons about friendship. He realized there were lessons that adults could learn as well from reading his book. He had a firsthand experience of that when he encountered a situation where there was a hiccup with a close friend.  Reading his book helped him forgive and get through the issue. He believes writing his book helped him mature and grow into the person he is today.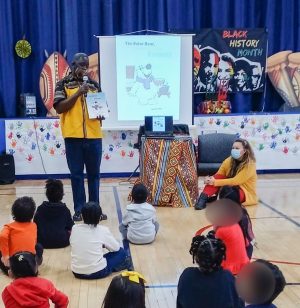 Brown's writing process has been a success but there have been times where he's gotten stuck on a page. When he feels stuck, he fights. He refocuses and continues to keep the book in mind. He says "Some people like to take a break, they'll say 'I don't know what my next page or what my next idea is going to be so I'm going to take a vacation.' With me, I tend to always think about the story even before bed. Every day I'm thinking about it, feeding my mind, not forgetting the story. It's constantly on my mind trying to get new ideas." 
He refers to writing The Polar Bear, Chicken Soup and Friends as a multi-year process that involved sending the manuscript to about 40 books publishers and receiving 40 rejection notices. A year ago he decided to publish himself.  The main character, Polar Bear, was designed by Richard Zorn, Brown's elementary school art teacher who later became a colleague.  Brown's circle of friends, his school community, are acknowledged as is his wife Karla.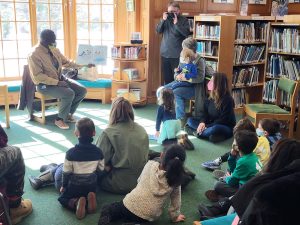 One of his greatest satisfactions is reading to children at story time. In February he was at Uriah Hill Elementary School reading to the entire student body as part of Black History Month celebrations. He was also welcomed to the Desmond Fish Library in Garrison as a guest reader. He's done book signings in Long Island at a Barnes & Noble and Saturday, April 30 he will be at the Wellness Festival on Esther Place signing books.