Students Learning Trades from Dry Stonewalling to Culinary Arts 
Program prepares students to be career ready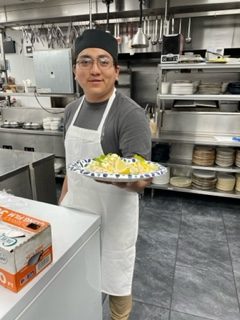 When Superintendent David Mauricio spoke to a roomful of 75 real estate agents recently about Peekskill's schools, he referenced the need to prepare students to be career or college ready. While in certain school districts there is tremendous focus on helping students find the right college to attend, that is not the path for every student – especially in Peekskill. 
"Career ready" means a student has been trained in a trade and is able to find work upon graduation from high school. Last year, of the 237 Peekskill High School graduates, 131 students reported going to college, with the remaining 106 students attending technical schools, joining the military, or going to work. 
Building partnerships with employers in the community is a primary goal of Acting PHS Principal Jenna Ferris. "Having our students become apprentices and growing the program" is something she has put her attention to. She is always looking for community partners.
Last week, local business JP McHale Pest Management employees came to the high school to give a presentation to students about their company's training program. Two Peekskill High School graduates spoke about the opportunities in the field and also in the office that are available. Chris McNally who has been with the company for 15 years spoke of his work in the lawn care aspect of the business and Brandon Brickhouse talked about the technician work he's done for the past 4 years.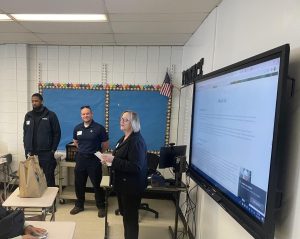 Thirty students heard a presentation from human resources vice president Barbara Valus about the summer and career opportunities at JP McHale that include starting salary, 401 K programs and company vehicles that employees use.  About half the students expressed interest in going to the company's training location at their headquarters on Washington Street in May, said Ferris. 
A program likely to have 'rock solid' attendance of high school kids is sponsored by Manzer's Landscape Design and Development. Approximately a dozen students will be learning the art form known as dry stone wall masonry – an ancient building technique using stones with no mortar to construct structurally-sound walls.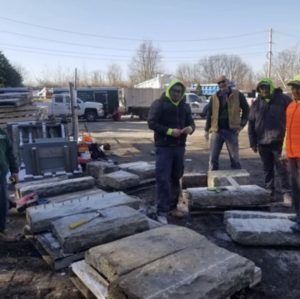 Students from Peekskill, Hendrick Hudson, and BOCES (Board of Cooperative Educational Services) will be constructing a 40-foot stone wall by the marina behind Fin & Brew at Factoria on Charles Point under the supervision of professional 'wallers' of the Stone Trust from Dummerston, Vt. during a three-day workshop the weekend of April 30.  Three Stone Trust instructors will lead the training on building a freestanding dry stone wall. The professional crew from Manzer's, who have completed their first stage of training from the Stone Trust, will build the vertical wall ends that finish each end of the paired walls. 
In a description about the endeavor, the Stone Trust acknowledged Chappy Manzer's work in bringing the training to fruition, noting his "help to preserve the tradition, further the craft and prepare Peekskill's citizenry to earn right livelihoods." Manzer took four of his landscape/hardscape professionals to the Stone Trust site in Vermont to learn how to shape granite for throughstones and vertical wall ends. Manzer is excited that one of his professionals has completed level one of the training; when he's finished with the next level and has received his instructional certificate, he will be the first bilingual-certified instructor of dry stonewalling in the county.  
"We need people to come into the trades; it's a fulfilling career and a lucrative career. This type of training is not something that's done around here," said Manzer, who has completed Level 1 of the training himself. 
Meanwhile, eight Peekskill High School students and one recent graduate have been participating in a culinary arts program since March at Factoria on Charles Point under the tutelage of the Lanza Family Foundation. The students come to the kitchen at Fin & Brew twice a week, and receive instruction from a certified culinary instructor on the fundamentals from cutlery skills to basic cooking. On a third day they receive classroom instruction.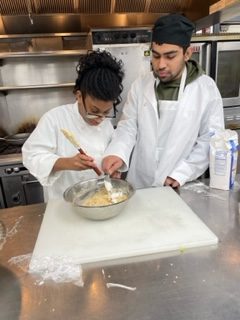 Three of the students work on Fridays and Saturdays at the kitchen prepping food and doing short-order cooking. When they graduate from high school in June they will each already hold a certificate in hospitality – effectively giving each of them a career head-start.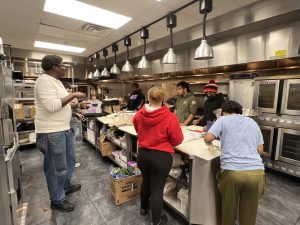 Acting Principal Ferris talked about the partnership with Westchester Community College for workforce development. They are exploring providing a medical assistant class – which can lead to a certification – and plan on surveying students next week to see if there is an interest.  
Students will take the courses in the fall, and intern in the spring. They can sit for the certification exam once they graduate.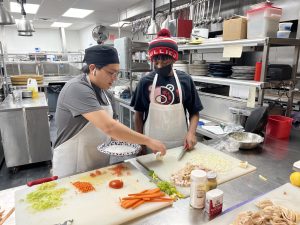 Another course the high school will begin offering next year is Introduction to Construction Trades. This curriculum will provide students with the basics with the hopes of them gaining interest in a particular field. Then they can attend Board of Cooperative Educational Services (BOCES) Technical classes in grades 11 and 12 for the field they are interested in, said Ferris.