Lady Red Devils Soar in Historic Home Opener
First Flag Football Game in History of District
The future of flag football is female. 
In its historic first game on the new turf at Torpy Field, the Peekskill Red Devils girls flag football team kicked off their inaugural season with an imposing 46-13 win over the Greenburgh-North Castle Knights.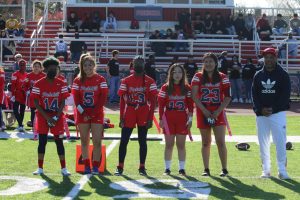 Ashlee Ordonez (22) scored the Red Devils' first touchdown in program history early in the first half when she rushed past a slew of Knights defenders and up the sideline for the 6-0 lead. On the day, Ordonez finished with two touchdowns on five rushes for 12 points. 
"It's very exciting," Ordonez said. "Running down the field felt like there was a lot of weight on my back that I carried for the team. I felt proud of myself. I'm happy. I have my team cheering me on. They had my back and I had theirs as well."
Quarterback Kiara Mercado (14) put on a show, rushing for three touchdowns and throwing for one in the first half to pace the team to a 46-6 lead. Fully embracing the team-first mentality, the senior was caught up in the moment and wasn't aware of her tally of TDs.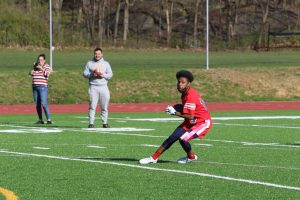 "I don't even know how many touchdowns I had," Mercado said. "We practiced this so many times it's like our muscles remembered it. When I was running I just see my team cheering, and coming back everyone is giving high fives. Just like family, not just a team."
Mercado rounded out the day defensively with three pulls and two sacks. It was her teammates who inspired her, "I love how my team was just doing everything they loved, and it showed. You could see in their faces, even pulling flags they had excitement." 
Defensively, the Lady Red Devils were led by Angeline Caceres (19)  (who also performed the opening anthem with the Peekskill City Singers) with five pulls, Mirian Bonilla (15) with 3 pulls, and Jayla Council (13) with two pulls. Jasmine Oliva (21)  had two interceptions. 
"Today's opening game was a proud moment for our school district, students, and community," said Austin Goldberg, Director of Physical Education, Health & Athletics. "Our coaches and players have put in a lot of work these past few weeks and appreciate the support of the Board of Education and administration. It's a great moment for Peekskill and an amazing moment for our women's team. We are breaking down doors, making the future brighter for all students."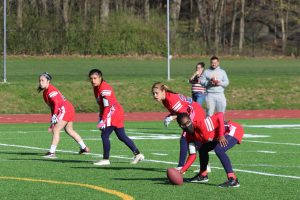 The team's next game is at 5 p.m. on Friday, April 22 at Somers High School. They return home to Torpy Field at 5 p.m. on April 26th taking on Brewster.