Honoring Earth Day by Planting A Tree
Peekskill Receives Tree City USA Designation
The seed Rachel Carson planted by writing Silent Spring in 1962 has blossomed into an ecological movement evident in the thousands of Earth Day celebrations this weekend throughout the world.  
Peekskill joins more than a billion people on the planet who show support for environmental protection of the earth through clean-ups of their neighborhoods and raising awareness around ways to mitigate climate change. Having a tree canopy is one of the most important ways to combat climate change. 
For a decade, a group of dedicated volunteers have focused their energies on Peekskill receiving a designation as a Tree City, USA.  The ceremony at 11:30 at the Gazebo by Lake Mitchell in Depew Park on Saturday, April 23 is the culmination of their work.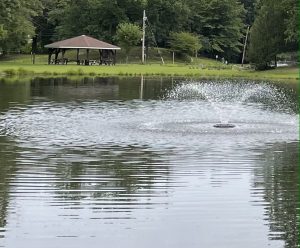 The ceremony follows the City's Park and Recreation department's Spring Clean-Up event that begins at 8:00 in city parks. Volunteers are encouraged to visit  Riverfront North/Peekskill Landing, Riverfront South/Charles Point, Fort Hill,  Franklin Park, Tompkins Park (Park & Finch)  Dog Park, Lepore Park, Depew Park, Monument Park between 8 and 11 and pitch in.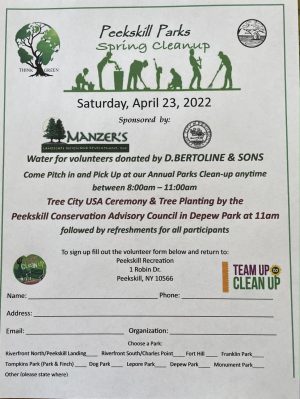 In order for a city to be designated as Tree City USA, there are four criteria that need to be met. Saturday's public ceremony where a tree will be planted are the last two items to qualify for the designation. The first item on the list was the passage of a tree ordinance. The legislation was passed on December 27. The city also created a budget line for expenses related to trees, including the use of a tree arborist when needed. As a result of Peekskill being a Tree City USA there are opportunities for grants. 
Saturday's ceremony will feature the Peekskill City Singers, performing a standard from the 1940's but with a jazz twist. After brief remarks at the gazebo and a reading of a proclamation by Deputy Mayor Patricia Riley the group will walk over to the area by Veterans Memorial pool and plant a Norway Spruce and a Redbud donated by Manzer's Landscaping. 
"We have been working for a decade to have Peekskill become a Tree City USA," said Kay Barthelmes of the CAC. A representative from the state's Department of Environmental Conservation, George Profous, will be on hand. His presence is particularly poignant for Barthelmes who said he's been working with the CAC throughout the past ten years, guiding the city in achieving the designation.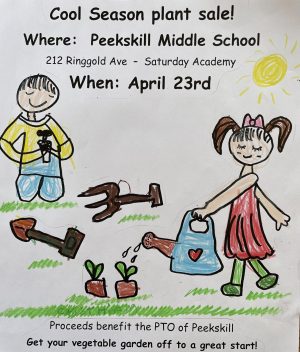 Other organizations celebrating Earth Day include The Community and School Gardens of Peekskill. At Peekskill Middle School the public is invited to purchase seeds for planting in a cool season. Seedlings will also be on sale. They were grown by Woodside elementary students. Proceeds benefit the Parent Teacher Organization.  The sale is happening as part of the Saturday Academy from 10 a.m. to 1 p.m. and is a partnership between the Peekskill NAACP and the Peekskill PTO.