DPW workers want raises, new contract
Have been working under expired one for four years
Peekskill's public works employees are sending a message to City Hall – in a world where bills keep getting higher, the buying power of our city paychecks keeps shrinking.
While inflation roars above 7 percent annually and the cost of food, gasoline and housing rises every day, employees at the city's Department of Public Works haven't had a wage increase since 2017.
"Teamsters working in the City of Peekskill Department of Public Works are here to take a stand against City management for unfair treatment," says a flyer posted around the city.
"The Town has given other employees substantial increases since 2018, but offered us minimal increases for the same years. If other employees can get fair raises, why can't we?" the flyer says.
The contract between the city and Teamsters Local 456 was in effect from January 2011 to December 2017. That contract calls for employees to pay for 5 percent of the premiums of health insurance.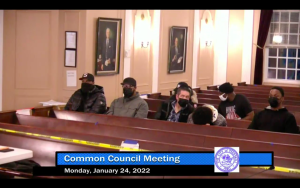 The city signed a new contract last month with the police union that replaces the previous contract that expired in December 2019. Police were given retroactive 0.5 percent raises for 2020 and a 1 percent raise for 2021. This year the increase is 7.5 percent, followed by 2 percent raises annually for the final four years of the new contract.
However, for health insurance, the new police contract calls for employees hired before December 2021 to pay 18 percent of premiums and employees hired after January 2022 to pay 20 percent. Retired members hired before January 2022 don't have to pay for their health benefits, while new hires will pay 15 percent of the premiums.
Teamsters who now pay 5 percent of their health care premiums potentially face a higher health insurance costs under any new contract.
"We pay our fair share of the cost of our benefits based on what we earn," the flyer states. "We cannot accept a wage increase that costs us more in medical premiums."
The city's contract with the fire union also expired three years ago. Fire department workers are considered "comparable" to police in union negotiations.
Out of a total expense budget of $45.625 million for 2022, the city spends $6.52 million on personnel and $728,00 in overtime and holidays for police. The fire department budget totals $2.82 million for personnel and $421,000 for overtime and holidays.
Public works including street maintenance, central garage, snow removal, refuse collections and building maintenance comes to $2.48 million for personnel and $243,000 in overtime.
The current Teamsters contract includes a "task force" provision that allows crews who finish their daily work to go home when it's done. For example, crews who pick up garbage can start at 7 a.m. and go home when their route is finished and receive full eight-hour pay. Crews in the past have been able to finish by noon.
In the flyer, the employees explain their value to city residents.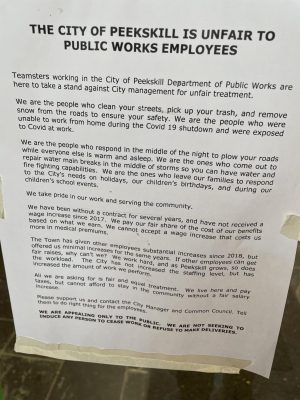 "We are the people who respond in the middle of the night to plow your roads while everyone else is warm and asleep. We are the ones who come out to repair water main breaks in the middle of storms so you can have water and fire fighting capabilities. We are the ones who leave our families to respond to the City's needs on holidays, our children's birthdays, and during our children's school events.
"All we are asking for is fair and equal treatment," the flyer says. "We live here and pay taxes, but cannot afford to stay in the community without a fair salary increase."
Repeated attempts this week to contact Teamsters Local 456 President Lou Picani and City Manager Andy Stewart for comment were not returned.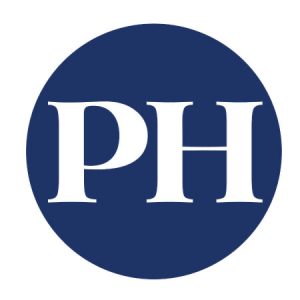 A community is better informed when the people who report about the community live in the community. Support the Peekskill Herald here. It's Peekskill's community newspaper.