Love the Herald? Become a member for Valentine's Day
Help maximize funds by donating during a special matching period ending February 14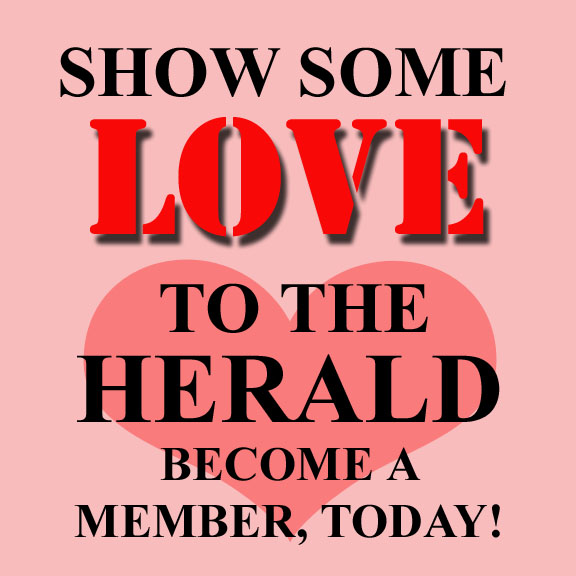 The Peekskill Herald has been shown some love by an anonymous donor who will match every two dollars donated with one dollar of their own – up to $1,000 – during the next five days, ending on February 14th, in celebration of Valentine's Day. Our "Show Some Love" campaign is concentrating on getting 100 new members to join our community newspaper, and in doing so, show how you can support our efforts to continue being a viable, sustainable community resource. Via this generous matching program. If you donate $40 the Herald receives an extra $20. If you donate $50, the Herald receives an additional $25; If you donate $60 it's worth $90 to us, and so on. 
In December, the Herald became a 501(c)(3) nonprofit corporation that can receive tax deductible donations. As a nonprofit community digital newspaper, the Herald relies on three income streams to fund its reporting about life in Peekskill. The easiest way for Peekskill readers to support the newspaper is through membership. Readers are strongly encouraged to donate monthly or annually at this page on the website.  Donations can range from $ 20 a month to $100 a month and can be made annually as well. 
A second income stream focuses on businesses in the community who are willing to support independent journalism as Herald sponsors. The third source of income consists of grants and foundation money that will underwrite specific departments such as development and social media coordination.  
Every week for the past three years, the Herald has been producing stories about people and events in Peekskill for free. The reporting is credible, comprehensive, and creates community in this city as it rapidly grows. Recent stories have included detailed accounts of planning and common council meetings, where decisions are made in lengthy evening sessions that most folks don't have time to attend. These meetings often impact construction of buildings and in turn our environment. We've often run feature articles about the people that live here and their stories. And we've covered important topics that affect everyday life in Peekskill, such as public education, affordable housing, pollution, and our parks.  
In deciding to create a nonprofit corporation to produce the Herald, founder Regina Clarkin sought input from the community to determine interest – and through an overwhelmingly successful initial fundraising campaign, as well as an outpouring of positive feedback, learned that the public supported the creation of a reliable local news source.In establishing Peekskill Herald as a nonprofit newspaper, a budget was created to ensure the business is sustainable, ensuring Peekskill has a strong local press for years to come. 
We created an initial four-level membership model: Legacy, Angel, Neighbor and Friend. We've projected that 50 percent of our overall revenue will come from membership. We anticipate 86 percent of our members will donate at the Friend Level ($25 – $199), with an average donation of $125. We estimate that six percent of our members come from the Neighbor Level ($200 – $599), with $300 being an average donation in that level. The Angel level is ($600 – $1,199), and we expect that 5 percent of our members will sign on at that level, with an average gift of $750. The top membership level is called Legacy, with a contribution upwards of $1,199. We project three percent of our members will contribute an average amount of $1,200 each.  
 The Peekskill Herald continues the rich history of this river city as a newspaper town, by providing accurate, interesting journalism that holds the fabric of the community together. The Herald seeks your support through this Valentine's Matching "Show Some Love" campaign. Please be our Valentine – and make a donation today here.
Thank you!