Council Hears About What's 'Affordable' in Peekskill
Proposed Law Doesn't Go Far Enough Public Says
The citizens of Peekskill who spoke during Monday night's public hearing on affordable housing spoke with one voice – this measure is not enough.
The purpose of the public hearing was to receive comments about a proposed city law that would require 10 percent of units in new development to be either affordable or workforce housing. Specifically, five percent affordable and five percent workforce. You can read the full proposed resolution here.
The terms being used in the hearing centered around the following from the proposed resolution:
Affordable Housing Unit: 
A rental home unit that is priced to qualified households whose income is not less than 40% of AMI and not greater than 60% of AMI and for which the annual housing cost of the unit, defined as rent plus any tenant- paid utilities or fees, for the approved household does not exceed 30% of the qualified household's income.
Workforce Housing Unit:
A. rental home unit that is priced to be affordable to a qualified household whose income is not less than 61% of AMI and not greater than 80% of AMI and for which the annual housing cost of the unit, defined as rent plus any tenant-paid utilities or fees, does not exceed 30% of the household's income.
B. A for-sale housing unit that is priced to be affordable to a qualified household whose income is not less than 61% of AMI and not greater than 80% of the AMI and for which the annual housing cost of a unit, including common charges, principal, interest, real estate taxes, insurance and amenities charges if any, does not exceed 33% of the qualified household's income.
Every resident who spoke during the hearing noted that, while the city should be applauded for instituting an affordable housing measure, the proposed law as written does not meet the housing needs of Peekskill – citing the percentage of housing set aside as affordable and the measurements used to calculate affordability.
The public hearing began with Tanya Dwyer, a Union Avenue resident, who was the only citizen who appeared in person at the hearing. She opposed the law as written saying that "this plan does not address the needs of Peekskill." Instead, she suggested a number of uses for the federal funding to repair existing affordable housing buildings in the near term, while creating  an updated plan. Dwyer is working with the economic empowerment committee of the Peekskill NAACP and offered the city a master housing plan the committee is drafting.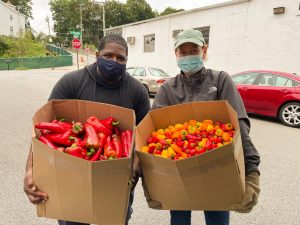 Cynthia Knox, Peekskill resident and CEO of Caring for the Hungry and Homeless of Peekskill,(CHHOP)  also opposed the measure as written – saying that it does not go far enough to meet the needs of Peekskill's residents. She cited statistics from Fred's Food Pantry that CHHOP operates and said it was the canary in the coal mine in terms of local economic wellbeing. In 2020 and 2021, the food pantry served healthy and nutritious food to 60,000 people each year. In 2019, 19,000 people were served. "The majority of our food pantry clients are employed. Getting food at the food pantry helps them stay housed and to meet their basic needs. They are our household's." She spoke of a data base used by The United Way to identify households that do not fit the official definition of poverty but still struggle to make ends meet financially. "Sixty-one percent of Peekskill households are asset limited, income constrained and employed," said Knox.
Smith Street resident Tina Volz Bongar suggested that 20 percent would be more appropriate than the proposed 10 percent. "I would like the council to reconsider and expand this policy. I believe that this policy violates federal fair housing law."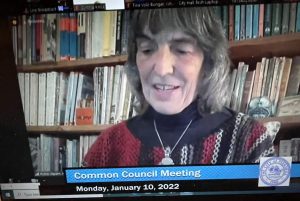 Robin Alpern from Union Avenue expressed support for Tanya Dwyer's proposed plan she mentioned earlier. "The housing crisis here targets black, brown, and poor people. It is for the more privileged people who live here to speak up as well. The council can do so much with this measure. We can prevent landlords from drastically increasing rents, we can provide a place for renters to submit complaints. We can update our zoning codes to make it easier to build multi-family homes."
Marie Inserra said one of the issues with the measure is that it uses the area median income of Westchester County, not of Peekskill. "We (the city) should be calling the shots of how we want this city to develop." John Sullivan of Requa Street added, "I would like to urge the mayor and the city to use the AMI of Peekskill and set aside 20 percent of housing as affordable."
Terry Kardos of Cortlandt concurred with both points and noted that Peekskill has the lowest rental household income in the county and should be taken into account in this law and another Cortlandt resident, Beth Woogen noted that if a worker makes Westchester County's minimum wage – $15 – and works 40 hours a week, they would not still be able to afford the affordable housing as defined in this proposal.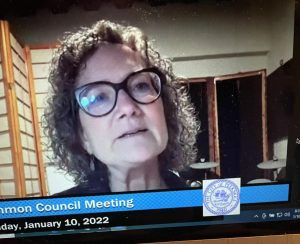 Beth DeWit, an artist living in Peekskill's artist lofts on Diven Street said she feels grateful daily that she has passed the qualifications to live here and feels somewhat guilty that there are so many young artists; singers, visual artists and musicians that can't afford to live in the Lofts after investigating it.  "We need to get more creative and take the time to plan to come up with strategies that are intelligent, creative and outside the box. I feel like courting developers while selling out our own citizens is short sighted, its biased and callous."
Former Councilperson Vanessa Agudelo shared her screen remotely for a presentation on affordable housing, providing several statistics that illustrate the need for affordable housing in Peekskill, and noted that ten percent of affordable units is not enough, recommended using Peekskill's AMI instead of Westchester's and also proposed that the affordability mandate for developers stays permanent, instead of the 50-year timeframe.
Mayor Vivian McKenzie and Council members Ramon Fernandez and Dwight Douglas spoke in favor of the proposed law, noting that this is just one tool to address the housing needs in Peekskill and that this is the first council to propose a vote on an affordable housing ordinance.
"Some good issues are raised here tonight," said Douglas but added that going for a higher set aside percent runs the risk and strong likelihood that no units will be built here. "Westchester developers do not have to build in Peekskill, there are 42 other municipalities they can go to. Of the 19 affordable housing laws in the county, 17 of them are using the ten percent set aside," said Douglas.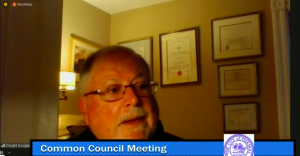 Douglas, who was a career city planner in Peekskill and other county municipalities proposed two ways to address the needs of the people earning less than $50,000;  a bonus density for developers who would get approval for extra units that would be available for the group earning less than $50,000 and a Payment In Lieu Fund created with money from developers. The fund would be used to create housing for those at the lower end of the economic spectrum.
He said he's like to see the master plan study that was referenced by many at the hearing and said a bonus density could be a component of such a study. "Such good intentions, good hearts were present here tonight. Peekskill is a poor community, we do our best to serve everybody we can, but we can't take on the whole housing crisis. It's a regional, national and global crisis. We do the best that we can within our constraints.  We need programs that work, and the ten percent set aside has been shown to work and then we need to work ourselves to see if there are other ways to reach the population that's missed," said Douglas, acknowledging  the group of people who earn less than $50,000 that Agudelo referenced.
Mayor McKenzie specifically addressed the issue of the Westchester AMI versus the Peekskill AMI saying that if the Peekskill AMI was used then a minimum wage worker family of two would not be included in the ordinance and that the council took that point into consideration when writing the ordinance.
Earlier in the evening McKenzie said the Council was not voting on the ordinance that evening but was only conducting a public hearing. City Clerk Debra Petrosky read emails from residents Amy Perlow and Luke Davenport. The public hearing ended after 2 hours.