Trot Your Stuff While 'Carrying' A Turkey
A one-mile family "fun" run to benefit the hungry and homeless
They come carrying stretchers, they come pushing baby strollers, they come holding onto grocery store bags, they come dressed as turkeys holding the bird in their arms and others come as runners hoisting the frozen turkey. But they all come for fun and in the process, give to those who need a turkey at Thanksgiving. 
Peekskill's annual Turkey Trot is hosted this year by Caring for the Hungry and Homeless of Peekskill (CHHOP) on Saturday, November 20. Part of the festivities includes honoring Chuck McGreal of the Quiet Man under whose auspices the Turkey Trot was run in the past. Online registration is available here  or on race day at the Hudson Valley Gateway Chamber of Commerce. Participants meet at the gazebo in downtown at 8:45 am for brief remarks by elected officials and then they are on their way for a one-mile fun run that follows a clearly-marked route through the city. Check in begins at 8 am and the registration 'fee' is a donation of a frozen turkey which will be collected and distributed at 12:30 pm from the parking lot of City Hall.  CHHOP is giving away 300 turkeys and fresh vegetables. The nonprofit organization is purchasing 200 turkeys from Feeding Westchester and the rest they anticipate will come from 'trotters.' 
The fresh vegetable component of the giveaway will come from the 'Squash Out Hunger, Root Out Food Insecurity Thanksgiving Food Drive' initiated  by CHHOP to provide healthy, nutritious food to people who need it. "Our farm-to-pantry idea is to offer people healthy, nutritious food, not items high in sodium and sugar. It's our responsibility to keep our community healthy and with people in Peekskill suffering from hypertension and diabetes, we want to assist people in managing their health through proper nutrition. Plus people want to cook fresh foods for their families instead of opening up a can," said Cynthia Knox, Esq., CEO of CHHOP 
"What better time than Thanksgiving to call upon the goodwill of the community to help those facing food insecurity?  Everybody should be able to share in the bounty of the season and have access to healthy, nutritious food year round. Fred's Pantry, one of CHHOP's flagship programs, is committed to making that happen, distributing wholesome foods to approximately 1,300 clients each week,"  said Knox.   
Those who want to contribute to the Food Drive can purchase fresh fruits and vegetables at the Peekskill Farmer's Market and drop off at the Hudson Valley Gateway Chamber of Commerce offices 1 South Division Street from Nov. 15 through 19 or on Saturday, Nov. 20 at the downtown gazebo.
A post-race party atmosphere will continue under the gazebo, where participants can enjoy refreshments supplied by The Central, a new business operated  by Louie Lanza, John Sharp and Chappy Manzer, which will soon open in the Peekskill train station and the Hudson Valley Gateway Chamber of Commerce.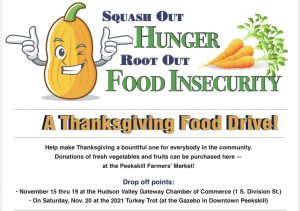 Prizes in the Turkey Trot will be awarded for such categories as:  biggest/heaviest turkey, best costume, largest group (schools, companies, etc.), funniest costume, most enthusiastic.