Democrats Win Big in Mayor and Council Election
Vivian McKenzie becomes first African American woman mayor
Vivian Bridgewater McKenzie will be the first female African American mayor of Peekskill when she takes office in January after winning 64 percent of the vote in yesterday's election. 
McKenzie, 58, led a Democratic slate that coasted to victory over a Republican endorsed slate led by mayoral candidate Emiliano Perez. McKenzie received 2,374 votes to Perez's 1,211, according to unofficial results from Westchester County Board of Elections. 
Democratic incumbent Common Council members Ramon Fernandez and Dwight Douglas were the top vote getters with 2,101 and 2,078 respectively, with newcomer Rob Scott receiving 2,013 votes. 
Republican challenger Leesther Brown was the highest GOP vote getter with 1,253, followed by running mates Bill Moran with 1,214  and Ken Gilleo with 1,191. 
Democratic incumbent Vanessa Agudelo, who ran on the Working Families Party line after falling short of Scott in the June primary, received 420 votes. Agudelo's seat will be filled by Scott as of January 1. McKenzie's council seat will be vacant in January when she becomes mayor. The new council will appoint her replacement.  Another open seat scenario eight years ago is what led to McKenzie's entrance into political life. She was recruited to fill the vacant council position when Don Bennett resigned for medical reasons.   
The roughly 3,700 votes overall represented only about 28% of the city's 13,000 active registered voters. Almost 75% of Peekskill's registered voters voted in the 2020 presidential election.
In her acceptance speech, McKenzie said "in a time when the loudest voices are trying to dominate the conversation, experience, serious deliberation and collaboration are what's most important to moving the community forward." She spoke of the responsibility elected officials have to make sure "that everyone who is here today and everyone who wants to come here tomorrow can afford to live here. We are responsible for having a well rounded tax base that includes commercial, workforce and market rate housing. We have a responsibility to protect our environment and advance clean and green initiatives that will create a better future for our children and our grandchildren. We also have a responsibility to listen to each other and work collaboratively. Disagreement on policies doesn't mean deterrence and acrimony." She said she will approach her responsibility with determination and focus along with reliance on data and facts, and the values that have guided her time in office: inclusion, equity and professionalism. 
McKenzie has been the deputy mayor since January 2020. As the former owner of Kathleen's Tea Room on Main Street, McKenzie noted the difficulty of running a campaign when in June, the roof collapsed on her building and put her out of business. She will be joined in the council chambers by another Main Street proprietor when Rob Scott takes office in January. Scott owns the PK Blendz Juice Bar, less than a block from the former site of Kathleen's. 
The mood at Republican campaign headquarters on Bank Street was subdued while supporters waited for district leaders to return with tallies from voting locations. With cool jazz playing in the background, candidates talked with family and supporters. Republican mayoral candidate Emiliano Perez, owner of Perla de Oriente Panaderia on Park Street, recalled the time a number of months ago that Vivian McKenzie stopped by his shop and said she 'heard that he was as crazy as she was' for running for mayor. "I feel confident that we raised questions and did the best we could," he said about his first time running for political office. In a city where registered Democrats outnumber registered Republicans by more than three to one, even a last-minute robocall from Peekskill native and former Governor George Pataki wasn't enough to push the newcomer past McKenzie's total.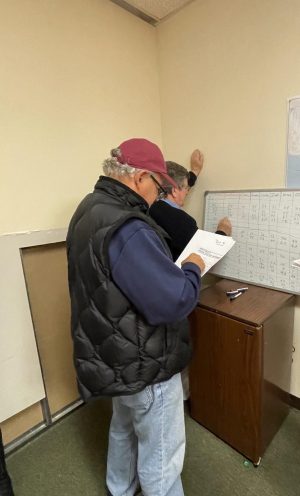 It was a different scene at The Bean Runner Cafe on Esther Street, where Democrats gathered, listening to music spun by outgoing Mayor Andre Rainey while awaiting poll results. The festive, party atmosphere suggested optimism – which was well founded by the end of the evening when Democratic party leader Mike Morey announced that McKenzie was the 'highest vote getter in the history of contested elections in Peekskill'. Morey has been involved in Peekskill politics since 1999 and clarified that his claim of highest vote getter was since he began keeping track of numbers. He noted that he wasn't around when George Pataki was elected mayor.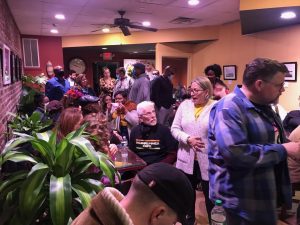 In the lone Peekskill-specific ballot measure, Proposition One (to increase funding to the Field Library by $75,000 in the 2022 budget) was approved by 61% of voters.
Alison Begany contributed reporting for this story.