Peekskill Couple Rescues Celebrity Dog
Model Mom Reunited with Pup on Orchard Street
By Jim Striebich
A routine trip to Queens for a doctor's appointment last Saturday turned into a brush with fame for a Peekskill family, when they rescued a dog that belongs to a fashion model with a famous father. The story has since gone viral, amassing thousands of headlines and hits – but only the Herald spoke to the local resident who risked his life to save the celebrated pooch.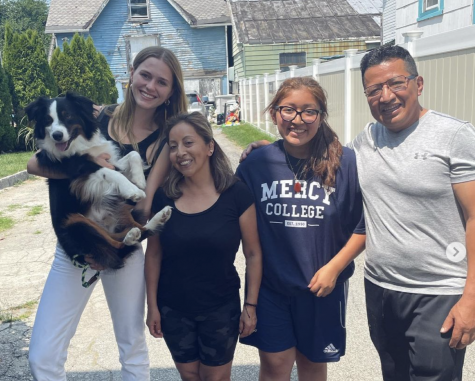 Prince and owner Mallory Edens with Peekskill residents Martha Arevalo, Luis Guiracocha, and their daughter Sheila – @malloryedens Instagram
Peekskill resident Luis Guiracocha was exiting the Whitestone Bridge onto Cross Island Parkway Saturday morning, when his wife Martha Arevalo spotted a brown and white collie running loose on the heavily-traveled six lane highway. "Oh my God!" she exclaimed, and by Guiracocha's account, he immediately stopped the car "right in the middle of the highway. I almost got hit by the other cars," the Orchard Street resident recalled exclusively to the Herald.
"A truck passed by…I don't know if he didn't see the dog – but he almost hit him. It was a couple of inches and he probably would have been killed." Guiracocha continued, "I put my emergency lights on, and I got out of the car and I stopped everybody. I think the people were saying 'what's this guy doing?!' But then they saw the dog running on the highway."
After a second driver got out to assist, Guiracocha was able to coax the frightened fido (which had a collar but no tags) into his car. He and his wife drove around the Whitestone neighborhood of Queens looking for 'lost dog' signs, but to no avail. Worried that the police might turn him over to a kill shelter, they headed back to Peekskill with him, hoping to locate the owner via social media.
Pooch on the loose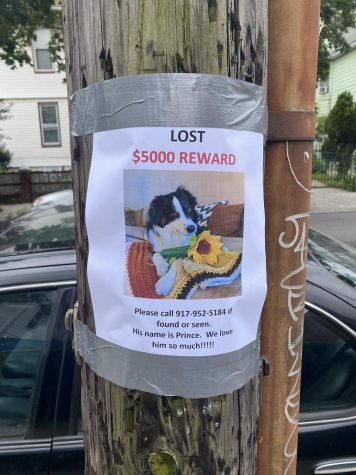 Saturday morning, high-profile fashion model and daughter of the Milwaukee Bucks owner Mallory Edens had left her precious pup Prince with a dog walker about a mile from Citifield – the Mets' home stadium in Queens. At some point Prince got loose near Junction Boulevard and decided to go exploring. At 3:30 pm, a frantic Edens took to social media, alerting her 200,000 Instagram followers that her beloved boy was on the lam.
At 6 pm Sunday, the New York Mets' tweeted an alert to their 1.1 million Twitter followers that the model's dog was missing in the vicinity of their home field – despite the fact that Edens is a Yankees fan – and dozens of media outlets picked up on the story.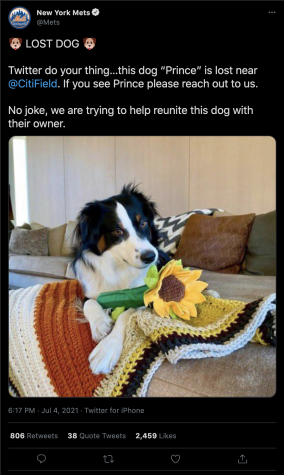 Reunion in Peekskill
Meanwhile, Prince spent the weekend playing in Guiracocha's Peekskill backyard, chasing and fetching balls thrown by his rescue family, and romping with Max, the family dog. "[Prince] is so smart; a very nice dog. If no one had come forward I was thinking we'd adopt him."
Monday morning, Guiracocha's 25-year-old niece was scrolling through her Instagram feed and saw one of the heavily-shared posts and recognized Prince, having met the dog in her uncle's Orchard Street backyard on Sunday. She notified her aunt Martha Arevelo, and the Peekskill couple called the number on the lost dog flyer pictured in one of Edens' photos. It was only at this point that they realized that the dog's owner was famous, and that Prince had been the subject of a high-profile search over the holiday weekend.
Edens and her mom quickly drove from NYC to Peekskill, with Prince's little sister Stella in tow. A video posted to Edens' Instagram account shows a tear-filled reunion in Guiracocha's Orchard Street driveway, first between Prince and his dog mom, followed by an ecstatic scrum between the dog siblings.
"You could see the reaction of the dog after he saw her," said Guiracocha, owner of Yorktown Painting, of Edens' reunion with Prince. Recalling the owner's reaction: "She was crying. She made me cry and my wife cry – everyone was crying," he said, laughing. "It was pretty nice."
Reunited and it feels so good