Depew park pool will open this summer
Residents only allowed and must reserve a 2-hour time slot
The cover to the Veterans Memorial Pool in Depew Park came off this week in anticipation of the summer swimming season that begins on Saturday, May 29. There are new protocols in place for residents to swim this year at the Olympic size outdoor pool.
Because the City's Recreation Department is following guidance regarding safe distancing, pool attendance will be limited to Peekskill residents only and swimmers must sign up online for a 2-hour block of time to visit the pool. Attendance is limited for each session to 100 people, including children.
Residents wanting to swim at the pool must have a Community Pass which can be purchased only at the Recreation office at 1 Robin Drive in Depew Park. The office is open from 9-5 Monday through Friday.
If a resident already has a Community Pass from prior years, they can access their account and reserve a time to come to the pool.  If they cannot remember their password, they are asked to call the Parks and Recreation office at 734-7275 to retrieve their password and to NOT sign up for a new account.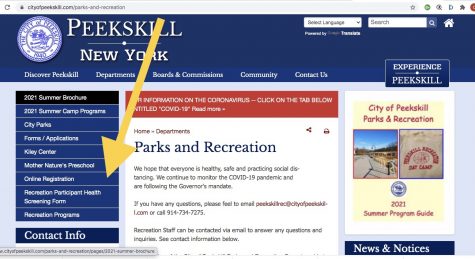 The pool will be open Saturdays and Sundays only from 10 to 7 from May 29 until June 27.  The pool opens for weekday swimming on June 28 and will be open from 1 to 7 p.m. through September 6th.  Weekends in July the pool is open 10 to 8 and in August it's open on weekends 10 to 7 p.m.
May 29th — June 27th (Weekends Only) 10:00 am—7:00 pm
June 28th—August 8th Weekdays 1:00 pm—7:00 pm
Weekends 10:00 am—8:00 pm
August 9th—September 6th Weekdays 1:00 pm—7:00 pm
Weekends 10:00 am—7:00 pm