Harriet Tubman Returns to Peekskill in December
From December 14th through the end of February 2021, Downtown Peekskill will play host to a larger-than-life bronze sculpture of the legendary abolitionist Harriet Tubman. Above is an image created by Brian Fassett of the Business Improvement district depicting what the art will look like in place.


The 2,400 pound bronze casting depicts Tubman leading an enslaved girl to freedom – a scene that could have literally played out here in Peekskill in the 1850s, where Tubman was said to have helped guide fugitive slaves to freedom in Canada.
Peekskill has been described as one of the first stops on the Underground Railroad – with slaves following MacGregory Brook from the banks of the Hudson, and being concealed in various hiding places including secret rooms inside the Park Street A.M.E. Zion Church and Hawley & Harriet Green's home at 1112 Main Street – and in a tunnel on the property of Henry Ward Beecher's estate at the eastern edge of Peekskill. It is believed that Harriet Tubman was the leader of at least some of those trips.
It was widely anticipated that Ms. Tubman's likeness would replace Andrew Jackson's image on the US twenty dollar bill this year, until Treasury Secretary Steven Mnuchen announced in May 2019 that challenges surrounding new security features would delay the new design by six years.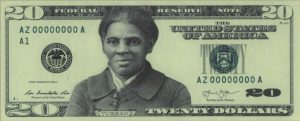 The eight foot tall artwork by sculptor Wesley Wofford is in the first year of a national tour, and its tenure in Peekskill is thanks to the efforts of the Downtown Business Improvement District (BID). The sculpture will be placed on Jan Peek Square, at the corner of Central Avenue and South Division Streets, marking its fifth installation following stops in Montgomery AL, Cambridge MD, Cape May NJ, and Newburgh NY – all locations that, like Peekskill, have historical significance in the Abolitionist and Civil Rights movements.
Beyond its inspiring presence, it is expected that the statue will serve an educational role – with supporting programming anticipated from the Peekskill City School District, The Field Library, and the Peekskill NAACP. At Monday evening's Common Council meeting, Councilwoman Vanessa Agudelo mentioned a proposed live public event with descendants of both Tubman and abolitionist Frederick Douglass during Black History Month in February.


The Herald spoke to Brian Fassett, President of the Peekskill Downtown BID, and asked him how Peekskill was chosen to host Wofford's iconic sculpture.
"The BID reached out to the Wofford Sculpture Studio back in January when we learned about the sculpture going on a national tour. We thought Peekskill would be a very fitting spot to host the statue, given our history related to the underground railroad," said Fassett.
"The world seemed like a very different place at that time, and bringing the sculpture here seemed so innocent. Fast forward to today, with the racial equality movement poised so prominently in our lives, and suddenly this statue coming here is so much more important."
The BID is seeking sponsors to help fund the installation and care of the statue, as well as additional programming surrounding its visit to Peekskill. Information about programming and sponsorship can be found at the website harriettubmanpeekskill.com